5 Fabulous First Date Outfits
First dates can be nerve-wracking without even considering the pressure of what to wear. You want to look fabulous and make a great first impression, but be setting appropriate and feel like yourself. And different types of first-dates require different types of clothes. Are you going to dinner? Or more casual, with an afternoon coffee shop meet-up, or even a lovely stroll? No matter what your plans, these first date outfits will have you feeling confident and looking great.
Tips for First Date Outfits
If you are going on a blind date or are meeting your date for the first time it may be a good idea to wear an eye-catching color. Its much easier to find someone in the red blouse than a black or other neutral top. No matter what you wear, there are some practical pieces of advice to follow.
Wear things you feel comfortable in.
Think about what you usually get compliments on when you wear it.
Wear things that make you feel confident.
If you consider these three things when picking out your clothes you will choose something you love. The most important accessory for a first date is confidence. If youre uncomfortable or dont feel great in your clothes it may come across. And thinking of the items you already get compliments on will help you decide on clothes that will flatter! It may be a certain type of top or a color that you look great in.
>READ: YOUR GUIDE TO LOOKING FABULOUS AFTER 50 WITH WARDROBE CONFIDENCE
What To Wear For Dinner & Drinks
A classic first date is upscale dinner and drinks. For this, you will want to look nice but not be overdressed. You really cant go wrong with a little black dress and pointed flats or kitten heels. Choose a classic cut that will flatter you, like a-line or a sheath. Then you can dress it up or down as much as required by choosing the right accessories. For a nicer restaurant or bar go with something that will sparkle. For more casual venues a silk scarf or funky statement earrings will look great.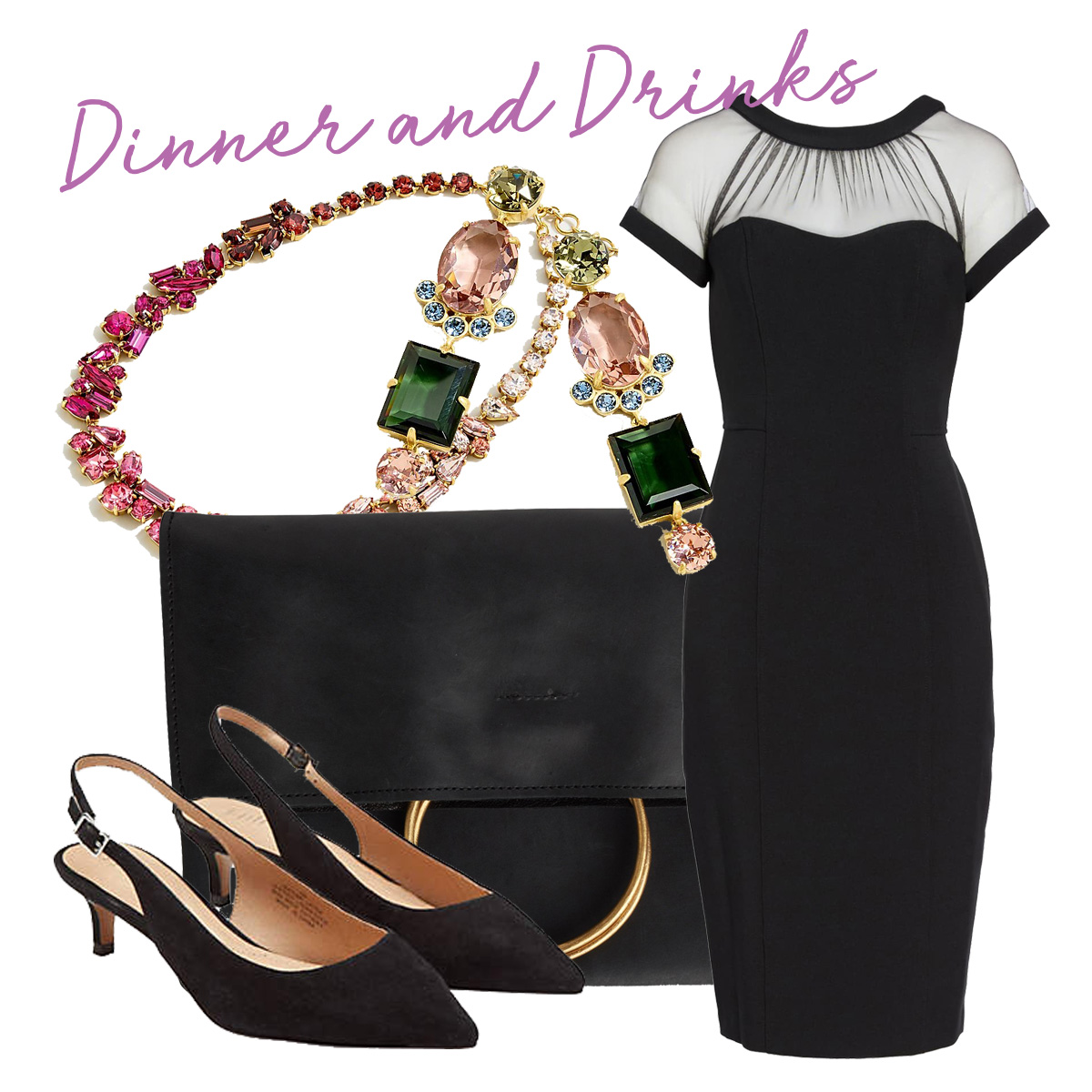 Maggy London Illusion Yoke Crepe Sheath Dress, sizes 0-16, $149
J. Jill Melanie Kitten-Heel Slingbacks, sizes 6-8, was $109 now 79.99
Nyala Foldover Clutch, 2 colors, $138
Mixed Crystal Statement Necklace, 4 colors, $128
Mixed Crystal Gem Drop Earrings, 2 colors, $39.50
What to Wear to the Movies
Seeing a movie is another popular first date option. If you are going to see a movie you will want to look polished but casual. And of course, stay warm! Movie theaters are notorious for being cold. Choose a pair of well-tailored, high-rise jeans and a fitted v-neck sweater. You may also want to add a pashmina for extra warmth, and a pair of flat riding boots. This is a timeless and classic look making it a great option for first date outfits.
>READ: BEST JEANS FOR WOMEN OVER 50
Lord & Taylor Essential V-Neck Cashmere Sweater, sizes XS-XL, 26 colors, was $160 now $59.99
Wit & Wisdom Absolution Itty Bitty High-Waist Jeans, sizes 6-18, $78
Cashmere & Silk Wrap, 7 colors, $99
Penny Leather Riding Boots, sizes 4-13, $150
Slouchy Snake Tote Bag, $118
What to Wear on a Coffee Date
Informal coffee first dates are very popular these days. Especially if youre online dating. Like a first date at the movies, this look will also err on the casual side. Start with a pair of well-fitting jeans or treggings. Add a silk blouse and cropped cardigan or sweater blazer if youre looking for a little more coverage or the weather is cold. Choose delicate accessories like stud earrings or a dainty necklace. Add a favorite pair of feminine flats and you will have a smart, casual and flattering outfit for a coffee date!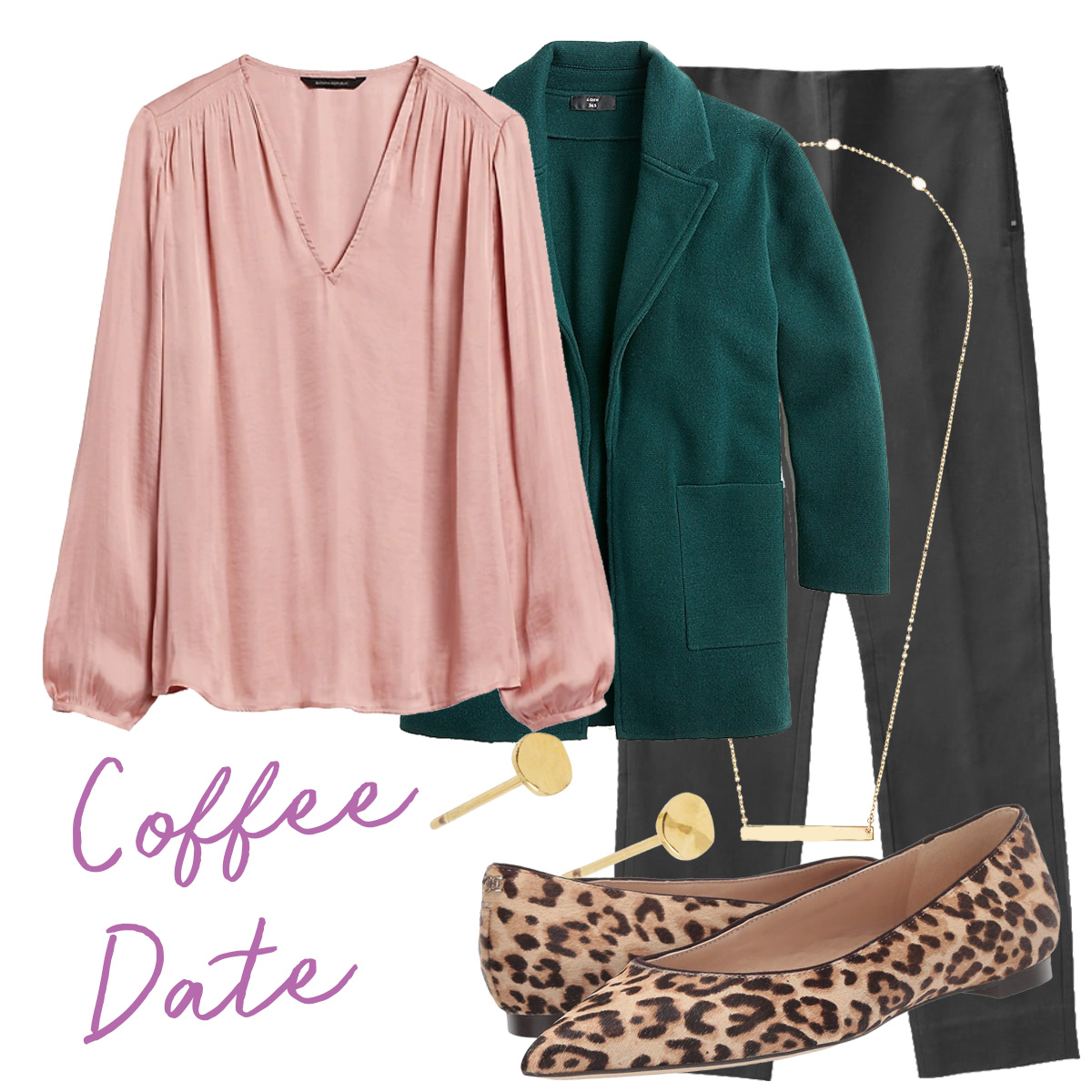 Banana Republic Soft Satin Smocked Blouse, sizes XXS-XXL, 5 colors, was $79.50 now $63
Sophie Open Front Sweater Blazer, sizes XXXS-3X, 8 colors, $148
Everlane The Side Zip Work Pant, sizes 00-16, 5 colors, $50
Sam Edelman Sally Pointed Flat, sizes 4.5-12, 9 colors, $71.96
Stella & Dot Gold Signature Engravable Delicate Necklace, $74
Chloe Mini Stud Earrings, 3 colors, $32
What to Wear to Walk or Outdoor Activities
If you and your date are athletic maybe you will be doing something active on your first date. Dont wear any old ratty gym clothes on an active date though! If you havent before, now is the time to invest in some flattering athleisure! Of course, what you wear will depend on the activity you do, but a good rule of thumb is to go for fitted over too loose and wear activity appropriate shoes. If youre doing something light to moderately active consider an athleisure dress with leggings. Pair with a comfortable, fashion-forward pair of sneakers and a small crossbody bag for a flirty, active outfit.
>READ: ATHLEISURE WEAR FOR WOMEN OVER 50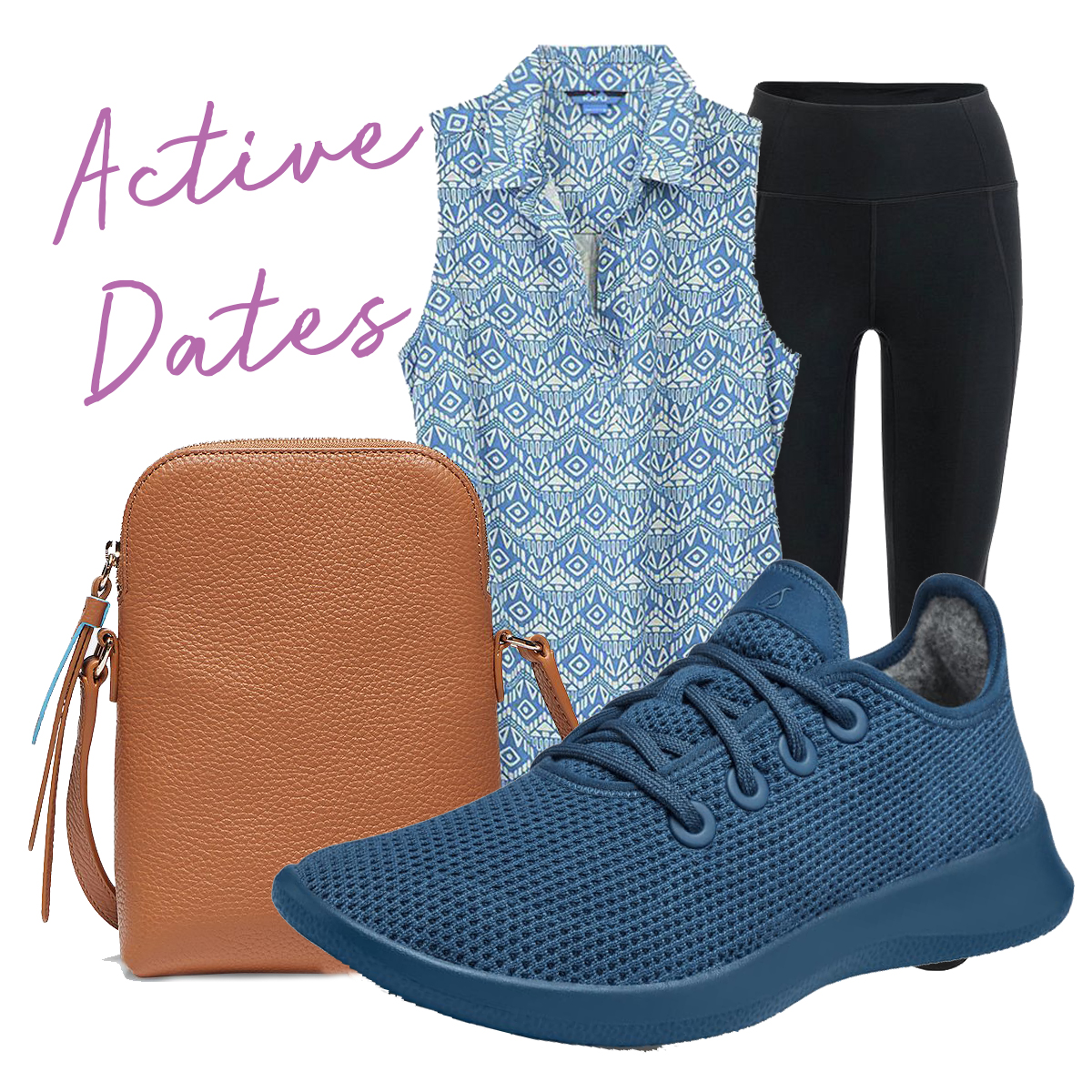 KAVU Zillah Dress, sizes XS-XL, 2 colors, was $74.95 now $29.97
Girlfriend Collective High-Rise Compressive Leggings, sizes XS-XL, 4 colors, $68
Allbirds Womens Tree Runners, sizes 5-11, 13 colors, $95
Draper James Leather Phone Crossbody, 3 colors, $98
What to Wear to Museums and Cultural Dates
Going to a museum or art gallery? What about a wine tasting or touring a local historic site? If youre doing something to soak in a culture youll want to look like a worldly woman! The last of our first date outfits, this date calls for a refined, cultured look with just a dash of daring. Start with a floaty midi-skirt for a feminine, bold touch. Add a tucked-in wrap top for a ballet-inspired look or a fitted neutral turtleneck for more modesty. Choose fashionable shoes you can still walk in, like a travel wedge sandal. Finish off with a structured satchel, a bold lip and confidence!
>READ: PRIME PICK: A FLOATY SKIRT ADDS A TOUCH OF FEMININE TO FALL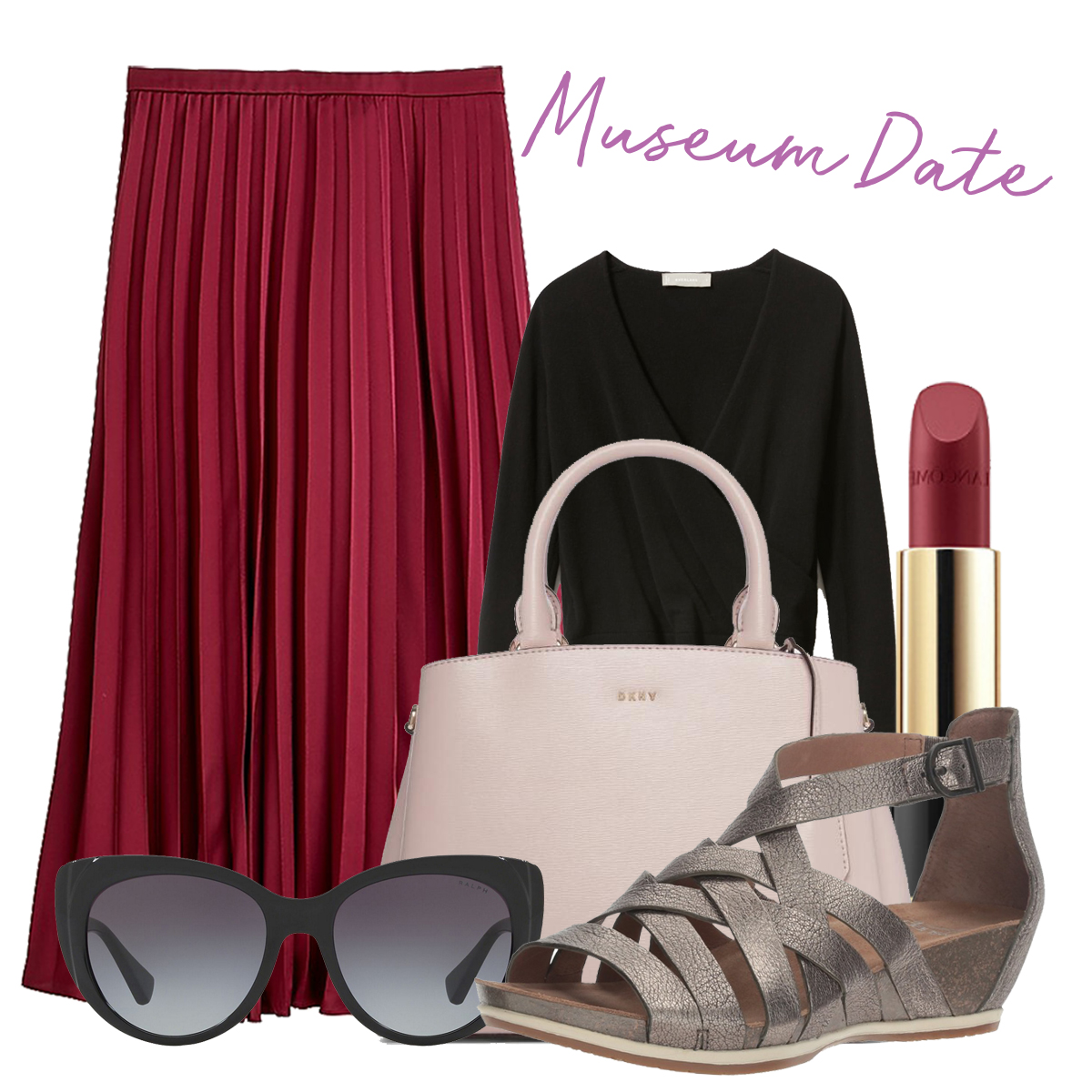 J. Crew Pleated Midi Skirt, sizes 00-24, 5 colors, $98
Cashmere Wrap Sweater, sizes XXS-XL, 7 colors, $125
Vivian Gladiator Sandal, sizes 5.5-12, 3 colors, starting at $46.99
DKNY Paige Leather Satchel, 4 colors, $198
Ralph by Ralph Lauren Sunglasses, $90
Lancome LAbsolu Rouge Hydrating Lipstick in Berry Noir, $32
>READ: GO DUTCH OR ACCEPT YOUR DATES OFFER TO TREAT?
>READ: YOUR GUIDE TO MID-LIFE DATING ETIQUETTE
The post 5 Fabulous First Date Outfits appeared first on Prime Women | An Online Magazine.