9 Sustainable Menswear Basics He'll Want To Live In
We talk a lot about sustainable fashion lately, but it took us some time to get here. Much like the clean beauty space five years ago, sustainable fashion is still an emerging industry and it took us some time to find brands we loved that we were ready to share on our pages!
Just in time for the coziest season of the year, we've rounded up this collection of pieces we think the men in your life will love...
9 Sustainable Menswear Basics From Responsible Brands
Pact Vintage Clean Crew Tee + Perfectly Lightweight Lounge Short | (Shown above) Pact makes incredibly affordable organic cotton clothing in a Fair Trade factory. Consider this your new resource from men's basics. Pact also makes affordable bundles of organic basics like socks and Ts.
NADAAM

Cashmere Waffle Crewneck Sweater | (Shown above) NADAAM is a cashmere clothing brand with a line of casual piece we're ready to live in. This crewneck will have you looking pulled together with little effort.
AllBirds Long Sleeve Sea Tee | Did you know that New Zealand-based wool shoemaker, Allbirds also makes clothing now? Their incredibly soft T's are made of 65% Tencel, 30% merino wool, and 5% Chitosan.
everlane Denim | All of Everlane's denim is made from organic cotton and their classic cuts and colors are perfect for the everyman in your life. Don't miss their men's knitwear while you're at it.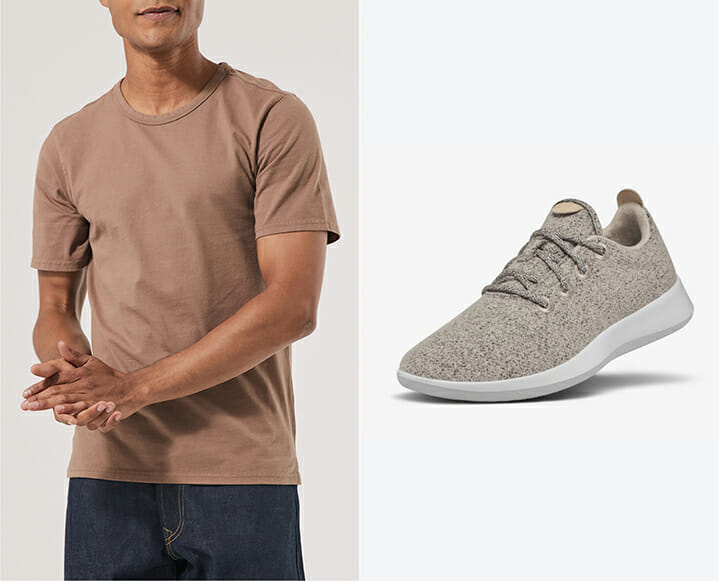 Allbirds Wool Runners | We keep waiting for these cult-status runners to feel passe, but the moment never comes. These sustainable wool trainers are the comfortable staple that belong in every mindful shopper's closet.
Jungmaven Hemp T's | The Jungmaven brand is something special. The 90's brand has championed hemp for over 20 years now and their soft, responsibly made T shirts are an obsession.
Outerknown

Chroma Blanket Shirt
| Kelly Slater's responsibly-made line of clothing has everything an outdoor or indoor guy needs in his daily wardrobe. These blanket shirts are a best-seller for a good reason.

Patagonia Nano Puff Jacket | We can't really talk about mens sustainable fashion without mentioning Patagonia. Their classic outdoor gear and clothing defines the West Coast take on natural living. A good puffer jacket like this one will take him from early morning coffees to sunset hikes in style.
Vuori Jogger | Finally, we wrap the list with a good pair of joggers. Vuori's focus is on durability. Buying quality pieces that will last is a great way to keep your closet green. The Sunday Performance Jogger is a best-seller with a cozy and flattering cut. Pick colors you know you'll love for a long time!
The post 9 Sustainable Menswear Basics He'll Want To Live In appeared first on The Chalkboard.