9 ways to wear a blazer with jeans for day or night
When it comes to easy, yet stylish outfits, its hard to beat a blazer with jeans combination.
Simply throwing on a blazer with your jeans can instantly elevate your style and can make a humble pair of jeans either office appropriate, or ready for a dinner date.
In this article, you will find plenty of tips and tricks for styling your blazer with your favorite denim, as well as outfit inspiration.
Why wear a blazer with your favorite jeans?
First of all, why would you want to wear a blazer denim, when jeans tend to be thought of as the ultimate in casual attire (well, apart from tracksuit bottoms, that is) and a blazer is a formal piece.
Well, thats the whole point. Combining your jeans with a more formal blazer can give your outfit an immediate lift as well as being a modern way to wear your blazer.
Kate Middleton often wears a blazer with her skinny black or blue jeans and always gets this look right.
So, are there any dos and donts?
How to wear a blazer and your jeans
It really is hard to go wrong with this outfit combination. Its one of those outfits that you can put together without even thinking about if you are having one of those days when outfit inspiration is proving tricky.
J. Crew Mayfair Four Season Stretch Blazer
But, while it is hard to make a mistake, there are some things you might want to think about:
Fit is everything
There is a current trend for over-sized blazers. But, generally, you will want to ensure you get the perfect fit on your shoulders and across your bust.
Take a look at how to fit a blazer.
Balance is key
As with the rest of your outfit, wearing a blazer along with your denim is all about balance.
For instance, if you choose a blazer with a more relaxed fit, this is likely to look better with slimmer jeans. Or, you could opt for a more fitted blazer with a wider pair jeans.
Mix and match your styles
A blazer works beautifully with denim because of the combination of casual and formal. You can continue to mix up your outfit anyway you want to. Wear with sneakers, for example, or with high heels.
This combination works with any jeans
You can wear a blazer with everything from skinny jeans, to a boyfriend style or flares. Get this combination right and it will take you to everything from work to an evening out.
9 outfits featuring blazers worn with all styles of jeans
So now that you are thinking about your preferred combination, lets look at some different outfits you could try.
Id love to hear if this is a combination you often wear. Let me know in the comments below.
Classic monochrome
Black and white is always a beautiful option. You can either stick entirely to neutrals, or choose to add a pop of color, such as red.
Patricia (above) keeps her look simple, but very stylish.
Recreate her look with a pair of Ray-Ban sunglasses, a similar blazer, jeans, shirt, sneakers, handbag, and belt.
Gibson notch collar blazer Halogen tunic tee Vigoss skinny jeans Marc Fisher LTD slingback pump Vince Camuto pendant necklace Kurt Geiger London tote
Tuxedo and jeans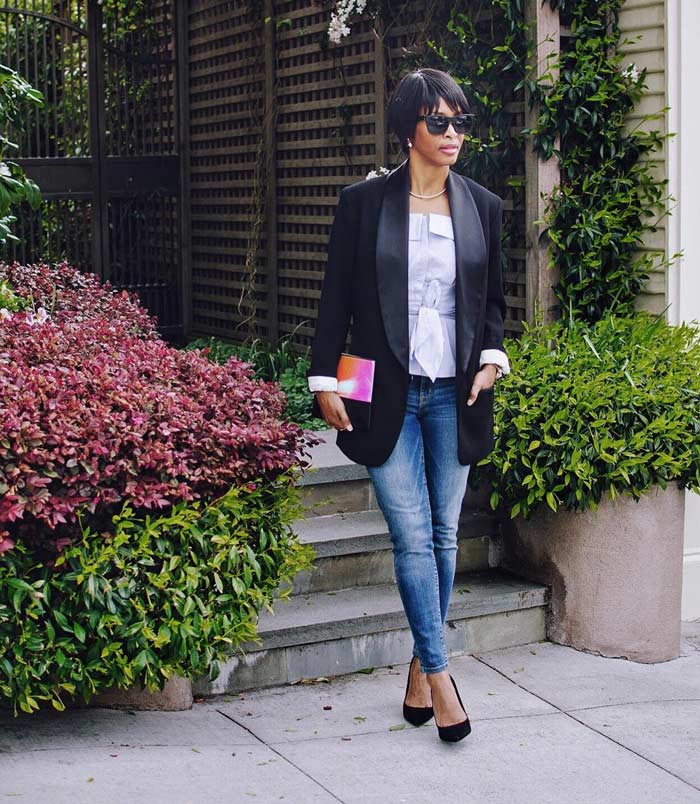 A stylish and very hip option for an evening out.
Kim (above) gets this combination just right by wearing with heels and a clutch bag.
This would be a lovely look for dinner with your other half or with friends, just as long as the restaurant you are going to isnt too swish and wont have a no-jeans dress code.
Check out this similar tuxedo blazer, jeans, tie-waist top, pumps, and sunglasses.
Topshop tux blazer Halogen boat neck knit top AG skinny jeans Nina pointy toe pump Antik Craft clutch Akola chain link necklace
Oversized blazer worn with slim jeans
One clear trend on the catwalks and the high street recently has been the oversize blazer because it evokes a certain, stylish nonchalance.
This can be a tricky trend to wear as it can make you look larger than you actually are. But, you can avoid this by keeping the rest of your outfit in balance.
Leaving your blazer open to create a long, lean line down the center of your outfit can also help to elongate your figure rather than to add width.
Helen (above) shows how to do this by wearing her oversized blazer with skinnies, and leaving open to show off a little of her white shirt.
Check out this similar blazer, skinny jeans, and booties.
Scotch & Soda pinstripe blazer Lucky Brand relaxed shirt Tinsel jeggings Jeffrey Campbell pointed toe pump Coach tote
Nautical style
A blazer when worn with your jeans really lends itself to adding stripes for a nod to nautical style.
Martina (above) wears a striped tee with her jacket.
Get her look with this similar blazer, jeans, stripe top, booties, Louis Vuitton bag and belt.
1.State blazer ATM Anthony Thomas Melilio stripe tee WASH LAB skinny jeans Sandra Roberts hobo TOMS slingback wedge
Cropped blazer with skinny or wide jeans
You dont have to choose a classic blazer ending slightly below hip level. You could choose a cropped option if you feel this is more flattering for your figure.
Sarah (above) looks fabulous in a cropped blazer a skinny style of pants and a Gucci belt.
Check out these crop tweed jacket options from Halogen and H&M that you can pair with these similar skinny jeans, tank top and booties.
However, a cropped blazer can also be perfect to wear with your wider-leg jeans when a longer blazer can make it hard to achieve balance in your outfit.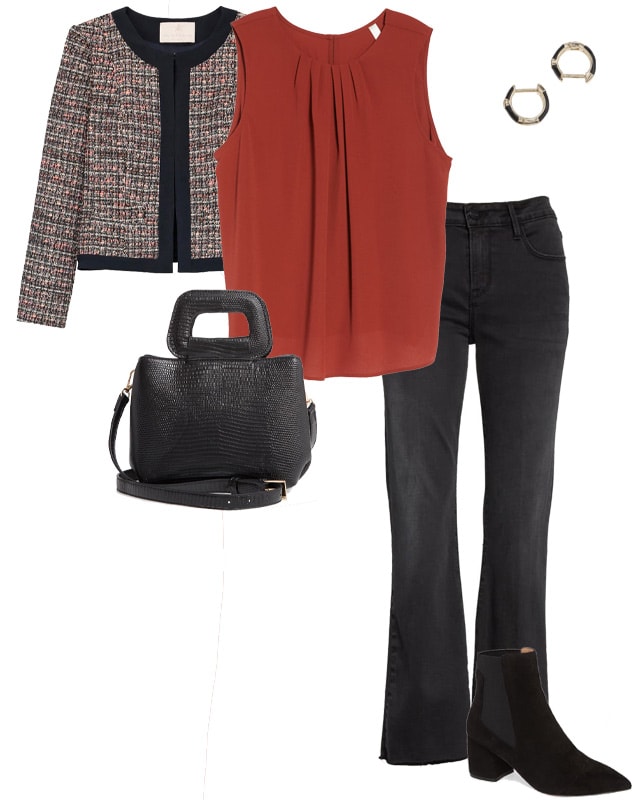 Gal Meets Glam Collection jacket Loveappella gathered neck shell FRAME crop mini boot jeans Linea Paolo chelsea boot Mali + Lili satchel Nakamol Chicago huggie hoop earrings
Blazer, worn with your jeans and sneakers
You dont get any easier when it comes to casual dressing than a pair of jeans, t-shirt and sneakers. Just popping a blazer on can really elevate your everyday style.
Abi (above) opts for an on-trend double-breasted style with her logo tee, gaining extra style kudos with her silver sneakers.
Steal her look with this similar blazer, jeans, white tee, sneakers and tote.
1901 polka dot blazer Eileen Fisher boat neck t-shirt Mavi Jeans crop bootcut jeans Dr. Scholls platform sneaker Kurt Geiger London round crossbody bag
Double breasted blazer and denim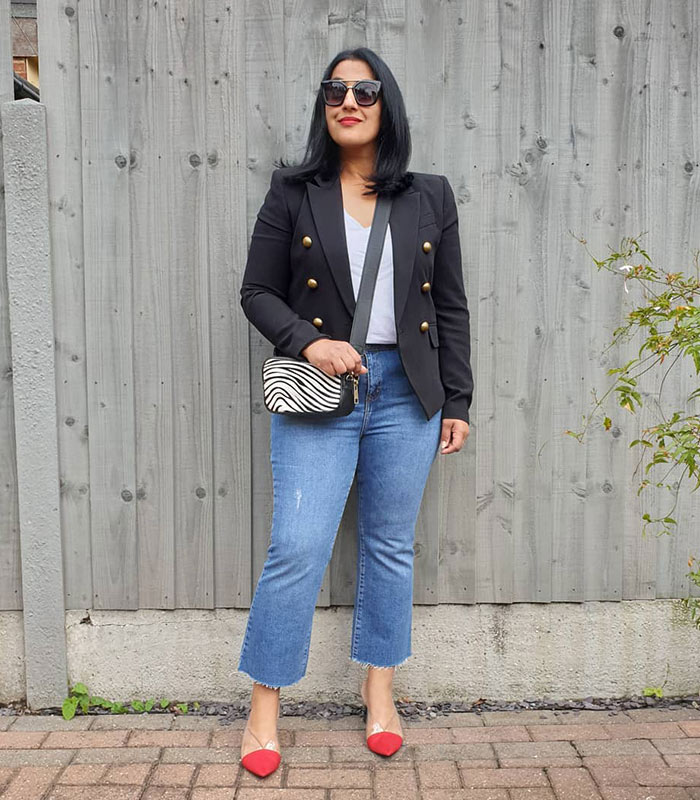 A double-breasted blazer is very on-trend right now. But it can also be tricky to wear, particularly if you have a larger bust.
Thats because it can create width across your chest that you perhaps dont want. Choosing a tailored or belted style, however, can ensure that you show off your waistline.
Jas (above) nails the double-breasted look.
Get her look with this similar blazer, crop flare jeans, v-neck tee, crossbody bag and pumps.
Reformation belted blazer PAIGE ruffle sleeve tee 1822 Denim bootcut jeans ALLSAINTS crossbody bag Johnston & Murphy slide sandal
Boyfriend jeans and your smart jacket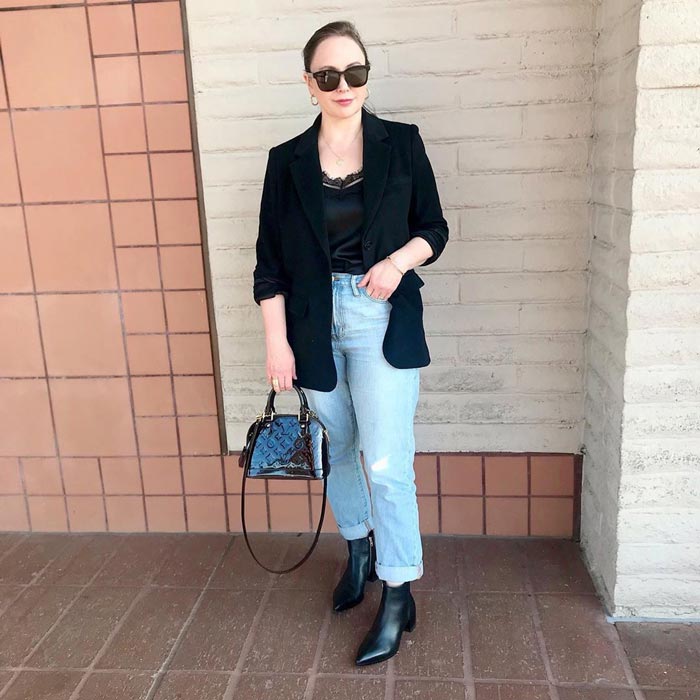 The beauty of wearing a boyfriend style with a blazer is the contrast you get between a very casual pair of jeans and a formal jacket.
Oxana (above) finishes her outfit perfectly by turning up the cuffs on her jeans and wearing with heeled booties.
Check out this similar blazer, jeans, silk tank top, booties and sunglasses.
J.Crew sweater blazer Vince boxy button-up blouse 7 For All Mankind boyfriend jeans Vaneli slide sandal Nina crystal frame clutch Panacea stone drop earrings
A warm weather linen blazer and any jeans style you like
It can be tricky to think about how to add an extra element to your outfit when the weather heats up.
But, you can still add a blazer without feeling too warm. Simply opt for natural materials such as linen.
Kylie (above) chooses stripes and skinnies.
Recreate her look with this similar linen blazer, jeggings, v-neck top and sneakers.
Caslon linen boyfriend blazer Splendid silk tank FRAME crop kick boot jeans Fly London wedge sandal Sondra Roberts crossbody bag BaubleBar y-necklace
Here are all the blazer outfits from above put together in a capsule wardrobe.
You will see how versatile all of the items are. You could easily pair any of the tops with any of the jeans.
For example, you could choose an all white outfit for summer. Or, you can change how formal your outfits are by switching up your shoe and accessory choices.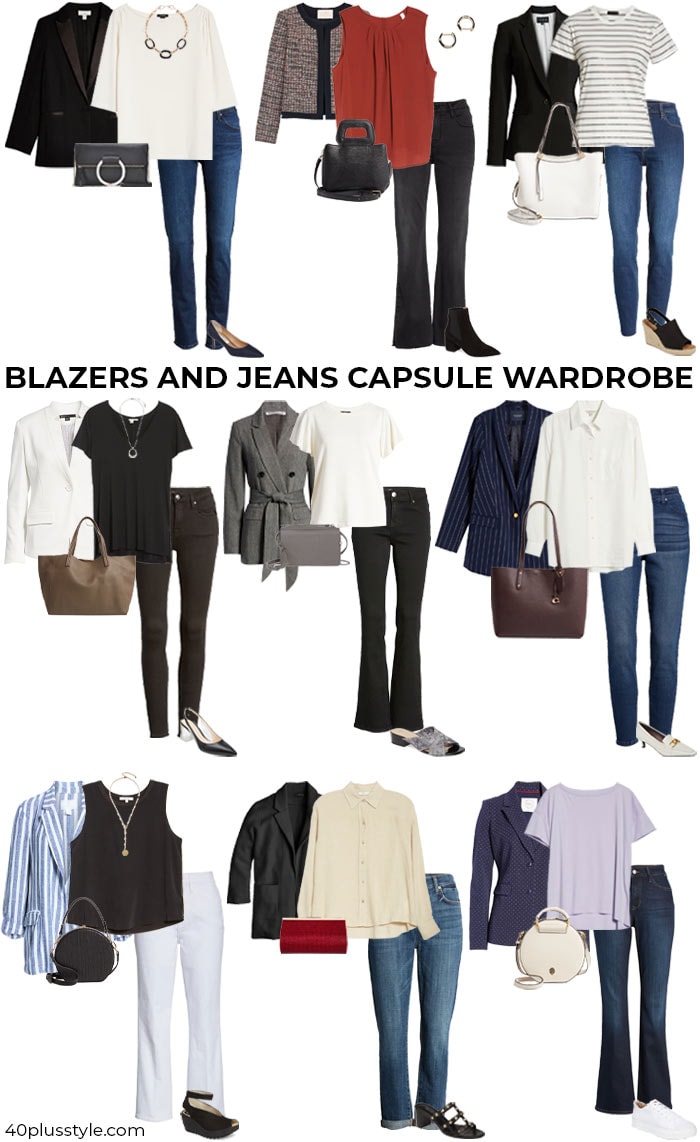 Continue reading:
Like this post on how to wear blazers with your favorite jeans? Share it on Pinterest!
Feature image by Jas
The post 9 ways to wear a blazer with jeans for day or night appeared first on 40+ Style.