Affordable Friday with MAJOR Deals!
Welcome to today's Affordable Friday! Honestly I get giddy every time I write one of these posts because I truly feel they can help a lot of women buy a few new things for their wardrobe without hurting their budget and hopefully make them feel good. So let's get into it. Starting with this dress that's under $10!
$10 Dress!
As you guys know when I do these Affordable Friday posts, I order a LOT of stuff. Some are hits and some are misses. When I ordered this dress for under $10, I was almost positive it was gonna be a miss. The fabric had to be weird or the cut must be off. But honestly it could not be more amazing! I honestly was shocked! Not only is the fabric amazing quality, but it fits great and it's super cute! Don't just take my word for it, check Walmart's website for the ratings! People rave about it!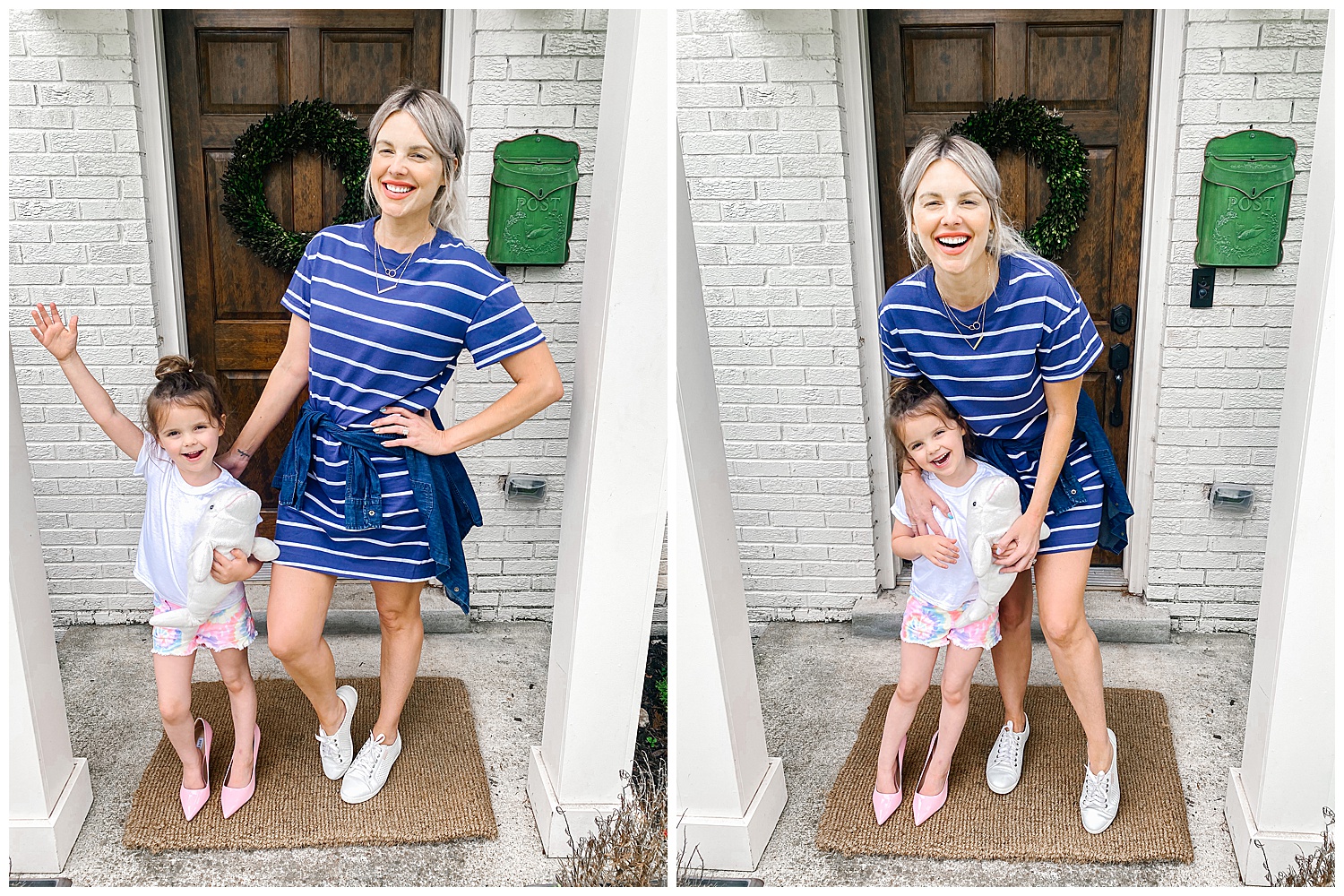 1. $10 DRESS | 2. SIMILAR CHAMBRAY TOP | 3. SNEAKERS | 4. MOLLY'S TIE DYE SHORTS
I love how it's not tight through the hips and butt. My biggest fear when purchasing it was that it would be to fitted and I would feel uncomfortable in it. But I got a size medium which is my normal size,  and it's very loose throughout which I love and I can get myself a little shape by tying something around my waist. I just took a chambray shirt that I had in my closet and tied it around! I then paired it with a pair of white sneakers. I'll link some options here just in case you don't have these items and if you don't, I highly recommend getting them because they are staples in my closet for so many different looks! I haven't tried them yet, but these sneakers are only $14 and have great reviews!

I will also link Molly's cute little tie-dye shorts. Just cause I think they're darling and I also got them at Walmart, which is where everything is from in this post, so if you want to add them to your cart you can! Oh and it's $13 for a 3-pack of shorts!
Lightweight Cardigan Sweater
It might feel weird to write about a sweater when we're about to get into summer, but I had to write about this because I get asked about the sweater every single time I wear it. I've had it in a oatmeal color since November of last year! I remember buying it when I was at my in-laws house and I even wrote about it in a past Affordable Friday post. The oatmeal color is only available in large, but it's fully in stock in this gorgeous blue color and in a gray color. Get this sweater and get it now! I still think lightweight sweaters like this are essential during the spring and summer because it's always super hot outside and then the second you go inside somewhere, the air-conditioning is pumping and it's freezing. So I'll always keep something like this on me even during the warmer months.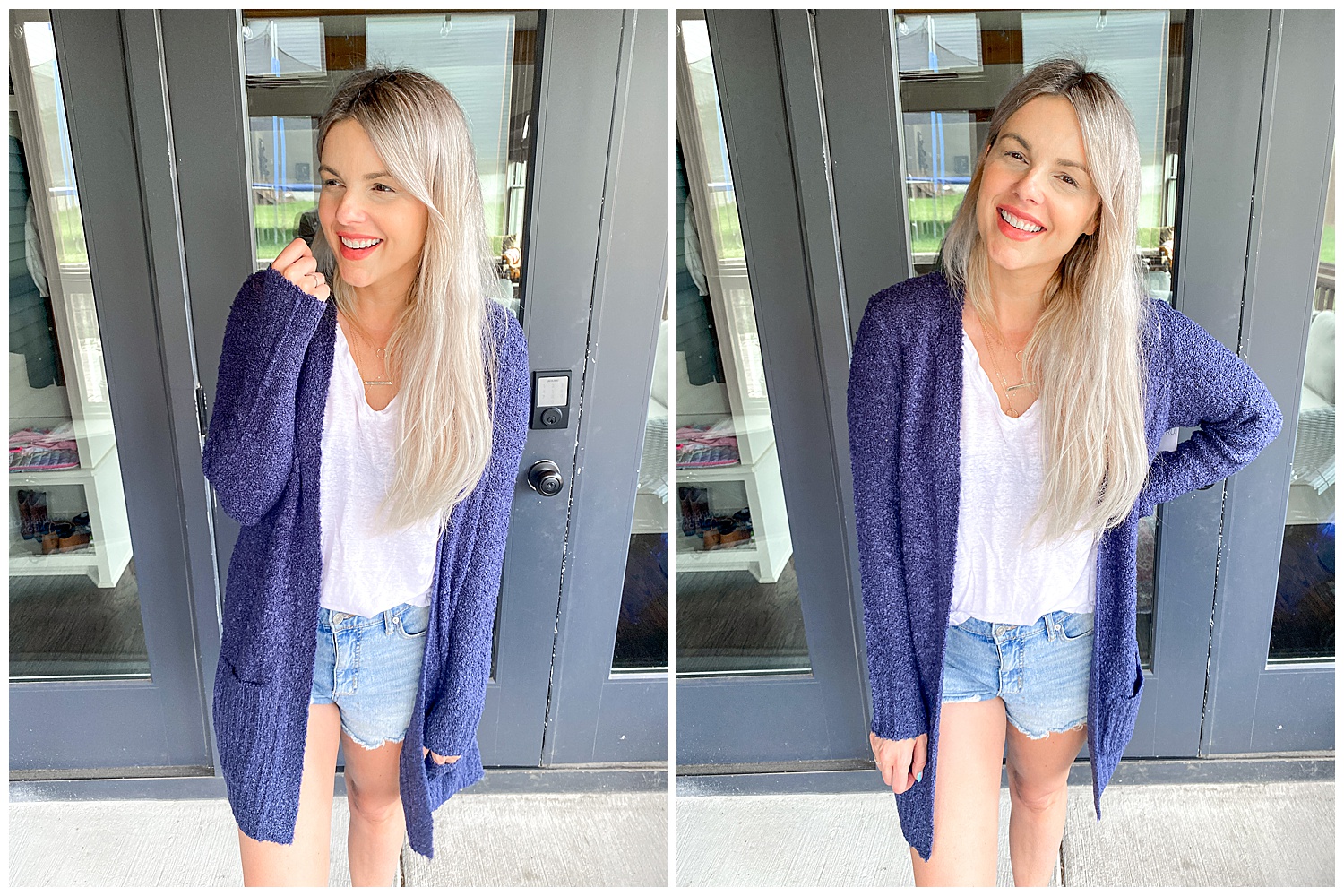 1.  BLUE CARDIGAN | 2. GRAY CARDIGAN | 3. JEAN SHORTS 
But seriously, it is super lightweight – and so so so so so soft! Plus, you know I love it because you guys see me wearing the oatmeal version all the time in my stories. So when I saw the blue version was available, I bought it right away so now you'll see me wearing this one all the time in my stories as well. It's just the best and you will not be disappointed I promise! It's only $17 dollars! Such a steal! I'm wearing a size medium which is my normal size.
Ruffle Sleeve Top and Shorts
I got this top in both this light blue color and this gorgeous yellow print with white flowers. I feel like this is the type of top that you just can't go wrong with because it will look good on so many different body types. I got a size medium which is my normal size.
Honestly it's just so beautiful. The material is really fluffy and soft. I love that it comes in sizes XS up to XXXL. It also comes in white. Can you believe I didn't buy the white version?! I almost want to but I feel like I just don't need the shirt in three different colors. Ha! Although I am tempted. Especially since it's so affordable!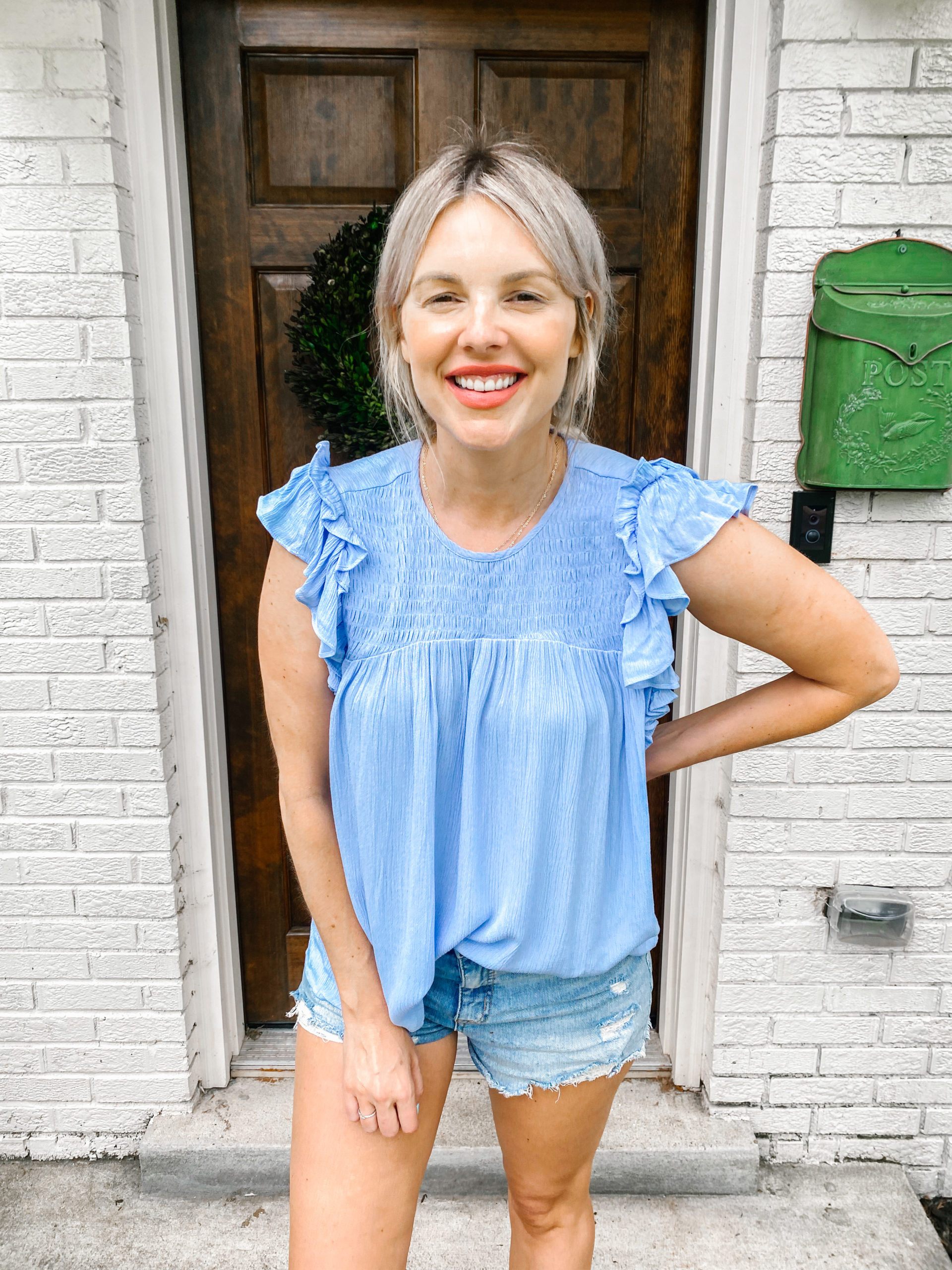 1. LIGHT BLUE TOP | 2. YELLOW TOP WITH FLOWERS | 3. WHITE TOP | 4. JEAN SHORTS 
I'm wearing it with the Sofia Vergara jean shorts that I've talked about in the past Affordable Friday posts. Last time I wrote about these, I linked them in the dark version as well. I actually ended up buying the dark version originally because this light version sold out so fast. For some reason the dark version fit differently. But I am so so so so so excited to share that the light version fits amazing too and it's so flattering and it's fully back in stock for shipping! Last time some were in stock, but you had to pick it up in store. If you got the dark version and didn't love them, get the light version and try them out! They are amazing and I wear them almost every single day.
Jeans + Tank
What are all the kids saying on TikTok these days? That skinny jeans are out? Ha! I definitely still wear my skinny jeans, but I have to say that I have found I'm not as drawn to wear them anymore. I'm definitely feeling more of a wide leg and a boot cut these days. What are you tending to gravitate towards? Are you 'skinny jeans for life' or are you loving the new trends?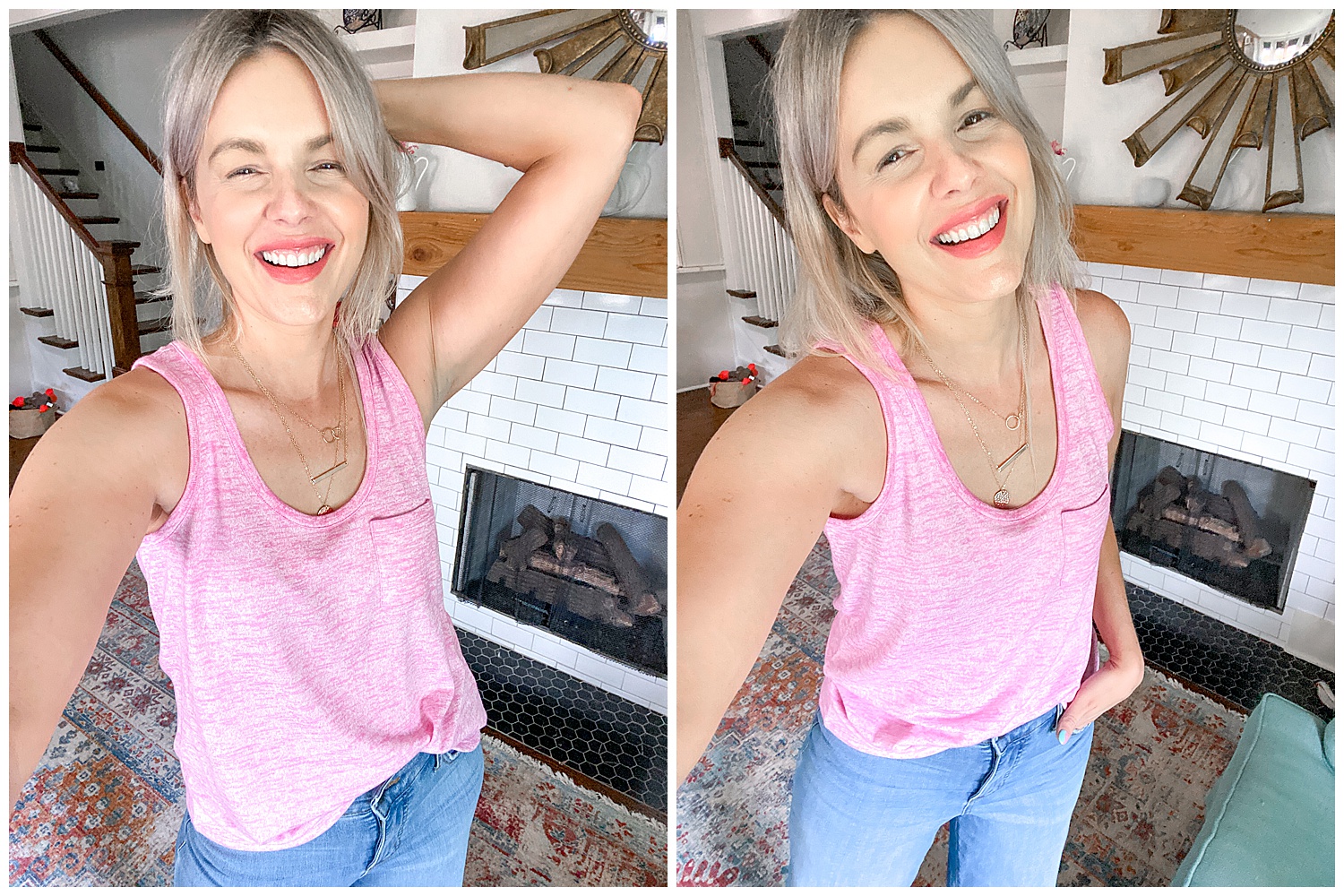 I decided to try out these jeans from Sofia Vergara because I had such a great luck with her denim shorts. Plus, they're only $26 and have the most amazing reviews. Oh my gosh, I am obsessed with them! The only thing that maybe I would change is to fray the bottoms a little bit so it isn't such an even cut. I might look on YouTube to see how to do that. But even without the fray, I love them and I love the cut of them as well! They're a great fit and are super flattering! I got a size 8 and that's usually what size I get in Walmart jeans. For reference I'm about a size 29 in jeans from other brands.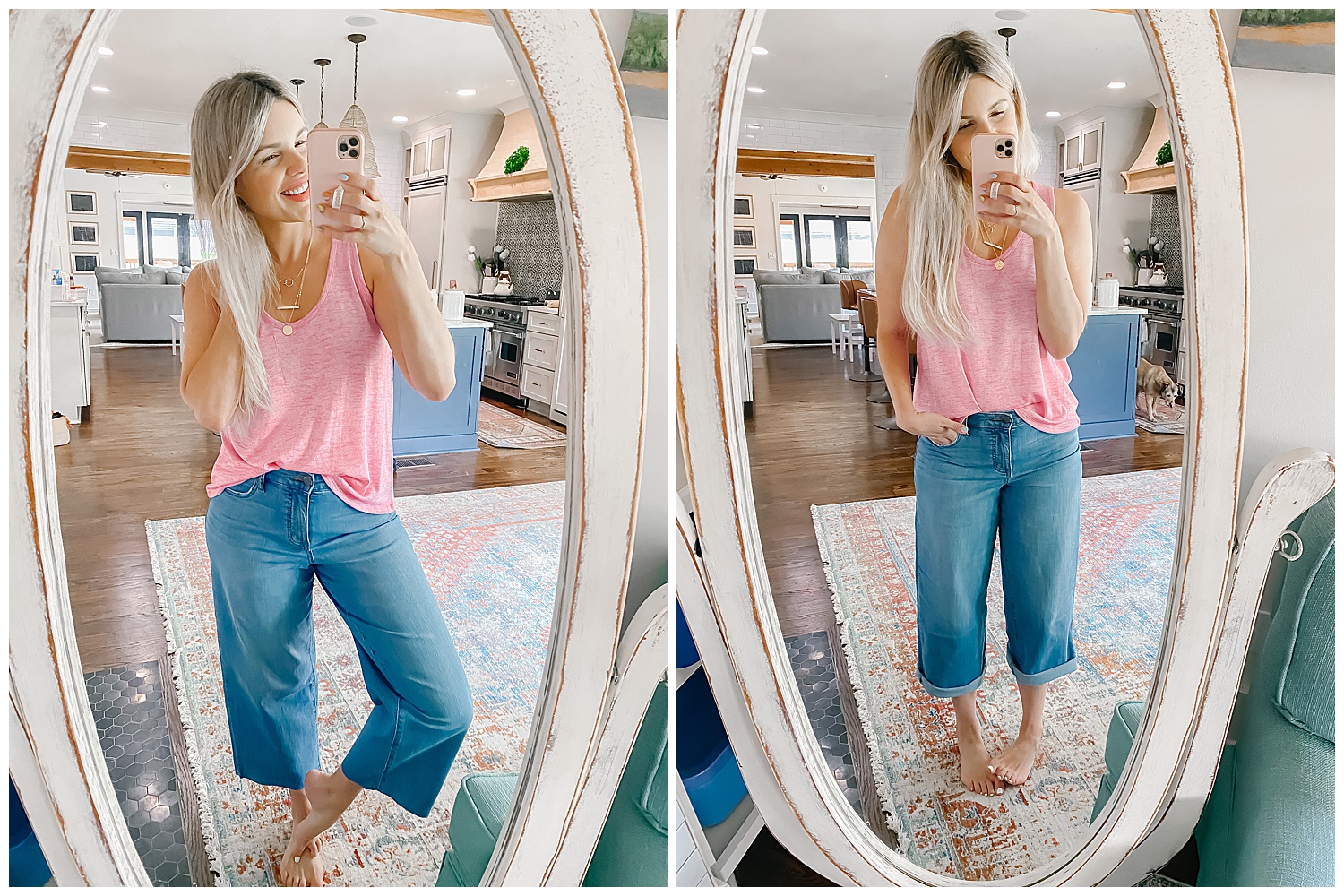 I'm wearing the jeans with this super cute flowy tank top that's under $10! I could not be more in love with how this tank top fits and how it's kind of slouchy. In fact I love it so much that I just ordered it in white, heather gray, and blue cove. I just feel like this is exactly the kind of tank I want to throw on on super hot, muggy days. I don't want anything that will cling to my body because it's so humid outside and this is just perfect for that slouchy/flowy look. But of course I'm going to also have my cardigan in hand for when I go inside somewhere and it's freezing with the AC pumping. Ha!
Dresses
I wanted to share some dresses for this Affordable Friday as well. I hope you love love love all of these options that are all $21 or less.
Ruffle Sleeved Smocked Midi Dress
I want to start with this dress in these two prints because you guys know how much I love a detailed sleeve like a bow or a ruffle and I cannot believe that these dresses are only $17! I got a size medium in both which is my normal size so they are true to size. There's also a chambray version of this dress that is perfect! I honestly don't even know why I didn't buy that one first because I just feel like it's so perfect with that adorable farmhouse vibe. Simple and cute! I wonder if it wasn't available when I ordered. Anyway they're all great and right now still available in most sizes! Once again the sizes range from XS up to XXXL! I love that Walmart has so much variety of clothes in a variety of sizes! Yes for being inclusive!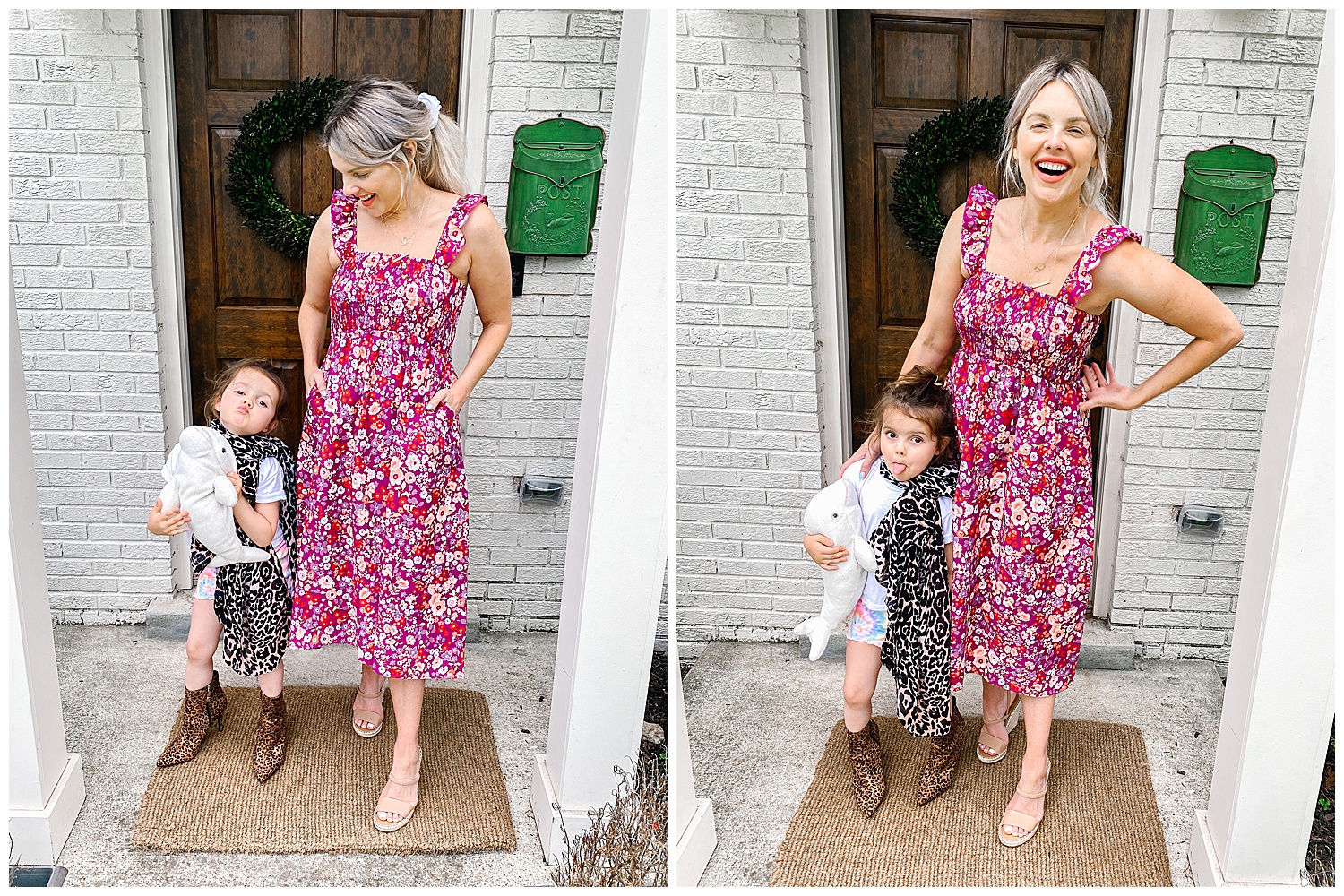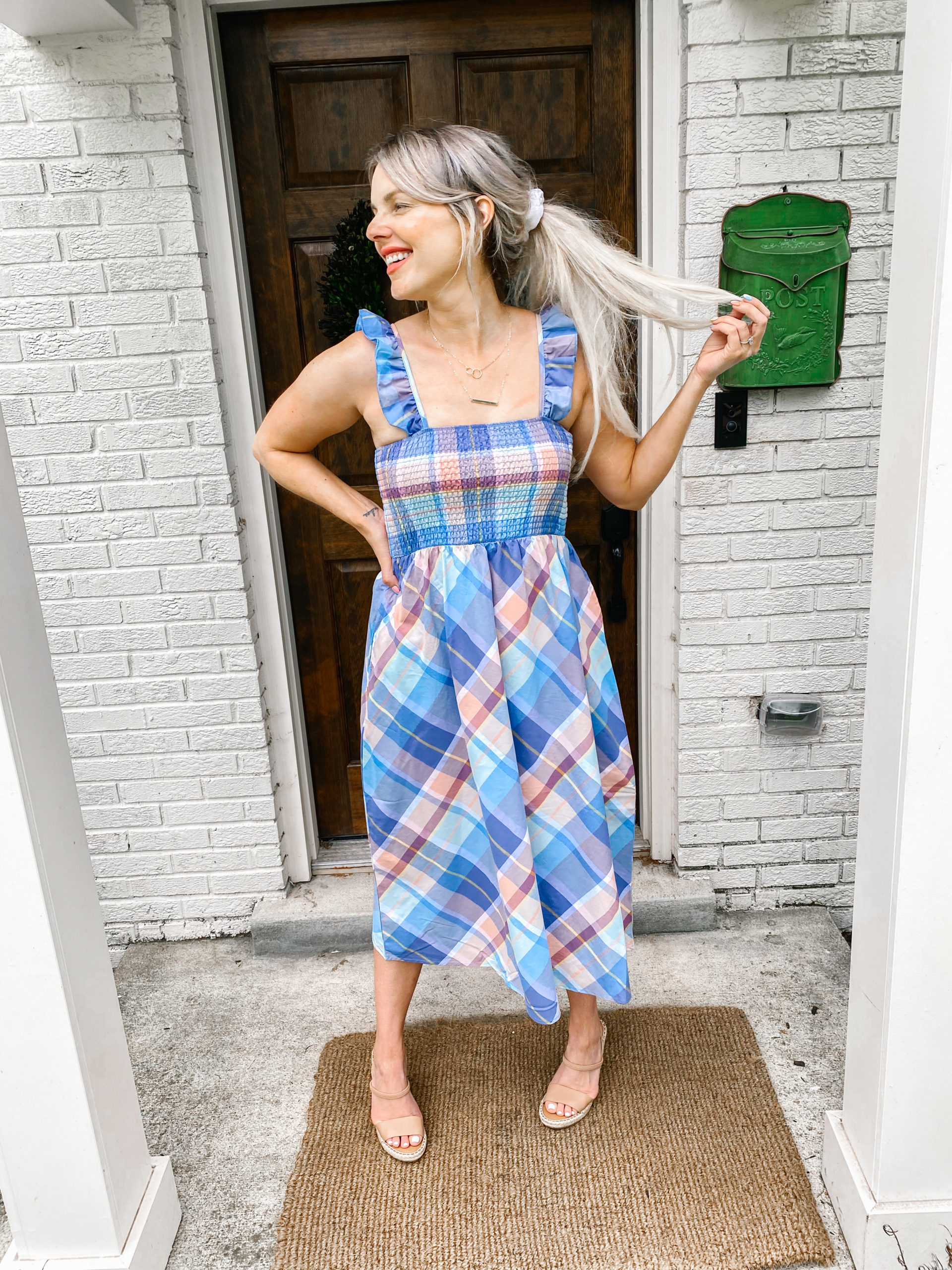 1. FLORAL PRINT DRESS | 2. BLUE PATTERNED DRESS
Farm House Dress
Speaking of a dress feeling farmhouse, this dress is only $21 and is total farmhouse in my opinion! I got a size medium, and I will definitely say it has a loose fit, but that's the style! If you'd rather it be more fitted around your chest, I would say size down in this one. But I like how it's loose and I feel like it's just such a cute dress to throw on when I'm gardening or cooking around the house to stay super cool this summer! This dress is extremely lightweight so it's perfect for those hot, muggy summer days!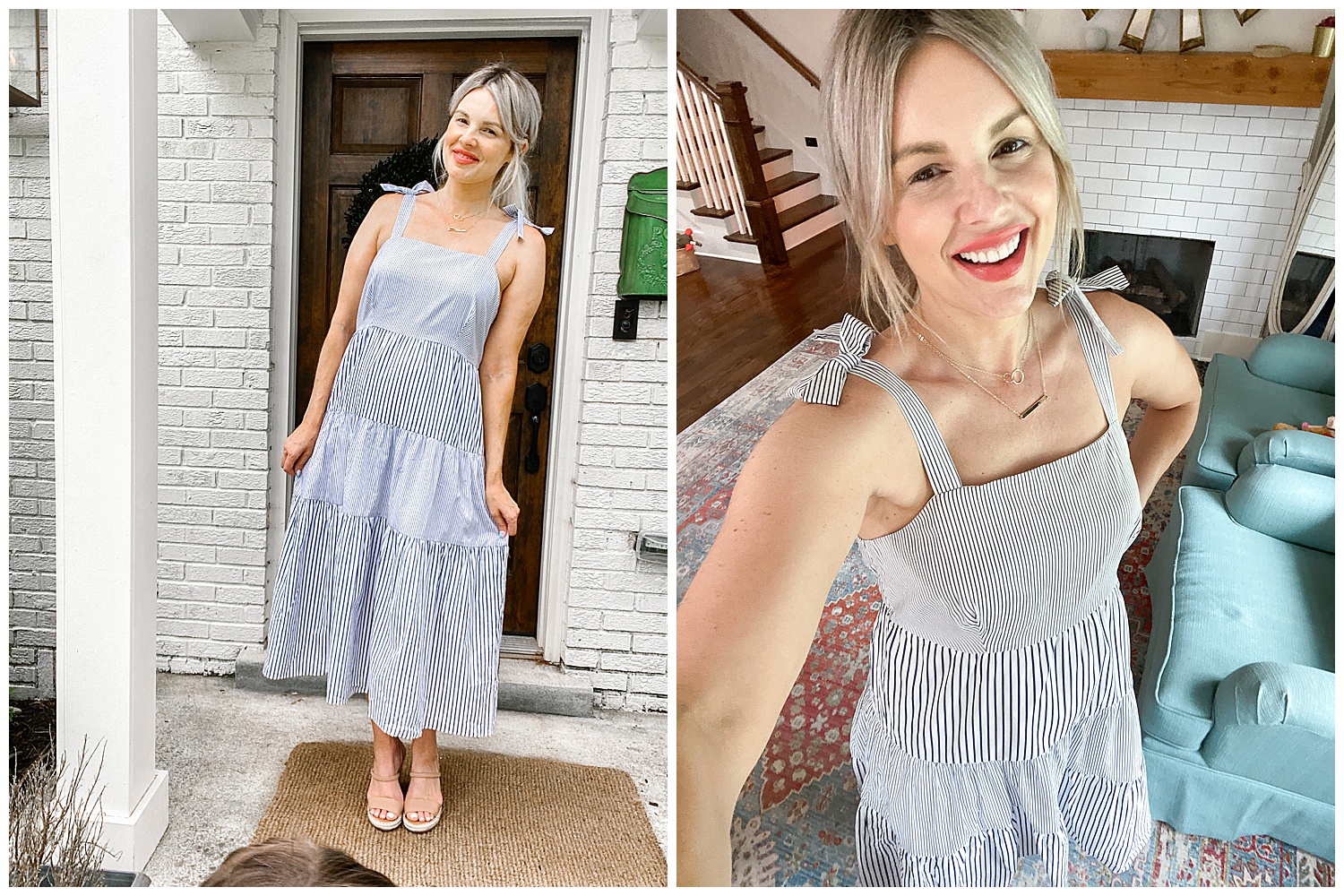 Home Decor
I like to throw some affordable home decor in these posts because I've been doing a lot of research and looking around for super cute and affordable things for our new house! I just bought four of these large ceramic canisters, two of the medium, and two of the small. I think they are so stunningly beautiful and I plan on using them in the laundry room at our new house and in the pantry. I might even use a couple for decorating the shelves.

Plus they range in price depending on the size from $8 to $12. I honestly can't really believe how affordable they are for the quality. I feel like if I saw them in a boutique I would think they were five times the price. Especially the large one that is only $12 just feels like it would be so much more expensive than anywhere else.
Also linking my hair care cause it's the BESSSSSST!

Thanks for coming by!
Well that's it for me today! What do you guys think?! What's your favorite piece from this Affordable Friday post? Let me know what you're loving and what you're not loving. I'll plan on doing these posts for as long as I absolutely can and if there's certain items you want to see that I haven't talked about before tell me! I'll go out on a hunt finding the absolute best pieces for all of us at affordable prices! Tell me in the comments below!
The post Affordable Friday with MAJOR Deals! appeared first on Ali Manno (Fedotowsky).