Arnold Schwarzenegger Tricked Sylvester Stallone Into The Flop Stop! Or My Mom Will Shoot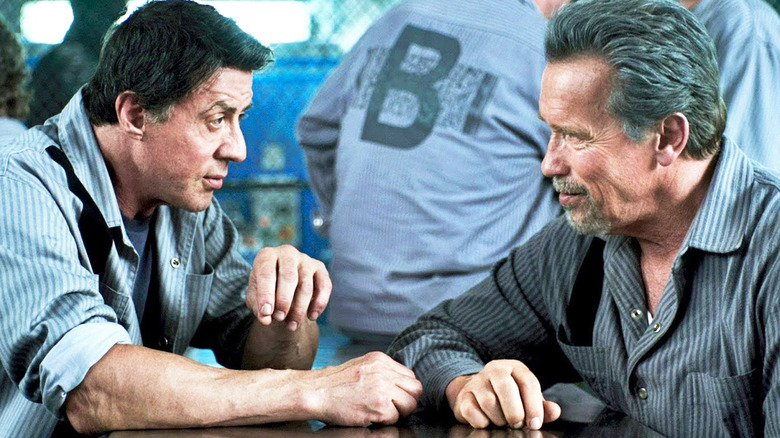 Arnold Schwarzenegger's conquering of America truly is an unbelievable story. As comedian Bill Burr surmised in his 2012 standup special "​​You People Are All the Same," Arnie should be "unloading trucks in Transylvania [...] but because he's a great man, he had the balls to move to America and became famous for lifting weights." Schwarzenegger did indeed go from driving tanks in the Austrian army to becoming arguably the greatest bodybuilder of all time, winning the Mr. Olympia title seven times. But he also became one of the biggest actors in Hollywood, and arguably the most popular action star in history, all while simultaneously carrying family-friendly comedy fare such as "Kindergarten Cop" and "Jingle All The Way" — one of the best Christmas movies of all time. Oh, and he also found time to marry into the Kennedy family and become the governor of California.
The Governator didn't get where he is without being highly competitive. Throughout his career he's done what it takes to get ahead, often displaying a penchant for trolling that has manifested in harmless pranks and light-hearted teasing of co-stars. But on other occasions, especially when it came to Schwarzenegger's rivalries, it resulted in him actually trying to sabotage others. And of all the trolling Arnie has engaged in a 50-year-plus career, arguably his most fiendishly impressive trick was the one he pulled on longtime rival Sylvester Stallone.
Schwarzenegger's History Of Trolling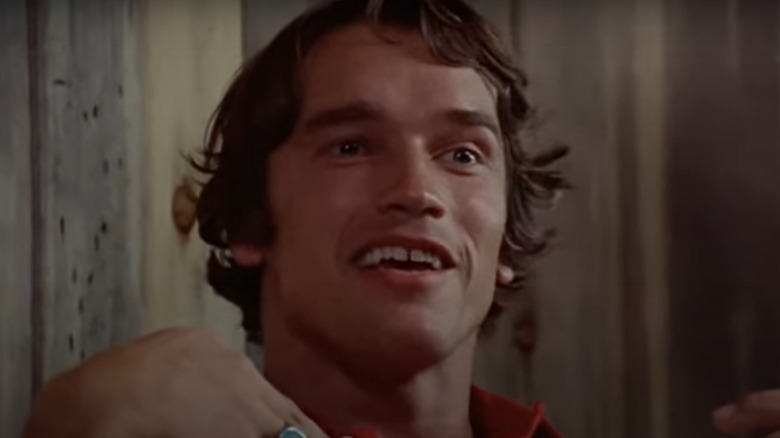 Arnold Schwarzenegger is a Hollywood legend and comes across as a perfectly charming gent in public. But at times throughout his career, he's also seemed worryingly adept at playing mind games — a trait he clearly developed way before his acting career took off.
Back in 1977, George Butler's "Pumping Iron" put the aspiring actor on Hollywood's radar, and if it wasn't a documentary, it would count as one of Schwarzenegger's best films. It follows bodybuilders as they prepare for the 1975 Mr. Universe and Mr. Olympia competitions, and showcases Arnie's competitive drive in some surprisingly candid moments — including the one where he can't stop talking about orgasms. Throughout the docudrama, the then-28-year-old can be seen putting on a masterclass in manipulation and generally psyching out his competition, especially in the case of fellow competitor Lou Ferrigno, who would eventually be cast as the Incredible Hulk over Schwarzenegger.
At one point, the young Austrian bodybuilder goes on an extended monologue that feels genuinely sinister. He explains how, if Ferrigno shows up to the contest in shape, he'll take him out for the night, and "by the time the night is over, the next morning he will be ready to lose. I mean I will just talk him into that, it's no problem to do."
Arnie has since said that some of the film's events were true while "some of it was created and made up." Still, the role of oddly smug manipulator seemed to come a little too easy to the Austrian Oak. Throughout "Pumping Iron," he's clearly having a good time trying to get into the heads of his competitors. And as his career progressed, that side of him would often re-emerge.
Sly Vs Arnie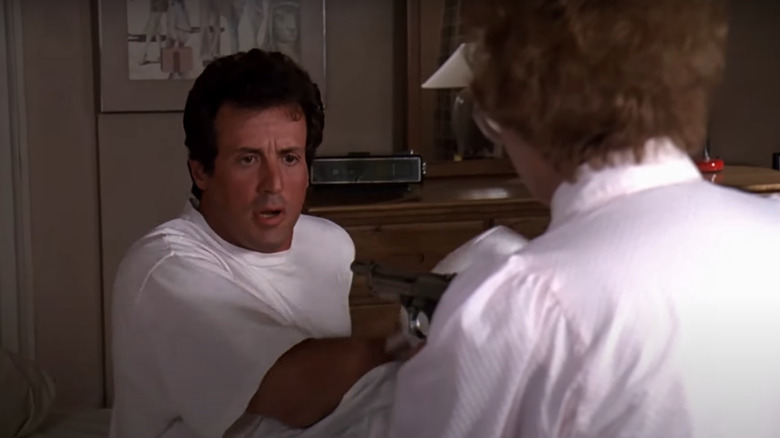 In a more amusing example than the tense mind games of "Pumping Iron," on the set of 1987's "Predator," Arnold Schwarzenegger claimed to have asked the wardrobe department to tell his co-star, Jesse Ventura, that his arms measured an inch bigger than Schwarzenegger's, even though the reverse was true. He then made a bet with Ventura for a bottle of champagne over whose arms were bigger, knowing he would agree, having been told by the wardrobe department that he had Schwarzenegger beat. The Austrian obviously won the bet when it was discovered that his arms actually measured three inches bigger than Ventura's.
But of all his rivalries, friendly or otherwise, Schwarzenegger's most significant was with his chief competitor for the biggest action hero of the 20th century: Sylvester Stallone. These days, the pair are friends, even appearing alongside each other in "Escape Plan" and "The Expendables" (though Arnie eventually walked away from the series). But there was a time when they genuinely hated each other. During the '80s and '90s, Stallone and Schwarzenegger were about as competitive as you can get, trying to consistently outdo the other in terms of box office earnings, physical appearance, how many people they killed on-screen, even down to the size of the movie weapons they used. "Commando," for example, was really just a chance for Schwarzenegger to out-Stallone Sly.
And despite their eventual reconciliation, the protracted competition between the two truly brought out the best of Schwarzenegger's trolling. Perhaps his finest moment was tricking Stallone into starring in a film he knew was a dud.
'This Was Really Bad'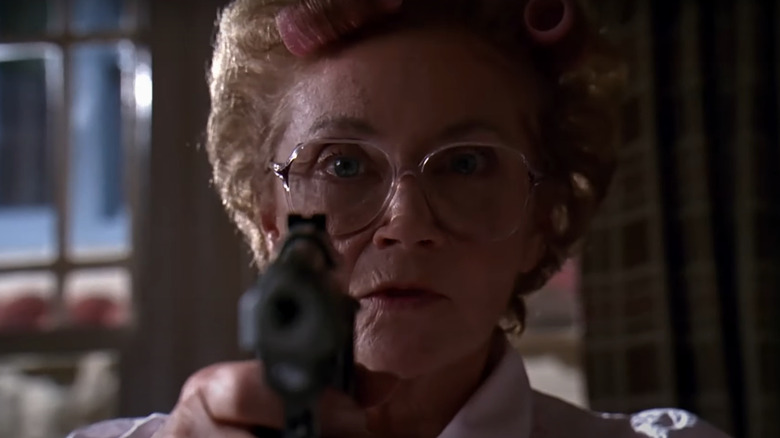 In an infamous moment of machiavellian brilliance, Arnold Schwarzenegger managed to orchestrate Sylvester Stallone to star in a truly awful, career-damaging film. Roger Spottiswoode's comedy "Stop! Or My Mom Will Shoot" arrived in 1992 and had Sly playing a cop whose mother (Estelle Getty) insinuates herself into every aspect of his life, including his police work. It's widely regarded, by even Stallone, as one of the worst movies ever made. Roger Ebert described it as "so utterly lacking in even the smallest morsel of redeeming value, that you stare at the screen in stunned disbelief." But if there was any redeeming value, it was in the story of how this historic blunder came to be.
When the script was doing the rounds, it first came to Schwarzenegger, who immediately recognized its poor quality. Rather than simply move on, he decided to use it as an opportunity to get one over on Stallone. He explained in a Beyond Fest Q&A back in 2017:
"I've also done some movies that went right in the toilet, right? That were bad. But this was really bad. So I went in — this was during our war — I said to myself, 'I'm going to leak out that I have tremendous interest.' I know the way it works in Hollywood. I would then ask for a lot of money. So then they'd say, 'Let's go give it to Sly. Maybe we can get him for cheaper.' So they told Sly, 'Schwarzenegger's interested. Here's the press clippings. He's talked about that. If you want to grab that one away from him, that is available.' And he went for it! He totally went for it. A week later, I heard about it, 'Sly is signing now to do this movie.' And I said, [pumps fist] 'Yes!'"
Stallone Knew How Bad It Was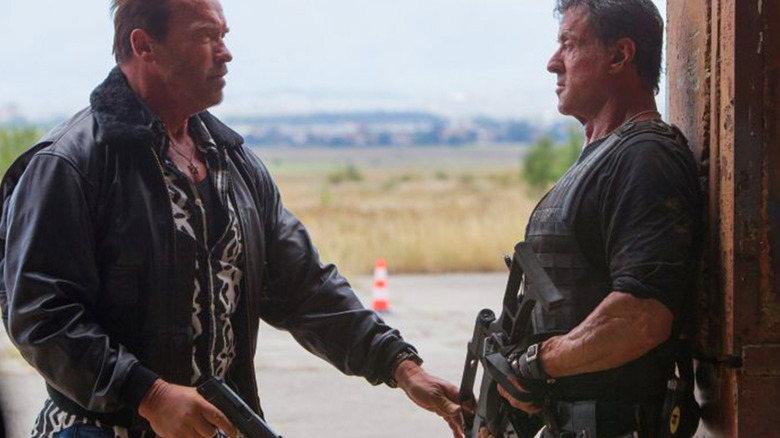 Sylvester Stallone has acknowledged how bad "Stop! Or My Mom Will Shoot" was, and that his longtime rival got one over him. Speaking to The Hollywood Reporter last November, he said: "'Stop! Or My Mom Will Shoot' was supposed to be like 'Throw Momma from the Train' with the mom as this really nasty piece of work. Instead, you hire the nicest woman in Hollywood, Estelle Getty, who you wish was your mother. That's the end of that! Also, I had heard [Arnold] Schwarzenegger was going to do that movie and I said, 'I'm going to beat him to it.' I think he set me up."
Not content with pulling one of the greatest misdirects in Hollywood history on his rival, Schwarzenegger responded to THR's request to confirm the story: "In those days we did all kinds of crazy things to get ahead in our rivalry. Luckily for us and everyone else, today, we root for each other. Thank God, because we sure don't ever need another 'Stop! Or My Mom Will Shoot.'"
Interestingly enough, Schwarzenegger would go on to work with Roger Spottiswoode in the 2000 sci-fi actioner "The 6th Day" in a bid to reinvent himself. It was a disappointment, though nothing like the irrefutably abject "Stop! Or My Mom Will Shoot," and certainly nothing that could mar Schwarzenegger's story of global domination. Not that Stallone let the film define his career -- he continues to appear in everything from Marvel to "Tulsa King."
But were it not for Arnie's competitiveness and unsettling manipulative abilities, none of it would have happened. As it stands though, the legacy of Spottiswoode's 1992 movie is that of a lasting tribute to Arnold's legendary trolling.
Read this next: The 18 Best Action Movie Actors Ranked
The post Arnold Schwarzenegger Tricked Sylvester Stallone Into The Flop Stop! Or My Mom Will Shoot appeared first on /Film.