Best Travel Clothing Champion | Carry Awards IX
Our Best Travel Clothing champion nails the ultimate travel challenge: allowing you to pack less while seeing and doing more…
1st Place
Western Rise are industry leaders in travel-friendly clothing and reigning Carry Awards champs. And the AirLoft Hooded Jacket celebrates their expertise in a highly versatile piece that looks good on city streets but thrives in the outdoors too.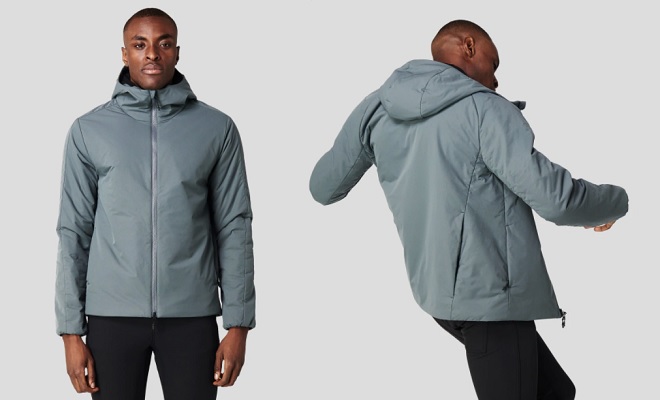 The key to its success? Super-clean, understated aesthetics paired with technical performance makes this a great all-rounder wherever travel takes you. The jacket combines Toray's 40g 3DeFX+® hollow-core, 4-way stretch insulation with a DWR-coated Primeflex® 50d 102gsm Polyester exterior. Sounds technical…because it is. This savvy blend of materials offers excellent features such as breathability, stain and water resistance, temperature regulation, and freedom of movement. Perfect for getting out and about exploring on your travels.
Now we all know when it comes to ninja levels of packing mastery, less is more. Keeping weight and bulk to a minimum while getting maximum versatility out of the gear you do pack simply makes travel a heck of a lot less hassle. So how does the AirLoft Hooded Jacket fare? Well, it's wonderfully lightweight and also includes a packable back pocket. So you can pack this down to a neat and compact package that stashes easily in luggage or a day bag while roaming about your destination. Big win.
Then we get down into the functional details like four zippered pockets (great for keeping small travel essentials within reach), a cinch hood, plus a drawstring waist and elastic cuffs to keep the chill at bay. All in a sleek, tailored silhouette that comes in a choice of classy colorways to suit your personal tastes.
Highly adaptable for urban and outdoor use, whether you're casually enjoying lunch in a cafe or striding along trekking trails, it's a piece that doesn't limit where and how you can use it. Add in its lightweight and packable construction with a great range of travel-friendly features and you have a truly versatile packing list staple that will help you pack less while doing more. Packing mastery achieved. Fantastic work, Western Rise!
________________________________________________________
Highly Commended
These are the pieces that just missed out, and in most cases, by the smallest of margins. To them, we award a High Commendation. The below were of outstanding quality, displaying fine craftsmanship and design flair. With honor, we bow our heads in the utmost respect and kudos. If this were a dais, they'd be biting their teeth into silver medals, while their flags were hoisted into the horizon – a feat not to be overlooked. And we're sure they'll be back, to take it one notch higher, next year.
---
Jeans aren't traditionally that comfortable for traveling in. But Alchemy Equipment brings their technical mastery to the jean scene with their AEM272 Tech Stretch Jean. With its 4-way stretch, you can bend and flex with ease. A sightseeing cycle? No problem. An impromptu trek off the beaten path? Sure thing; let's go. A DWR coating resists stains and water, handy for keeping your travel laundry to a minimum and helping the pant dry quickly too.
But the AEM272 Tech Stretch Jean doesn't stop there. Additional features such as reflective detailing help make you visible in low-light conditions, while reinforced back pockets and a zippered phone pocket provide useful spots for stashing smaller items. And the stylish, tapered fit makes it easy to dress this pant up or down, helping you adjust smoothly from work meetings to nights out on the town and a multitude of settings in between. If you're looking to pack one pant for work and play, the AEM272 Tech Stretch Jean is certainly a savvy choice. Fine work, Alchemy Equipment!
---
Patagonia has demonstrated their commitment to sustainable business practices time and again. And we love that about them. Even better? They pair this sustainability with thoughtful, practical designs that are worthy additions to your wardrobe. Case in point, the Nano-Air Hoody. The jacket is Fair Trade Certified

sewn using bluesign® approved fabric. Awesome.
So how about features? A functional and useful mix that's ideal for travel. Temperature regulation, water resistance, inbuilt stretch and freedom of movement, and breathability make this a comfortable jacket for active use, while its clean aesthetics fit into casual urban pursuits as well. And packability? No problem at all; simply stuff it into its own pocket to store in a bag or luggage. Sustainable, space-saving, and with smart travel features, the Nano-Air Hoody is an excellent pick for your next travel adventure. Kudos, Patagonia!
–
The post Best Travel Clothing Champion | Carry Awards IX appeared first on Carryology - Exploring better ways to carry.