Beyond Bacon & Eggs | Make Over Your Morning With New Breakfast Ideas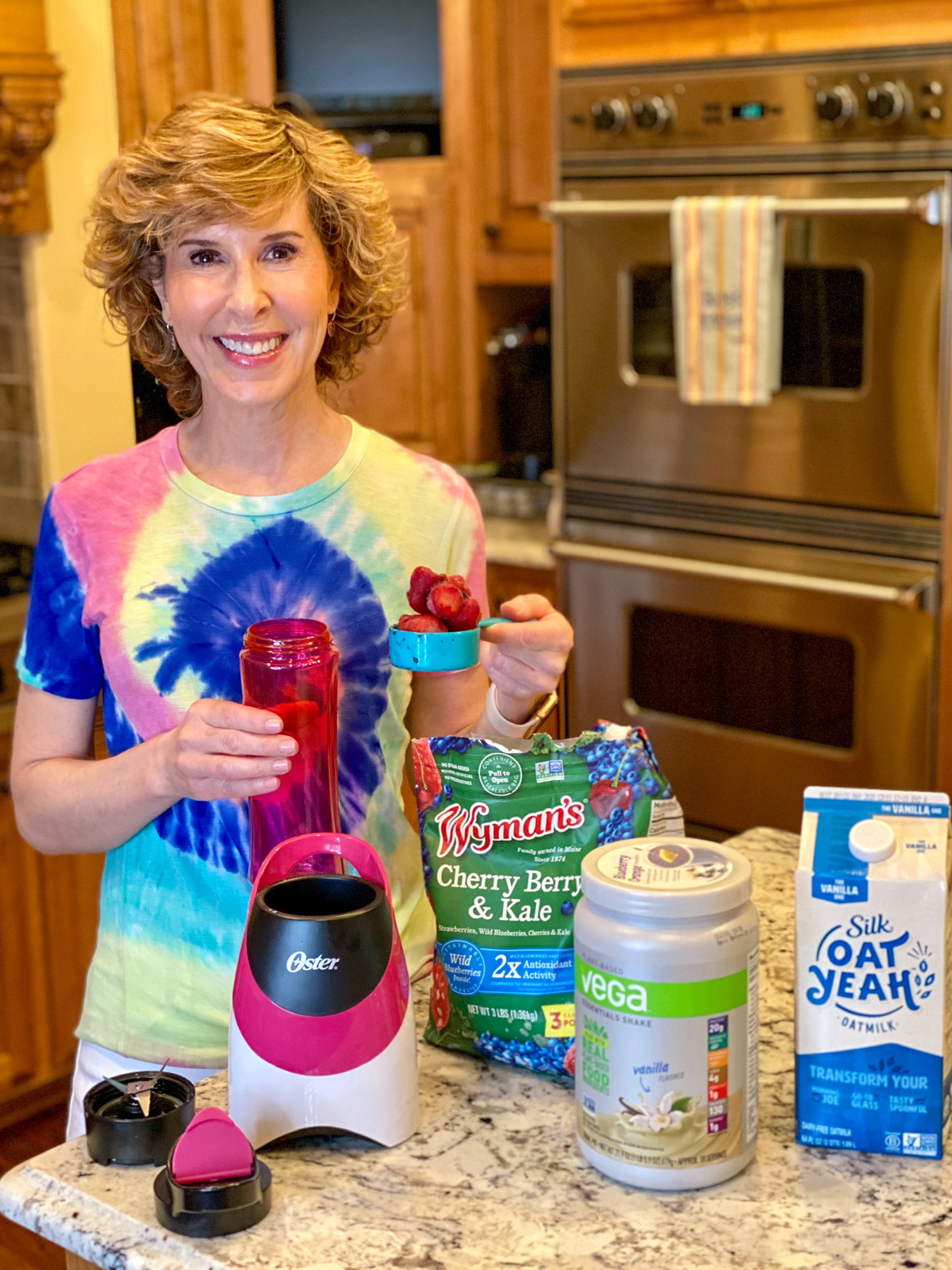 Are you in a breakfast rut? We can all get there! It's easy to think of new and creative recipes for dinner, or even lunch, but breakfast? Yikes! Today, I'm sharing some new breakfast ideas with you!
Why Is Breakfast So Important?
The word "breakfast" was first used in the 15th century. Simply put, it describes the morning meal that breaks the fasting period of the previous night. Many studies have linked eating breakfast to good health, including better memory and concentration, lower levels of "bad" LDL cholesterol, and lower chances of getting diabetes, heart disease, and being overweight. Breakfast kick-starts your metabolism, helping you burn calories throughout the day. It also gives you the energy you need to get things done and enables you to focus.
One US study that analyzed the health data of 50,000 people over seven years found that those who made breakfast the largest meal of the day were more likely to have a lower body mass index (BMI) than those who ate a large lunch or dinner. The researchers argued that breakfast helps increase satiety, reduce daily calorie intake, improve the quality of our diet – since breakfast foods are often higher in fiber and nutrients – and improve insulin sensitivity at subsequent meals.
Breakfast Ideas: First Things, First!
First of all, I always start my morning with a cup of tea. Since most teas contain tannins, which are a common migraine trigger, there's only one type of tea that I can have: Runa Organic Guayusa Loose Leaf Tea! I infuse it myself in these cute infusers, add a little milk (either flax milk or oat milk), and I'm good to go!

Breakfast Ideas: Smoothies
I love a tasty smoothie for breakfast! Something about the process of making it and the cold, colorful result just wakes me right up and puts me in a good mood!
In my April SO in the KNOW post, I told you about this handy little blender I just got that has made blending up my morning smoothie so much easier! You blend it right in the 20-oz. sports bottle, minimizing cleanup!

When you're done blending, you just switch from the blender lid to the pop-top drinking lid, and you're good to go. The bottle is BPA-free & dishwasher safe, so cleanup is easy-peasy.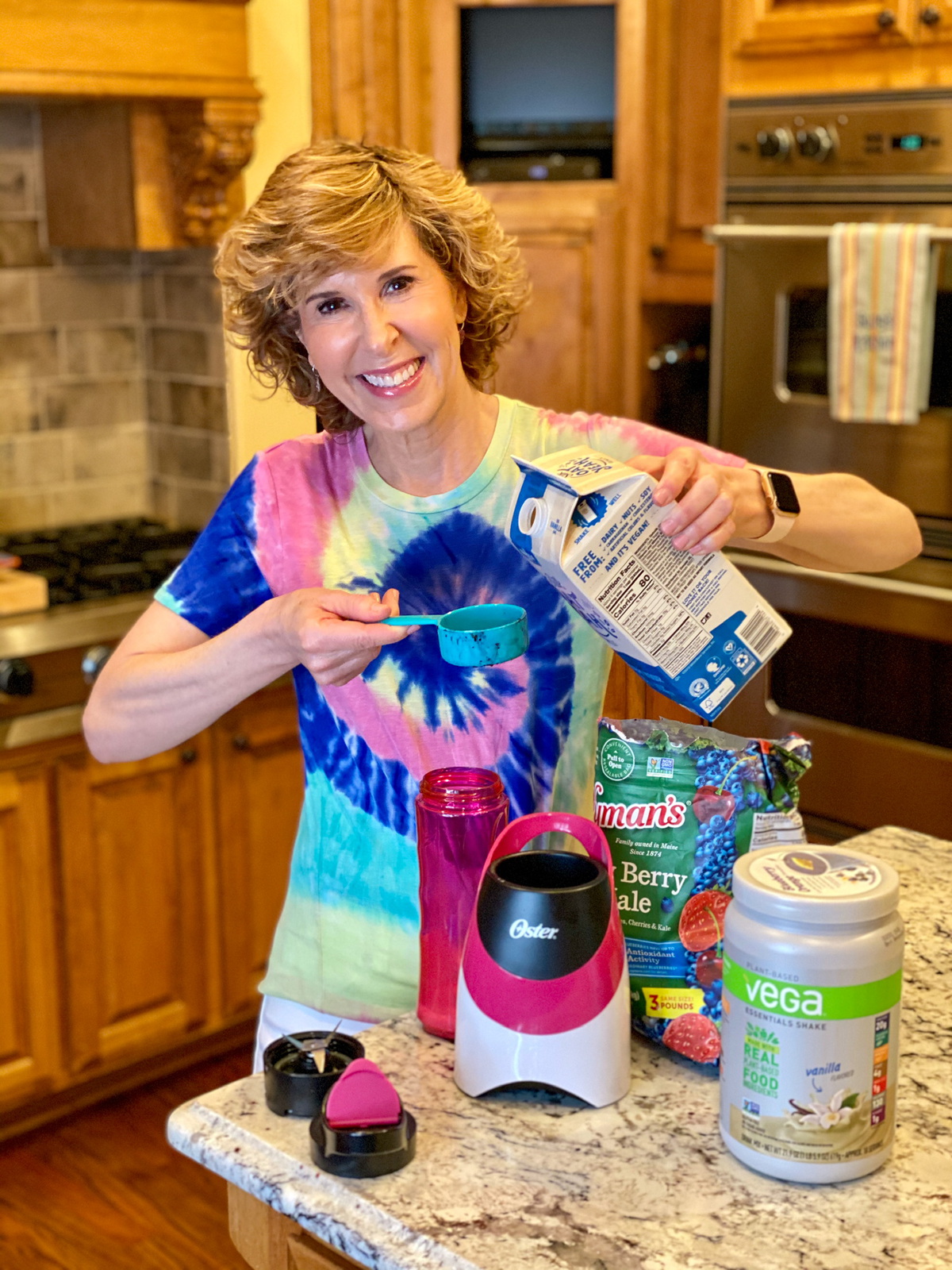 I'm dairy intolerant, so I use either vanilla-flavored flax milk or oat milk (no sugar added).
Suzy's Vanilla Smoothie
1 c. milk
1 scoop Vega Essentials Protein Powder, vanilla flavor (or any protein powder)
1 c. frozen mixed berries
1 handful raw spinach (You won't even taste it, but you'll get the nutrients!

)
Add ingredients to blender bottle in the order listed. Blend until well mixed (about 30 seconds). Can add more "milk" to adjust the thickness. Swap out the bottle lids and enjoy!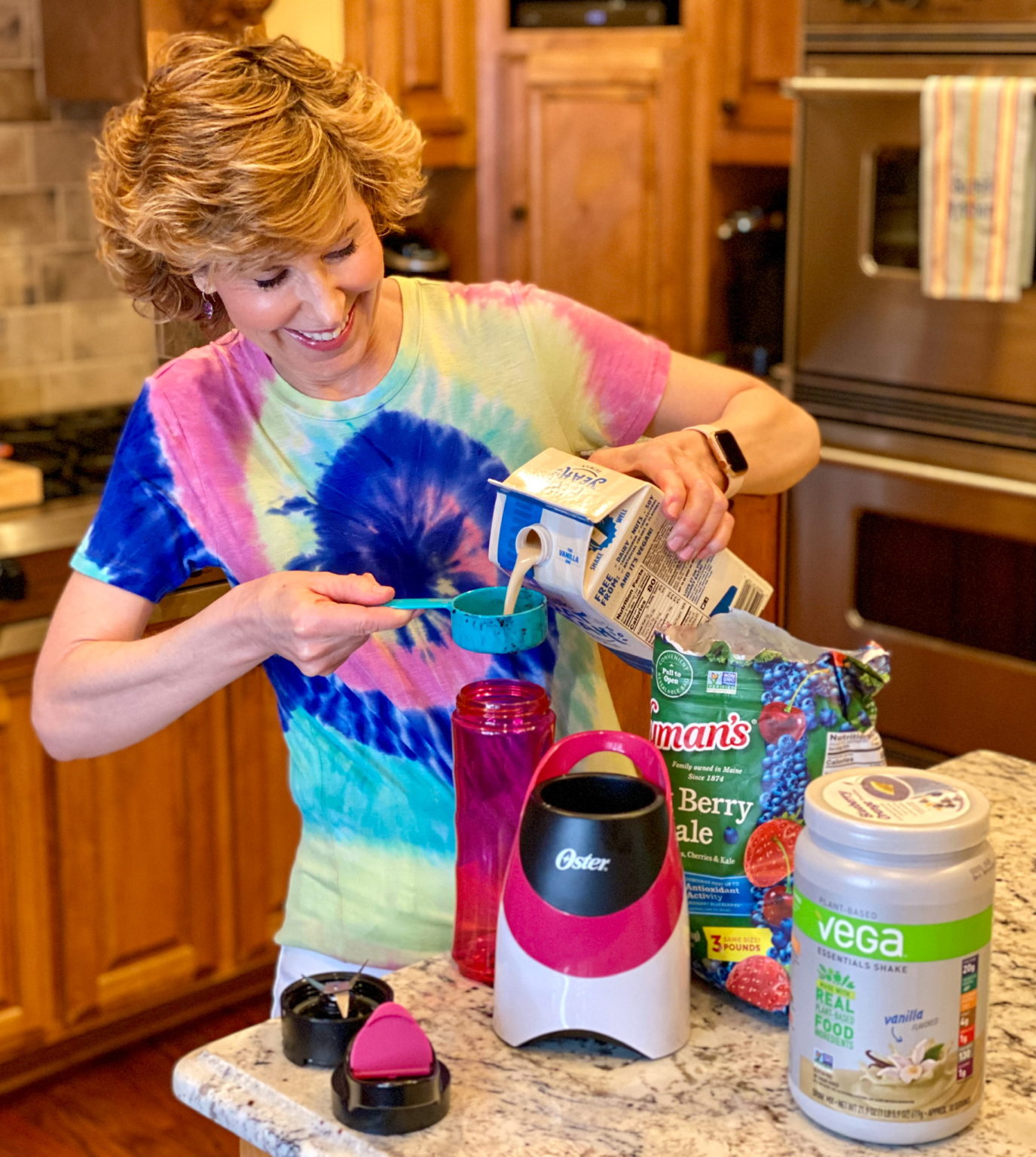 Tie-Dye Tee sold out (similar linked) | White Jeans | Earrings | Apple Watch | Lipstick | Blender

I love all of the tie-dye this season! A simple tie-dye tee is an inexpensive and happy little wardrobe update, whether warm weather sees you at the beach, or we're still in #stayathome mode. (Hopefully not! Fingers crossed!
) Unfortunately, mine is sold out, but I've linked a few other cute choices right here.

Breakfast Ideas: Oatmeal
I find a hot bowl of oatmeal so comforting on a cold morning! It's as nutritious as it is delicious!
Oatmeal contains both soluble and insoluble fiber. Soluble fiber helps to lower cholesterol and stabilize blood glucose levels, and insoluble fiber helps improve intestinal health and regularity.
Oats contain a group of antioxidants called avenanthramides. They're anti-inflammatory and may provide additional protection against coronary heart disease, colon cancer, and high blood pressure. They also contain an anti-itch property that helps inhibit skin irritation.
Oats contain thiamine, magnesium, phosphorus, zinc, manganese, selenium, and iron.
Oatmeal is a naturally gluten free food that helps control weight by keeping you fuller longer.
I eat oatmeal every Saturday morning! I make it in my mini rice cooker or the microwave, and I add cinnamon to mine!
Suzy's Saturday Oatmeal
1 c. water
½ c. old-fashioned oats
¾ tsp. ground cinnamon
1 pinch salt
Add all ingredients to the rice cooker and stir to mix. Cook, occasionally stirring to make sure it doesn't boil over. You can also cook it covered in the microwave on high for two minutes. Either way you cook it, stir after cooking, and let stand for two minutes. Serve with milk. I like to cut up fresh strawberries and serve them on top, but occasionally I will add ¼ c. diced apples right into the oatmeal before cooking instead.
Suzy's Company Oatmeal
I make this for breakfast when we have company, and I also made it for Christmas morning this year. It's always a crowd-pleaser!

2 c. milk
2 Tbsp. honey
1 Tbsp. butter
¼ tsp. salt
½ tsp. cinnamon
1 c. dry old-fashioned oats
1 c. chopped apple
½ c. chopped walnuts (optional)
2 Tbsp. brown sugar
Mix all ingredients in a greased slow cooker or instant pot. Cover. Cook on low 5-6 hours. Serve with milk.

Breakfast Ideas: Cereal for GrownUps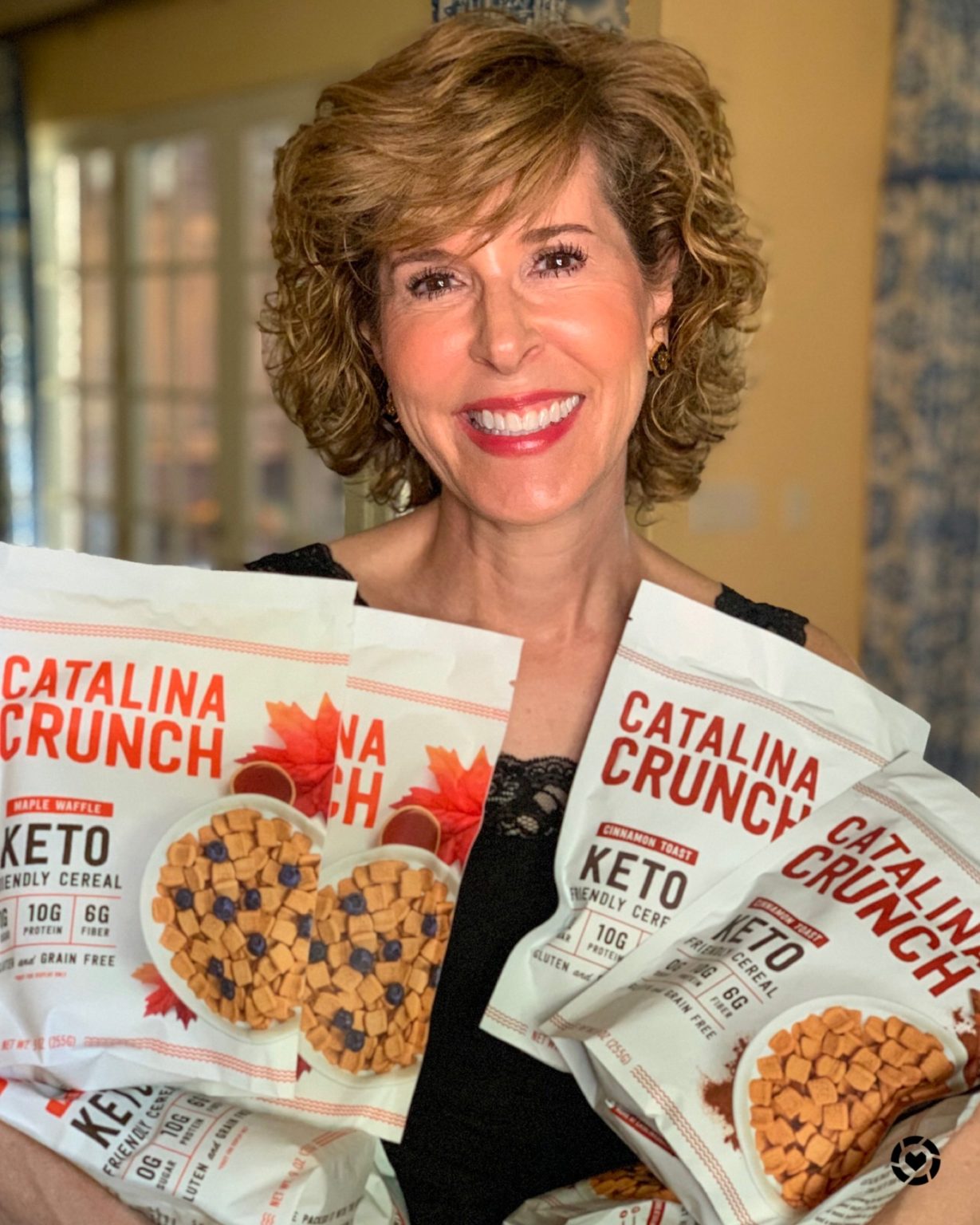 Last year I discovered Catalina Crunch cereal, and it changed my life! Most cereals are full of sugar and empty carbs, or they're boring and tasteless, but not Catalina Crunch.
Gluten & Grain Free
Zero sugar
Vegan
Free of nuts, soy, and lactose
Non-GMO
Keto-friendly (up to 10g Plant-Protein, 6g Fiber, 0g Sugar, and only 5g Net Carbs.)
Zero artificial ingredients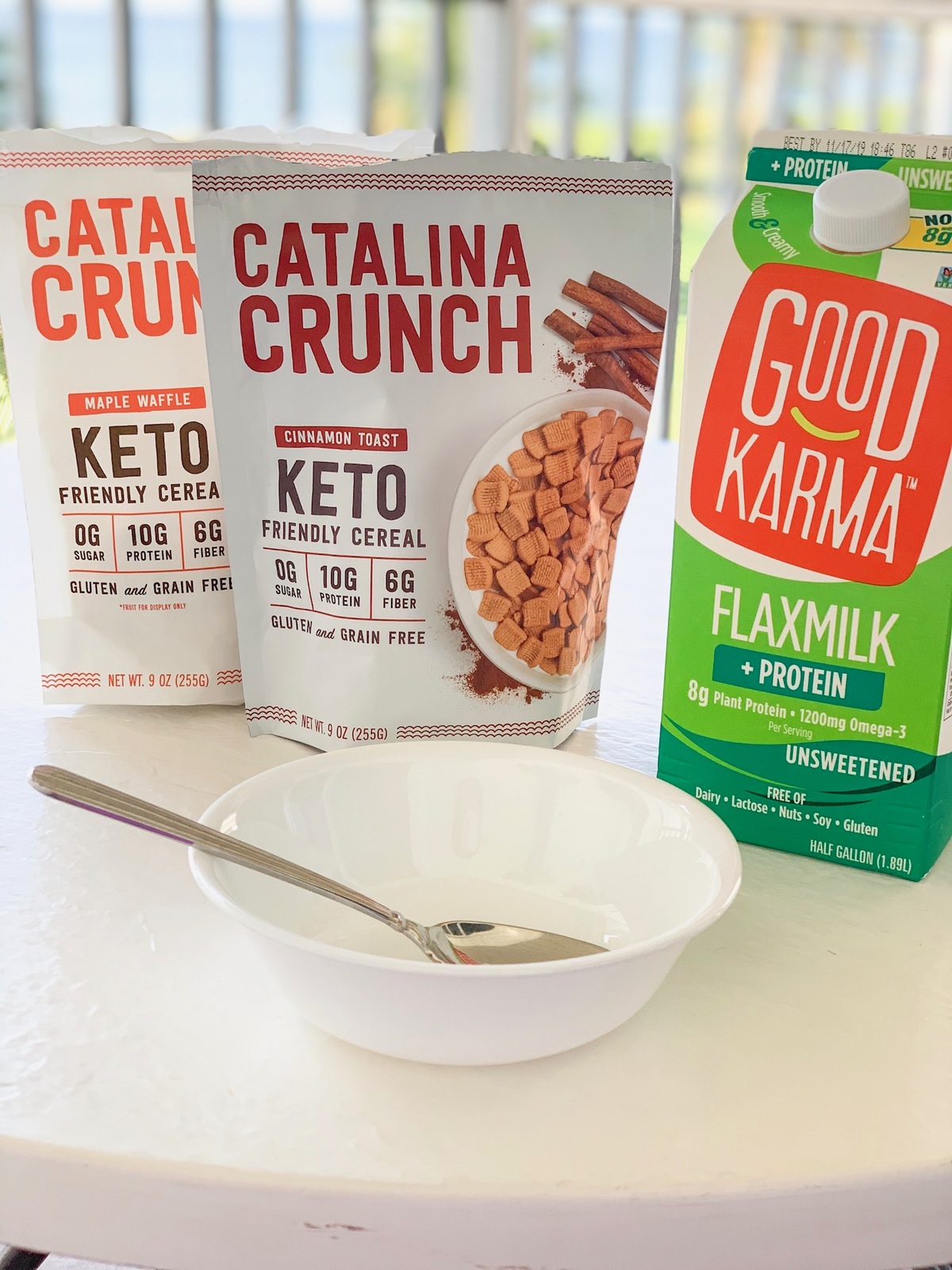 My favorite flavors are Cinnamon Toast and Maple Waffle, but Catalina Crunch also comes in Dark Chocolate, Honey Graham, Chocolate Banana, and Mint Chocolate Chip!

Want to sample all of them? Try the All 6 Flavors Variety Pack!

Catalina Crunch cereal is packed with fiber, protein, and healthy fats. These nutrients fill you up very, very quickly. In fact, just half a cup of Catalina Crunch has over 25% of the fiber you need for your entire day! It's not cheap, but you only eat half of what you usually would with other cereals! (It looks a little weird, but trust me on this one—it's much more filling than other cereals!
BTW, I've never tried them, but Catalina Crunch also makes Keto-friendly smoothies!
Also, if a fruitier cereal appeals to you, you might consider trying the cereals made by The Cereal School. They're also Keto-friendly and free of gluten, lactose, soy, and sugar. I've never tried them, but I have some on order right now! They're sweetened with zero-glycemic monk fruit and have 16 grams of protein per serving! In addition to Cocoa, Cinnamon Bun, Cookies & Cream, and Peanut Butter, they come in flavors like Berry, Fruity, and Apple Pie! Click HERE to see them all!
Breakfast Ideas: Açai Bowl
The açai (pronounced ah-sah-EE) berry is an inch-long, reddish-purple fruit. It comes from the açai palm tree, which is native to Central and South America. Some studies show that açai fruit pulp is even richer in antioxidants than cranberries, raspberries, blackberries, strawberries, or blueberries. Açai berries are widely touted as a so-called superfood, with proponents claiming that they are helpful for a variety of health concerns, including arthritis, weight loss, high cholesterol, erectile dysfunction, skin appearance, detoxification, and general health.
I love açai bowls, especially in the summer, and I make them all the time when we're at our beach condo in Sanibel Island, Florida. I took this photo when I was there in January!
Açai bowls are meant to be eaten with a spoon because they're substantially thicker than smoothies! For this reason, I use a powerful blender to make mine, rather than the blend-right-in-the-bottle blender I use for smoothies.

Suzy's Açai Bowl
1 frozen açai pack (In Dallas, I buy them at Trader Joe's, but in Florida, I buy this multi-pack that includes the fruit!)
½ c. milk (I use flax milk or oat milk.)
½ frozen banana (optional)
½ c. frozen blueberries
5-7 frozen strawberries
1 handful spinach or kale (You won't even taste it, but you'll get the nutrients!

)
1 scoop Vega Essentials Protein Powder, vanilla flavor (or any protein powder)
TOPPINGS:
* 3-4 strawberries, sliced
* sliced kiwi, peaches, apple, or whole blueberries (You pick!)
* ½ banana sliced
* ¼ c. granola
Pour milk into blender. Run the frozen açai pack under warm water for about 30 seconds, or until you can break it up into a few pieces. Cut open the pack and add to blender. (Careful! This can get messy!

) Add in frozen fruit, the handful of spinach or kale, and the scoop of protein powder. Turn blender on low to mix. While the blender runs, slice and prepare toppings. If the blender stalls, add an additional splash of milk and use a spatula to shift the ingredients. (I like my açai bowls thick, so I like to use as little liquid as possible!

) When blended, use the spatula to pour into a bowl, add desired toppings, and enjoy!
I hope I've given you some fun new ideas for breakfast! We can all get into a rut, but since we're all staying home right now, it's the ideal time to break out of your breakfast rut and try some new breakfast ideas! What are your favorite breakfasts? I'd love to know! Please leave me a comment and share!
Blessings,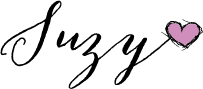 P. S. You might want to Pin this post for future reference! Also, please feel free to share it with others using the social media icons below! (Honestly, it's the nicest compliment you can give me!

)
The post Beyond Bacon & Eggs | Make Over Your Morning With New Breakfast Ideas appeared first on Empty Nest Blessed.