Chic Pieces For Your Fall Wardrobe
Fall. It's a time for transformation. Leaves are falling, colors are changing, and it's time to ditch the shorts and t-shirts and elevate our style. Last fall, we stayed home – lounging in our most comfortable clothes and staying hidden from the world. This year? It's time to bring back the chicness to our wardrobes by styling them up with some key fashion elements. We're talking about a must-have blazer that will dress up a pair of stylish jeans and some trendy boots. Invest in an elegant silk skirt that will announce your arrival at the holiday party with a show-stopping look. Dive into a warm and cuddly coat that'll keep you going all night and get you home safe and sound. 
And let's not discount the ultra-cool trendiness of a leather skirt or a pair of awesome leather pants. Last year we stayed home. We stayed in. We lost our fashion sense and came out on the other side. This year we've earned a few fashion risks and are ready to reap the rewards. 
With that in mind, we've pulled some of our favorite must-have go-to style essentials for the fall, as well as a variety of different looks for each piece, so you'll find yourself spending less time deciding what to wear and more time having fun wearing it.  
Fall Wardrobe Essentials Checklist
Disclosure: This post contains affiliate links.
Must-Have Blazer
A great blazer can dress up any outfit. Find a comfortable fit in either a solid or a print – whatever you think will give you the most versatility. Find a style that flatters your figure (shoulder pads optional). Next, pair it with your favorite long-sleeve shirt, a pair of jeans, and some killer accessories. A fashionable blazer is not only perfect for keeping you warm during the cool fall evenings, but it will also make you look good at a lunch outing with your girlfriends.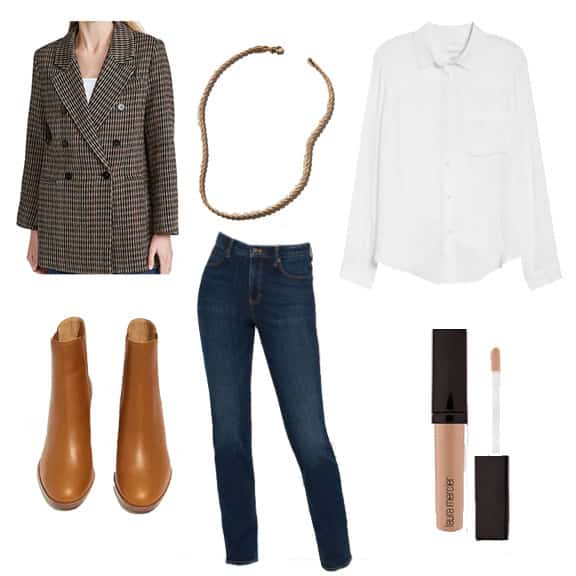 Autumn Blazer, $168 |Shopbop
Straight Leg Jeans, $95 | Talbots
White Button-Down Shirt, $59 | Treasure & Bond
Laura Chelsea Boot, $188 | Madewell
Gold Necklace, $145 | Anthropologie
Lip Gloss, $28 | Laura Macier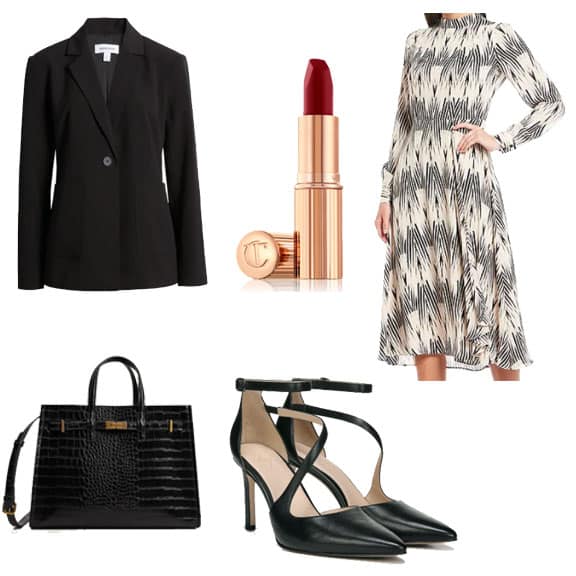 Black Blazer, $129 | Nordstrom
Geo Print Dress, $158 | Maggy London
Croc Bag, $55.99 | Mango
Naturalizer Black Heels, $135 | Naturalizer
Red Lipstick, $34 | Charlotte Tilbury
Leather
Don't get us wrong; leather can be a scary fashion item. But that doesn't mean you shouldn't give it a try. Fitted leggings with a loose top will take you to the next level of chic while adding just a hint of rebelliousness.
As Lady Gaga said, "Leather, high heels, and a bad attitude. Here I come."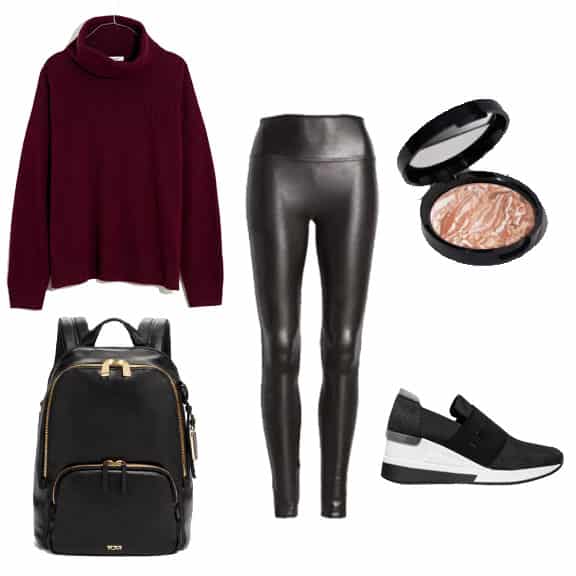 Faux Leather Leggings, $98 | Spanx
Maroon Sweater, $74.50 | Madewell
Hannah Backpack Leather, $545 | Tumi
Correcting Foundation, $34 | Laura Geller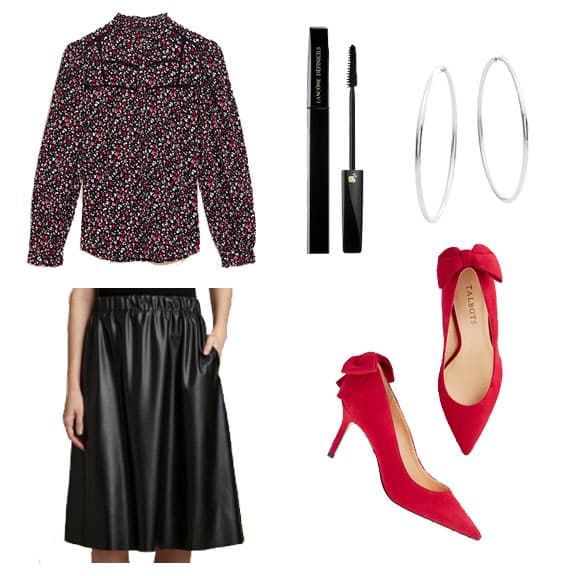 Leather Skirt, $124 | Elie Tahari
Floral Blouse, $50 | M&S
Red Erica Heels, $159 | Talbots
Silver Earrings, $84.50 | Saks Fifth Avenue
Mascara, $28 | Lancome
Slip Skirt
A slip skirt is the very essence of sleek style. Whether you opt for a simple black pencil skirt or a soft, colorful option, you'll find that you feel elegant as soon as you put it on. The accessories will help dictate the level of dressiness. Kitten heels or sneakers both pair well and dictate the direction of your ensemble.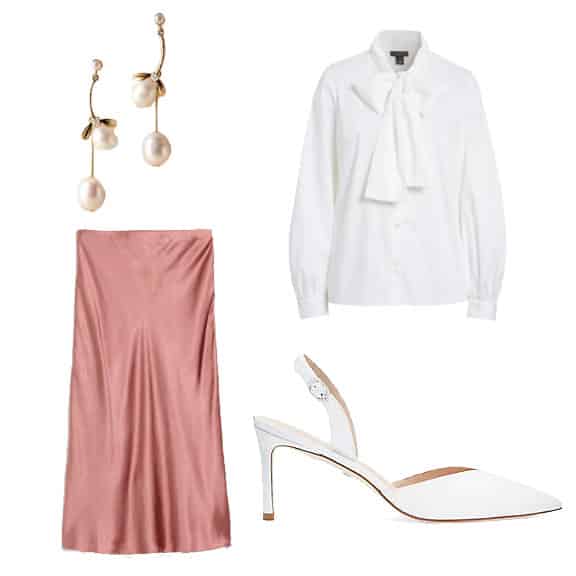 Mauve Silk Skirt, $98 | Madewell
Tie-Neck Shirt, $47.40 | Halogen
White Slingback Heels, $395 | Stuart Weitzman
Pearl Earrings, $105 | Anthropologie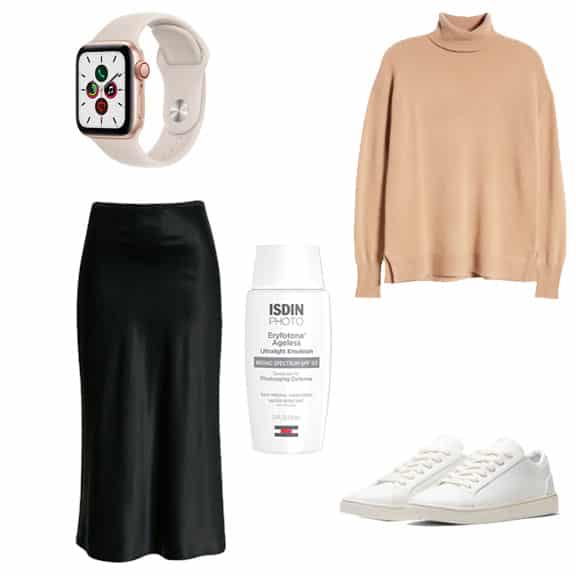 Black Silk Skirt, $318 | Careste
Cashmere Turtleneck, $119 | Nordstrom
White Sneakers, $120 | Thousand Fell
Apple Watch, $279.99 | Apple
Isdin Tinted Moisturizer, $70 | Isdin
Cuddly Coat
Cool fall nights are followed by cold winter days, and there's no better accessory than a cuddly coat. Paired with both dresses or jeans, you'll love the way you look and feel in this style of coat! Zip into a warm hug that'll keep you heated up while you're out and about while still looking fun and fashionable.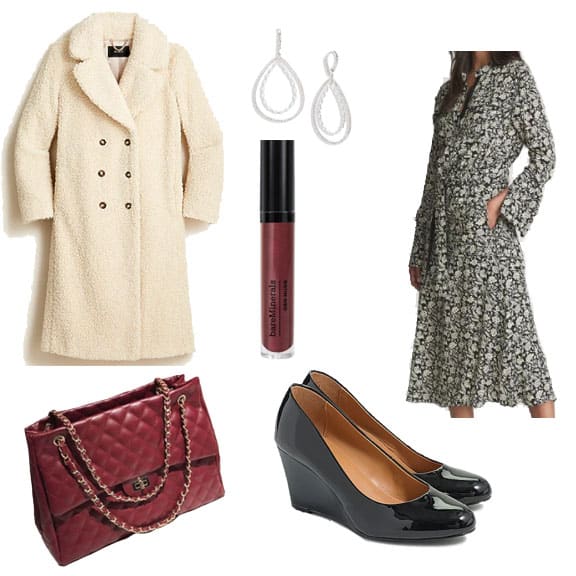 Ivory Teddy Sherpa Topcoat, $149.50 | JCREW
Black Floral Dress, $430 | Reiss
Burgundy Quilted Handbag, $62 | Goodnight Macaroon
Sylvia Patent Wedges, $49.50 | JCREW
Silver Earrings, $59 | Nordstrom
Lip Gloss, $15 | Bare Minerals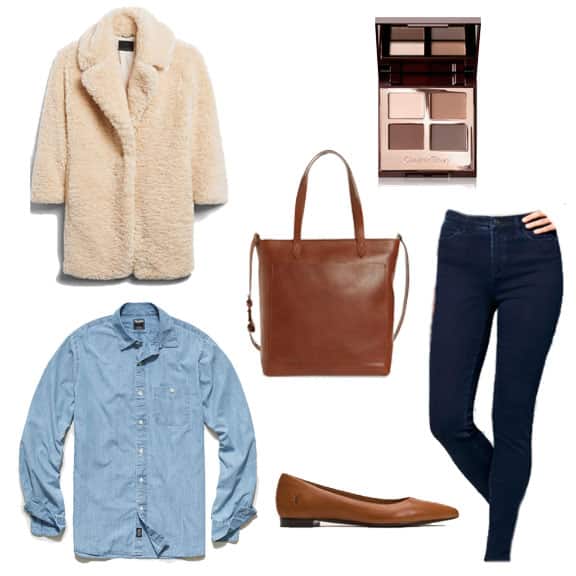 Sherpa Cocoon Coat, $269 | Banana Republic
Navy Jeggings, $95 | Talbots
Brown Leather Toe, $178 | Madewell
Chambray Button Down, $178 | Todd Synder
Brown Ballet Flats, $188 | Frye
Eye Shadow Pallet, $53 | Charlotte Tilbury
Read Next:
Chic Sweater Dresses We're Loving For Fall And Winter
Cozy Fall Pajamas You'll Want To Wear All Season
The post Chic Pieces For Your Fall Wardrobe appeared first on Prime Women | An Online Magazine.