Clothing Subscription Face-Off: Stitch Fix vs. Nordstrom Trunk Club
We asked 14 people who use one of these two popular clothing subscription boxes for their honest reviews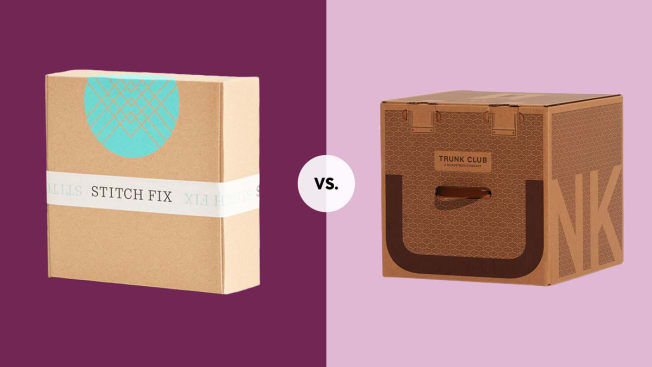 By Perry Santanachote
Back when you were learning how to Dougie, a few subscription-based startups—Birchbox, Dollar Shave Club, and Stitch Fix—stepped onto the retail stage, disrupted the heck out of how young people shop, and spurred a flurry of other companies, including traditional retailers, to launch their own subscription services. Ten years later . . . there's a subscription service for just about every product category, from meal kits and beauty boxes to pet toys and workout gear.
According to the market research firm Mintel, there are now more than 4,000 subscription boxes available to consumers willing to let someone else curate their purchases for them.
But despite supply being ample, seemingly endless, and on the rise, demand isn't keeping pace. Mintel reports that about a third of consumers use a subscription service, while half hesitate for a few main reasons:
They think subscription services are too expensive.

They don't want to commit to a subscription that's difficult to cancel.

They think subscription services are too hard to use.
Yet the main benefits that the services tout are convenience, value, and a sense of discovery. 
So what's the real user experience? A convenient value or a pricey headache? Consumer Reports conducted a study to find out just that, focusing on two clothing subscription services: Stitch Fix and Nordstrom Trunk Club, the two most commonly used services among our sample.
How We Evaluated the Subscription Boxes
"We weren't looking to find out what's the best clothing subscription box per se," says Linda Greene, test program leader in CR's Consumer Experience and Usability Research program. "But rather to evaluate the overall experience of people who are actually using the services."
Greene found an equal number of subscribers to each of the services, with 14 participants in total, and had them score these factors (1 = low, 5 = high):
Selection: User satisfaction with selection of items (for variety, style, and fit).
Orders: How easy or difficult it is to exchange and return items in an order.
Stylist: User satisfaction with stylist services.
Subscription: How easy or difficult it is to change, pause, and cancel a subscription.
The participants ranged in age from 26 to 45 years old and live in 10 states. The study had six female participants and one male participant using each service. Some had been using the service for more than a year and some for four to six months.
Stitch Fix vs. Nordstrom Trunk Club at a Glance
Stitch Fix launched in 2011 as a women's clothing and accessories subscription service. It has since expanded to include boxes for men and children, and as of 2019 has more than 3.2 million shoppers annually, according to Mintel. 
The basic premise is a "keep what you want, return what you don't want" model whereby customers receive five items in their box at a frequency of their own choosing. Stylist fees are $20 per fix, which can be applied to the cost of the chosen items in the box. If customers keep all five items, they receive a 25 percent discount. Returns are free; boxes contain a return envelope that the customer then has to take to USPS.
Stitch Fix uses customer profile data from style quizzes and feedback to feed its algorithms, which stylists use to create personalized looks for users. Before your first fix is compiled, Stitch Fix asks you to take a style quiz to tell the stylists your size, style, wardrobe needs, and budget (prices range from $25 to $500 per item). Before each fix is shipped, customers get a chance to preview the items, remove anything they don't want, and leave feedback. The stylist will replace any rejected items.
The clothing retailer Nordstrom acquired Trunk Club, a personalized clothing and accessories service for men, in August 2014. It has since expanded to include boxes for women, and as of August 2021 is fully integrated with the Nordstrom retail business.
Trunk Club will send you a box with about 10 items at a frequency of your choosing. Two days before it ships out, you'll get to preview your trunk and make edits (changes sizes, exclude items, and swap items). Stylist fees are $25, which is credited to your purchase (and waived for Nordstrom cardmembers). Once your trunk arrives, you have five days to try things on, keep what you want, and ship the rest back via FedEx (the company provides free carrier pickup) or drop off returns at a Nordstrom store. No discount if you keep everything in the trunk, though.
Before your first trunk is compiled, Trunk Club asks you to take a style quiz to tell the stylists your size, style, wardrobe needs, and budget (prices typically range from $50 to $300 per item).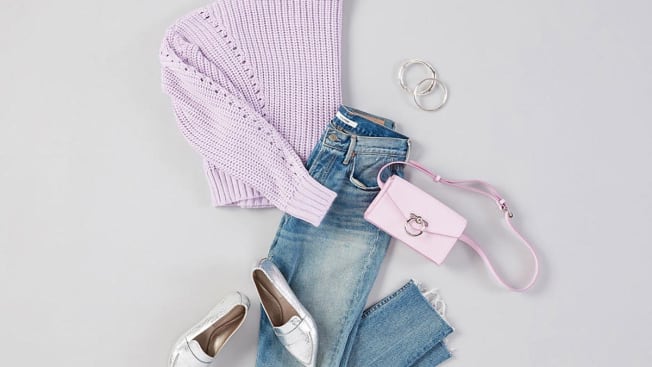 Photo: Nordstrom Trunk Club
How Each Service Scored in Our Study
Selection
Winner: It's a tie
Both Stitch Fix and Nordstrom Trunk Club scored a 4 out of 5 for the picks in their boxes—considering variety, style, and fit. Most participants said that both services were a good value for the money spent, especially if discounts and promotions were applied. Others found value as they were looking to try new styles and guidance on what to wear. Some users from both services complained that the selections were either too old and "mom-ish" or too young for their style.
One Stitch Fix user noted that at times, cheaper prices could be found for some items, though that wasn't necessarily a deal breaker. (Stitch Fix offers price matching within seven days of delivery if the item is in stock in your size and not part of a sale.)
"I do chalk some of this up to a convenience fee, and I'm okay with that. If it's a product that I like, I will still purchase through Stitch Fix, especially if I'm purchasing all five products and get the discount. As far as the quality of those products goes, it is pretty varying. At times, the product itself is high-end and moderately priced. At other times, it's low-end and high-priced. There's quite a bit of variability there. But the items that I have found that I liked, I like a lot." —Lucas
Most Stitch Fix users were satisfied with the selection of clothes. But one participant thought it fell off the mark in this category, even after she had been taking its daily style quizzes for months.
Some Nordstrom Trunk Club users dinged the service for its selection—one claiming that the service ignored the stated price range—and one commenting on inconsistent sizing. But a few noted that they appreciated the high quality of the clothing.
Orders
Winner: Stitch Fix
Almost all participants were satisfied with the ordering process, which included the ease of making an exchange or returning an item. Stitch Fix scored a 5 out of 5 and Nordstrom Trunk Club scored a 4 out of 5. All but one participant noted that the boxes arrived on time.
Users said Stitch Fix made exchanges easy and hassle-free, and even accepted an exchange after a user washed the item.
A few using Nordstrom Trunk Club noted that making exchanges was frustrating only because the service often didn't have the sizes they wanted. And when reviewing a trunk before it was shipped out, one user said the swap options were too limited.
Stitch Fix provides an envelope for returns, and with the Nordstrom Trunk Club, the original box is used for returns and includes tape to seal it. There are no restocking fees, and the companies pay for the return postage. Nordstrom also provides free FedEx pick-up.
Stylist
Winner: Stitch Fix
While Stitch Fix edged out Nordstrom Trunk Club for stylist satisfaction, participants from both services had issues with stylists being changed without their prompting, stylists picking items above budget, and stylists not "listening" to their feedback. For both services, stylists included notes in the boxes, which highlighted the items and how to wear them. 
Stitch Fix users were generally more satisfied than Nordstrom Trunk Club users with their stylists' selection of items, and many thought the stylists got better with time. This could be due to Stitch Fix's option to keep or change a stylist.
A few Nordstrom Trunk Club participants stated that they used to be able to chat online with the stylists, but that feature is no longer available. Some users complained about the removal of dedicated stylists and the inability to have a more personal experience, and that the selections got worse, not better, over time because of constantly changing stylists.
"My first Trunk Club stylist was just wonderful, super-helpful, engaged, and really seemed to enjoy what he did. He didn't always get it 100 percent right but got me pieces I wouldn't have tried myself, which I loved. Subsequent stylists weren't as great and didn't seem to listen to my feedback or send me what I asked for." —Lauren
Subscription
Winner: Stitch Fix
We asked participants to show us how to change the frequency of their shipments, how to pause a subscription, and how to completely cancel a subscription. Then we asked them how easy it was to do those tasks. Again, Stitch Fix bested Nordstrom Trunk Club, scoring 4 out of 5 compared with Trunk Club's 3 out of 5.
Participants from both services thought it was easy to change the frequency of ordering and pause a subscription, but some thought that pausing a subscription was the same as canceling it. Several participants had to refer to the FAQs to figure out how to carry out these tasks. Some didn't know how to cancel, and some commented that it was difficult to do. 
Users found pausing a subscription to be simple, by just selecting "on-demand" in their accounts.
"Just go on-demand and then they don't send you any trunks until you go in and specifically request it. It's really convenient, simple. It doesn't stop the account. I don't lose any of my information. They don't send me any annoying notes about still getting a new trunk." —Krystal
But it wasn't clear how to permanently cancel their subscription or whether that was even possible.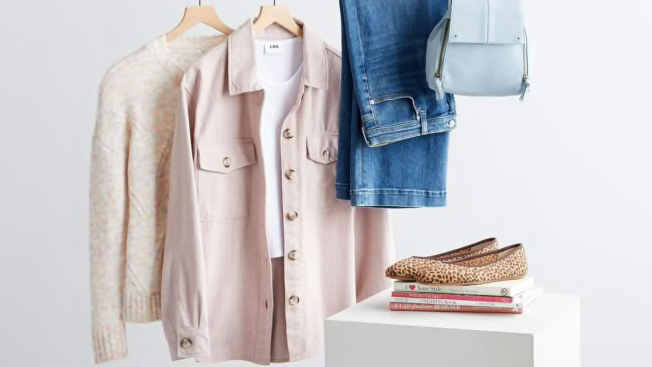 Photo: Stitch Fix
The Winner
Stitch Fix is the higher-rated of the two clothing subscription services, earning 4s and 5s for all scores. The company sends five items in a box according to a frequency set by the user. Most were satisfied with the selection of clothes and the ordering process. Stitch Fix users were generally more satisfied than Nordstrom Trunk Club users with their stylists, which could be due to Stitch Fix's ability to keep or change a stylist.
Nordstrom Trunk Club was only slightly behind Stitch Fix, earning overall scores of 3s, 4s, and 5s. More items are sent in a box than with Stitch Fix (about 10), and like Stitch Fix, the frequency is set by the user. Most were satisfied with the selection of clothes, with a few noting that they appreciated the high quality. Most were also satisfied with the ordering process, though a few noted frustration with not being able to exchange an item for the right size. There were some complaints about the removal of dedicated stylists but generally, Nordstrom cardmembers should consider Trunk Club a great perk that's financially risk-free.
"Still, our participants were really into using these services, and almost all said that they would be very likely or likely to continue using Stitch Fix or Nordstrom Trunk Club," Greene says. Some prefer the convenience of ordering online to shopping in stores, and appreciate the low-risk experience of trying new styles and brands that they otherwise would not have thought of trying. Their collective experience indicates that these services are easy to use and pause, dispelling some common misconceptions about clothing subscription services. But they can be expensive, which isn't necessarily a bad thing for the target user.
Consumer Reports is an independent, nonprofit organization that works side by side with consumers to create a fairer, safer, and healthier world. CR does not endorse products or services, and does not accept advertising. Copyright © 2022, Consumer Reports, Inc.