Elizabeth Olsen's Scarlet Witch Costume Contains A Few Sneaky Easter Eggs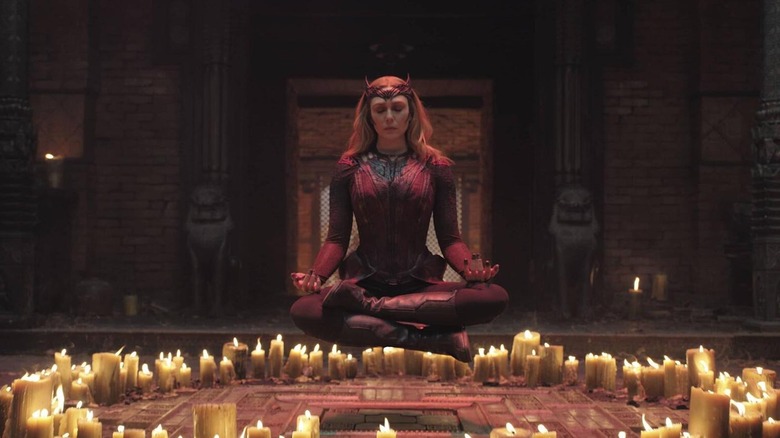 When your favorite superhero gets a new costume, it may simply be that companies are looking to sell more toys and produce variant comic book covers. But costume changes -- even if it's just small details -- can also serve interesting narrative purposes. In Kevin Smith and Jim Lee's story in "Detective Comics" #1000, for example, Batman melts down the gun that killed his parents to create the piece of armor that goes behind the emblem on his chest. As he puts it in the story, "the metal that broke my heart as a child [is] the same metal [that] will protect my heart as a man."
Where Bruce Wayne wears his emotions on his sleeve (or chest), Wanda Maximoff's wardrobe changes in the Marvel Cinematic Universe carry similar significance. From her first appearance in "Avengers: Age of Ultron" to "Captain America: Civil War" to her last known sighting in "Doctor Strange in the Multiverse of Madness," the costumes donned by Elizabeth Olsen's powerful chaos magician tell just as much about her story as the events we witness on each step of her journey. 
Recently, Marvel Studios' Director of Visual Development, Andy Park, shared some insight into how certain details in her latest costumes reflect what has been happening with her since "Avengers: Infinity War." 
What Is Grief If Not Love Persevering?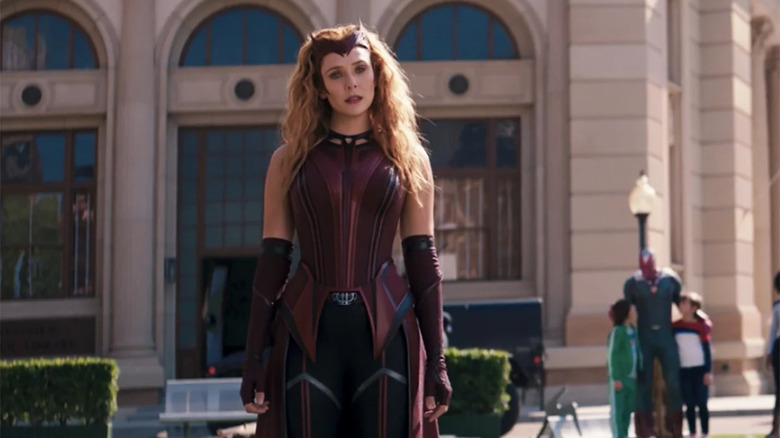 To say that Wanda Maximoff's transformation into the Scarlet Witch involved a good amount of grief is an understatement. We explored her grieving process in "WandaVision," but went to another level when she gave in to the corrupting powers of the Darkhold in order to search the multiverse for the love that she lost. Not only does she carry the memories of Vision, Billy, and Tommy in her thoughts, Marvel Studios' Andy Park revealed that they had been incorporated into her costume as well.
In a video for Marvel's YouTube channel, he discussed some interesting Easter eggs incorporated into the Scarlet Witch's costume that debuted at the end of her Disney+ series. First, utilizing the negative space around her collarbone, there's a hexagonal shape that is a clear nod to Vision's Mind Stone. Then, there's a linear design on her chest that creates a W for Wanda above a V for Vision. In fact, Vs can be found throughout the costume, particularly on her tights.
When we catch up with her again in Sam Raimi's "Doctor Strange," the changes in her costume have come to reflect changes in her attitude. Not only did the team add sleeves to her suit, but other details reflect the changes she's been going through after being imbued with dark magic. Park noted that "The texture that ['Multiverse of Madness' costume designer Graham Churchyard] gave on the bodice area of the 'WandaVision' suit looks like there's a crack. It almost looks like a broken heart," he continued, on "a dark, corrupted version of that hero outfit."
Though there's been a mixed reaction to how things played out for Wanda, it's fascinating to hear about the ways that her costume adds layers to her story.
Read this next: 11 Marvel Comics Villains We Really Want To See In The MCU
The post Elizabeth Olsen's Scarlet Witch Costume Contains a Few Sneaky Easter Eggs appeared first on /Film.