Everything You Need to Know about Merry People Rain Boots
Are you looking for a reliable and stylish rain boot? Look no further than Merry People Boots. This Australian-based brand is renowned for its quality, comfort, and classic designs. Let's take a closer look at the brand and explore some of their most popular styles.
What are Merry People Boots?
Merry People Boots are a stylish, comfortable, waterproof rain boot that comes in a variety of colors and styles. The boots are made with high-quality rubber and insulated fabric lining to keep your feet warm and dry even in extreme weather conditions. They also feature an anti-slip sole to help you stay steady on wet surfaces. Whether you're wearing them for work or as part of your everyday wardrobe, these boots will keep your feet safe from the elements.
Merry People brings modern superior technology design to make classic waterproof boots comfy & versatile to keep your feet warm & supported in all activities. At Merry People they think about wellies differently, Merry People represents finding what makes you feel happy and alive. The brand is keen on spreading good/positive energy and happiness through their fashionable and colourful designs.
Best Selling Styles of Merry People Boots
The most popular style of Merry People Boots is the Original Tall Rain Boot. It's available in black, navy blue, olive green, burgundy red, deep purple, light pink, camel brown, natural tan, bubblegum pink and more! They have a timeless design that makes them perfect for any outfit or occasion. Other popular styles include the Oxford Shoe Rain Boot (available in black or navy), the Chelsea Rain Boot (available in black or navy), and the Slouchy Ankle Boot (available in black).
Rain Boot Reviews
Merry People Boots have overwhelmingly positive reviews online. Customers love how comfortable they are to wear all day long in addition to how stylish they look. Many customers also appreciate that these boots can be easily wiped clean with just a damp cloth after getting muddy or wet. The anti-slip sole is another feature that customers appreciate; it helps keep them steady on wet surfaces so there's no worry about slipping and falling!
Do Merry People Boots Run Big?
Yes! Most customers find that these boots run slightly big but not enough that they need to size down significantly; half a size should be enough if you want a snugger fit since they do stretch over time with regular wear. If you are between sizes though it may be best to size up as opposed to down since too small of a size could make them uncomfortable after hours of wear.
Do Merry People Boots Stretch?
These boots are made with natural rubber which means they will stretch slightly over time as you break them in; however this does not mean the sizing will change drastically throughout regular wear – just enough for them to become more comfortable as time passes by!
How To Clean Rain Boots?
Cleaning your rain boots is easy; all you need is some warm water and mild soap such as dish soap or laundry detergent then simply mix together until bubbles form on top before dipping an old toothbrush into the solution then brushing away any dirt or grime on your boots using circular motions until clean. Once done wiping away any excess moisture before leaving them out overnight to air dry completely before storing away safely until next use!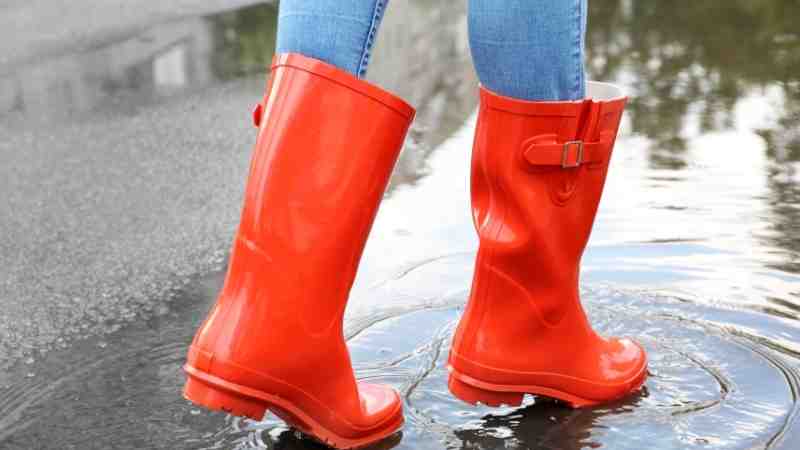 Where Can I Buy Merry People Boots?
You can buy your very own pair of quality Merry People rainboots directly from their website. products stocked at various retailers around Australia including Myer stores nationally as well as select boutiques. 
Merry People Boots are not sold on Amazon or Zappos. 
 If you're looking for stylish yet reliable rainboots then look no further than MerryPeopleBoots – an Australian based brand renowned for their quality comfort & classic designs available in various colors & styles! With customer reviews raving about their comfortability & ability to withstand extreme weather conditions plus features such as anti-slip soles & wipeable materials – these shoes will definitely keep your feet safe from the elements whilst looking great too! So why not check out their website today & start shopping now?!
The post Everything You Need to Know about Merry People Rain Boots appeared first on Shoeaholics Anonymous Shoe Blog.