Fall 2022 fashion trends: all the best trends for women over 40 this season
Are you planning your Fall wardrobe? Fall fashions are already hitting the stores, so it's the perfect time to be inspired and add some current trends to your closet. Below you can find the fall 2022 fashion trends that are best for – or that you can adapt – for women over 40:
fall 2022 fashion trends
Below, you'll find 18 trends from the winter and fall runways to try. See if you have a favorite, or if you already have some of these in your closet.
dramatic graphic prints
Alexander McQueen – Loewe – Max Mara
Some prints can be tricky to wear when you're older. Florals, for example, depending on what you choose, can run the risk of looking a little "old ladyish". However, there's definitely no chance of that with the modern, stylish graphic prints above that featured amond the fall 2022 fashion trends on the runways.
You could choose a dramatic print across your suits or dresses. Or, for a slightly more subtle approach, choose a large, graphic print on your t-shirt or sweater to go with your jeans or favorite pants.

Sharp suits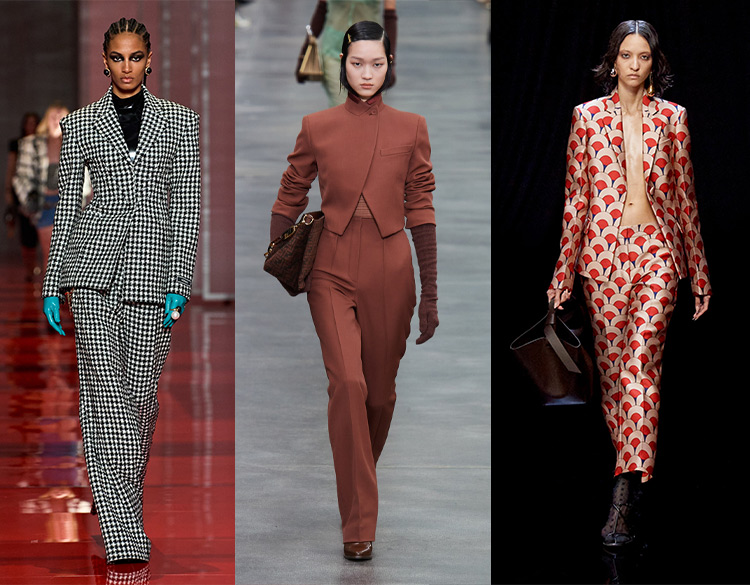 After months of working from home, designers were ready for a more structured look. You could try a full suit if you have an important event, conference or meeting to attend.
Or, if you choose a more playful option, such as a print or bright color, you could think about a suit for a wedding or dinner. You can, of course, also wear your suit as separates. Wear the blazer with your jeans, or wear your pants with a different top or jacket.

velvet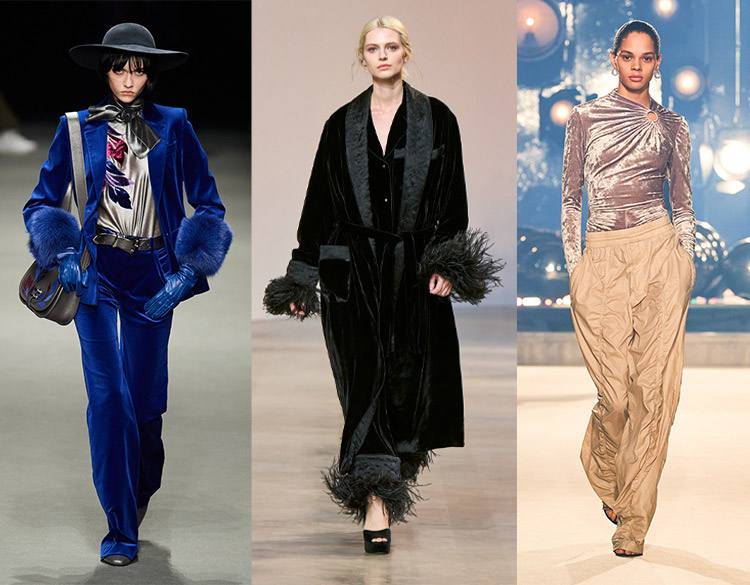 Alberta Ferretti – Elie Saab – Isabel Marant
Velvet is one of those fabrics that can look old-fashioned, but it's also very on-trend right now, and can be perfect for the festive season. Look for modern shapes and colors when you choose velvet. Plus, think about wearing it in unexpected ways. For example, you could wear a velvet top with your jeans.

Sequins
Giambattista Valli – Elie Saab – Carolina Herrera
Another classic for the party season, sequins will definitely get you noticed. You'll see (above) that designers opted for top-to-toe sequins. You could try a classic sequin dress, or opt for a modern approach with a sequin suit with wide-leg pants.
Or, you can always choose sequin separates. You could wear a sequin top with your jeans or wide-leg pants. Or, you could wear a sweater with your sequin skirt or pants.

sheer and see-through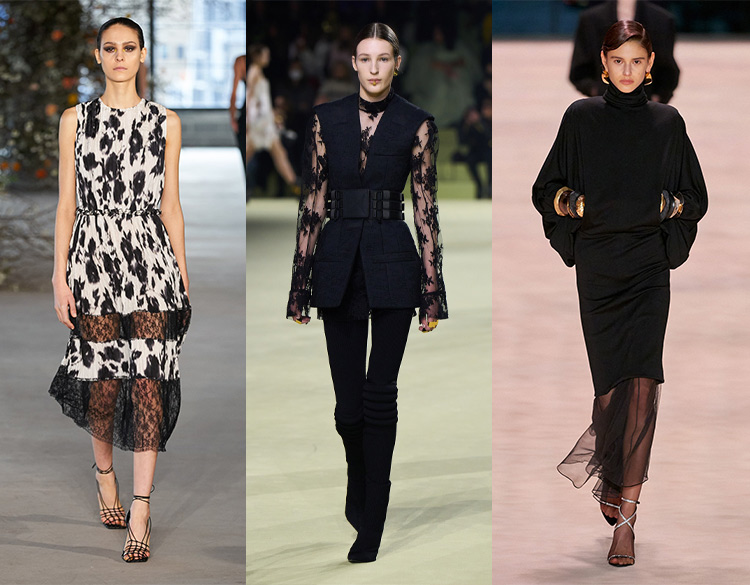 Jason Wu – Balmain – Saint Laurent
There were lots of see-through options on the catwalks for this winter and fall. Some of them left very little to the imagination – which is fine, of course, depending on how much you want to show off.
But, if you prefer a little more coverage while still giving a nod to the sheer trend, you could try one of the looks from above, with sheer arms (a good way to cover your upper arms) or with a sheer panel at the bottom of your skirt or dress.

Statement sleeves
Carolina Herrera – Stella McCartney – Chloé
Statement sleeves have been on-trend for a few seasons now. So, don't push those puff sleeve tops and dresses to the back of your closet just yet. You could also look out for trapeze and balloon sleeve options to update your winter coats or dresses.

bows
Giambattista Valli – Jason Wu – Carolina Herrera
Bows can look girly, or they can look classic (think pussy bow blouses), romantic or glamorous, depending on what you choose. You could choose a blazer that ties with a bow, add a bow to your evening dress or look out for a sweater with a graphic bow pattern.

Luxe leisurewear
Victoria Beckham – Gucci – Elie Saab
While you may have worn more leisurewear while at home in the past couple of years, now that the world is returning to 'normal,' designers decided to upgrade their leisurewear options. Choose athletic style dresses or add a sporty look with the prints you choose.

corsetry
Do you sometimes wear shapewear or tummy tucking options to flatter your figure. How about a bit of corsetry for the new season? I'm not suggesting you wear the restrictive corsets of centuries gone by. But, by adding a corset-style to your jacket, dress or top, you can flatter, or create the illusion of, curves.

stripes
Stella McCartney – Louis Vuitton – Tory Burch
Some patterns come and go. But there are others, like stripes, that will always be on-trend, so you can wear season after season.
You could choose a striped option for your winter coat to add drama to your day-to-day looks. Or, you could choose a pair of wide-leg striped pants to wear with your shirts, t-shirts or sweaters.

Tuxedos
Ralph Lauren – Saint Laurent – Proenza Schouler
There's just something about a woman in a tuxedo that exudes sex appeal and confidence. So, rather than a dress for any events you have coming up, how about a tuxedo? Wear with a silk shirt or camisole, and heels, for a glamorous look that mixes masculine and feminine.

Maxi dresses
The maxi dress length is always on trend, but there were definitely more long dresses on the catwalks for this fall than in previous years. So, if you want to make an entrance, the maxi dress is definitely the way to go – particularly if you choose a bold print or dramatic color.
Also, take a look at how to wear Maxi dresses or maxi skirts.

dresses over pants
Wearing your dresses over pants can add an unexpected element to your style, while also being practical for winter and fall. Keep your look streamlines (the look from Sacai, above center, works particularly well).
If you don't want to wear your pants under a longer dress, you could opt for a shorter dress or tunic. Or, you could leave your long dress unbuttoned and wear it as a duster coat.


For more outfit inspiration, check out our article on how to wear tunics or dresses over pants
Stylish and simple
Chloé – Bottega Veneta – Prada
If you love a minimal style, this one is for you. The simple white tank top definitely had a moment on the runways this season, being featured by some of fashion's biggest names. Wear with leather pants, your favorite black pants, or to give a dressy skirt a more casual look. You can always add a blazer or moto jacket over the top if you need more warmth.

wide-leg pants
Giambattista Valli – Max Mara – Chanel
You'll know that wide leg pants have been on-trend for the past few seasons, and they're not going anywhere for winter and fall. Wear with your sneakers or ankle boots for day to day wear, or add a pair of heels for an evening look. Keep your top half streamlined for a balanced silhouette.

Statement leather
Chanel – Gabriela Hearst – Brandon Maxwell
Fall and winter are always a good time to add new textures to your outfits. For this fall, there was a lot of leather on the catwalks, in neutral and bright shades. You could choose a leather dress or leather pants. A pair of leather pants is easy to style – just wear with anything you would usually wear with your jeans.

Dresses over knitwear
Victoria Beckham – Chloé – Dolce & Gabbana
There was a lot of layering on the fall runways (more of that in a moment). Many designers chose to layer dresses over turtleneck or crew neck sweaters, which is a great way to give your summer dresses longevity.

Classic shirt layering
For a different layering idea, take your classic white shirt and layer your sweaters or dresses over the top. The new way to do this for this season is to wear a bustier or bardot neck top or dress over your shirt. This could be an ideal way to continue wearing revealing styles that you have perhaps pushed to the back of your closet.

Continue reading:
What To Expect From The 2022 Nordstrom Anniversary Sale – And The Best Sale Picks You Can Choose Now
Like this article on Fall 2022 fashion trends? Share it on Pinterest!
Images from Vogue
The post Fall 2022 fashion trends: all the best trends for women over 40 this season appeared first on 40+ Style.