We find inspiration almost everywhere – from our family, friends, celebrities, influencers, or even our favorite TV shows and movies. That inspiration reflects across many areas of our lives, including our career paths, decorating styles, and wardrobe choices. Throughout our lives, we'll experience a wide variety of styles and wardrobe choices. We look back and laugh at some of them, while some make a nostalgic comeback for the next generation. These days I find most of my style influence comes from the shows that I watch because there is so much amazing fashion on TV – and I find that it's definitely the fashion for women over 50 that I want to imitate. 
Today's Inspiration
Right now, I'm hooked on The Morning Show, which just debuted its second season on Apple + TV. I went from wearing my hair like Rachel Green (Jennifer Aniston) from the show Friends to dressing like Alex Levy on the Morning Show. She's chic, elegant, and powerful, and even her lounge clothes are the epitome of style. I don't quite have her budget, but there are so many comparable items that are affordable that it's easy to imitate her fashion. Reece Witherspoon's character, Bradley Jackson, is dressed a bit more youthful than Alex Levy but certainly falls in the fashion for women over 50 category.
Two lessons I've learned from the show? First: to not let the fear of being overdressed prevent me from bringing my best style game. I've started wearing outfits that are a bit classier and more upscale than I have in the past – a beautiful dress and some great jewelry instead of my usual jeans and a T-shirt. Surprisingly, I like feeling a little dressier and it's always better to be overdressed than underdressed.
Second, I've learned the rule of 3. This one is key and could have saved me so much time and heartache in the past. Basically, when you're putting together an outfit, simply work to have three main elements. Of course, you need the basics – a flattering top and a pair of pants or a skirt. The third element? It's the dazzle of the outfit. Include an accessory that's eye-catching, like a flashy gold necklace or a great pair of shoes. 
I think you'll find that the show has made it easy to inspire great fashion for all of us, especially since you can buy their looks at any price point. Below are some of the looks we really loved from the first season. We will be keeping an eye out for more great fashion to imitate as the second season rolls out.
Great Fashion for Women Over 50
Outfit 1: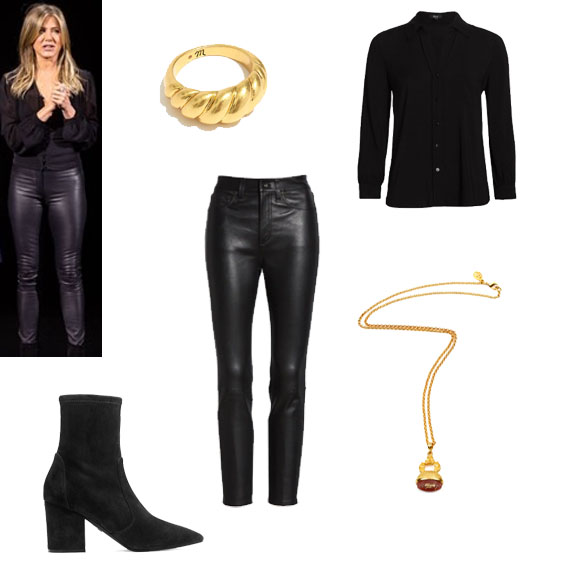 Leather Pants, $995 (cheaper option, $48) | Black Noemi Top, $94 | Black Suede Boots, $179 | Gold Pendant Necklace, $120 | Gold Ring, $78
Outfit 2: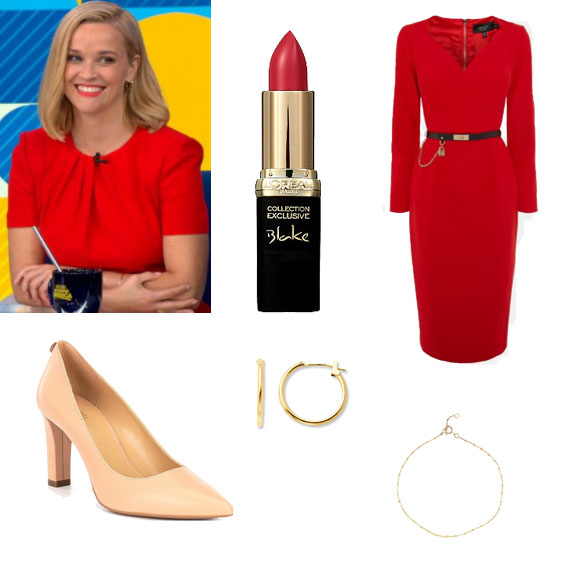 Karen Millen Red Dress, $206.00 | Gold Bracelet, $175 | L'Oreal Red Lipcolour, $10.99 | Michael Kors Light Blush Heels, $99.00 | Hoop Earrings, $79.99
Outfit 3: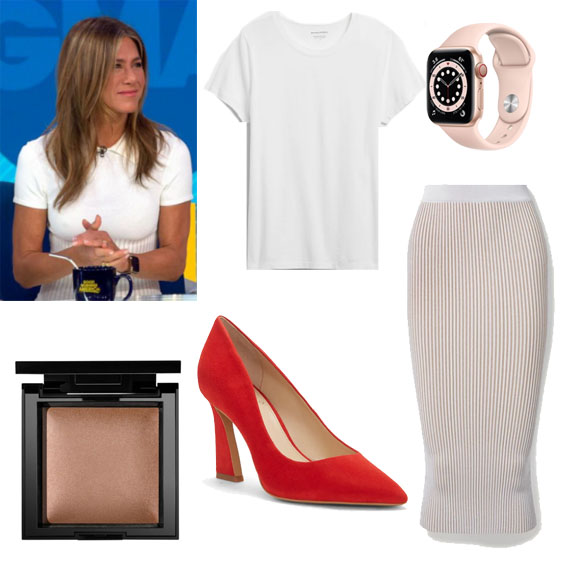 White Top, $29.50 | Anine Bing Julian ribbed skirt, $200 | Pink Apple Watch, $499 | Vince Camuto Thanley Pointed Toe Pump, $98.95 | Bare Minerals Bronzer, $22
Outfit 4: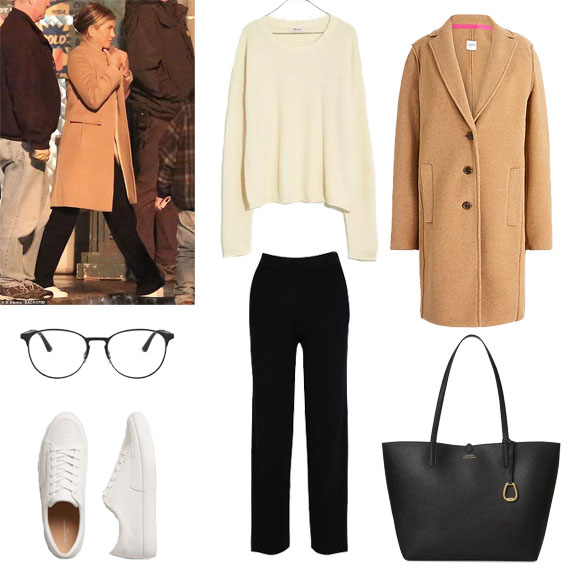 Camel Coat, $139.50 | Cashmere Trousers, $250 | White Sneakers, $47.99 | Cream Sweater, $59.50 | Black Tote, $178 | Glasses, $165
Outfit 5: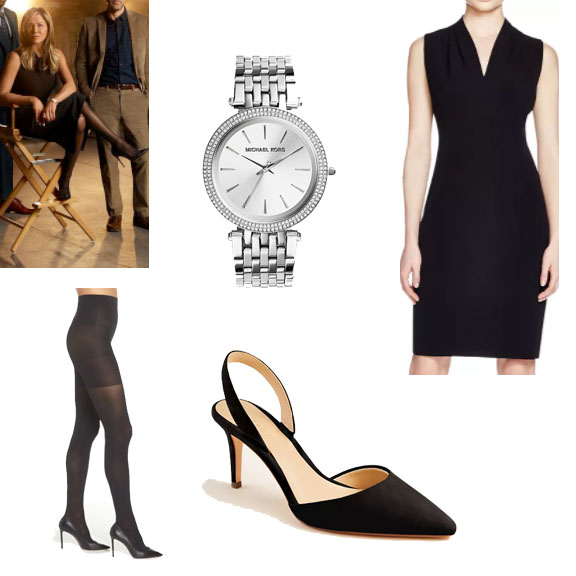 T Tahari Black Dress, $118 | Kerry Suede Slingback Pumps, $128 | Spanx Black Tights, $28.00 | Michael Kors Silver Watch, $149.00
Outfit 6: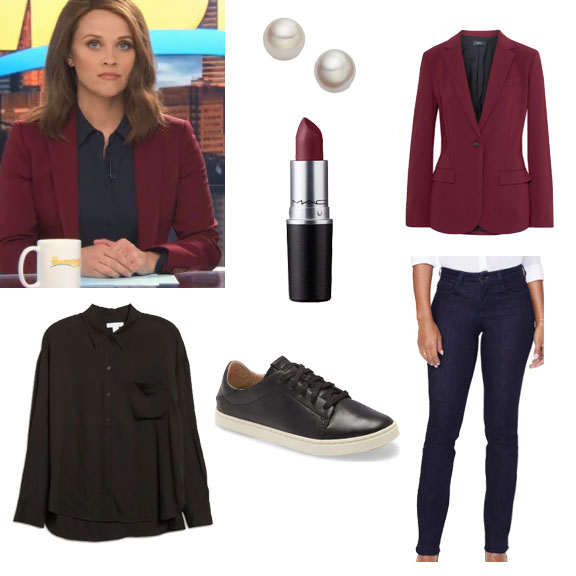 Burgundy Blazer, $232 | Black Top, $71.60 | Pearl Earrings, $210 | Jeans, $99 | Lipstick, $19 | Black Sneakers, $110
Outfit 7: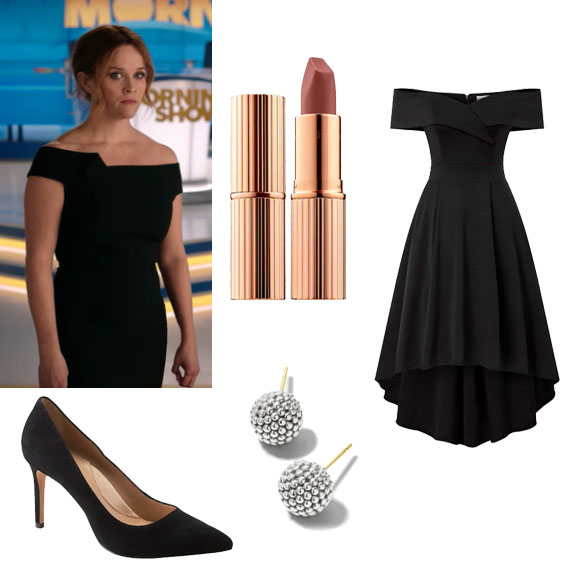 Jasanbac Off the Shoulder Dress, $37.99+ | Charlotte Tilbury Matte Revolution Lipstick, $34 | Banana Republic Madison 12-Hour Pump, $118 | Lagos Silver Columbus Circle Stud Earrings, $195
Outfit 8: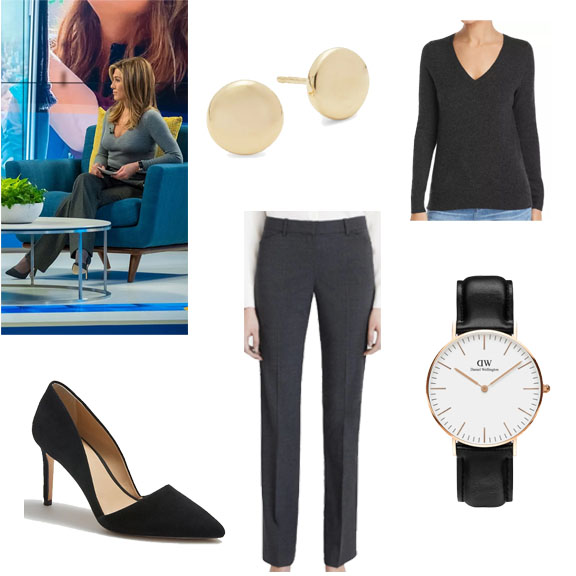 Grey Sweater, $178 (for less here) | Grey Dress Pants, $153 | Black Suede Pumps, $128 | Black Leather Watch, $199 | Gold Earrings, $107.50
The next time you're out hunting for some new wardrobe inspiration, remember the rule of three. Then find an amazing top, a pair of pants or a skirt, and an accessory that'll bring pizzazz to your whole look. Because when we take into account the various styles we see these days, we need to keep in mind that fashion for women over 50 doesn't have to be dull or boring. It can be chic and full of life! 
Read Next:
Bingeworthy TV: The Morning Show
5 Top Fashion Blogs for Women Over 50
Timeless Fashion: Chanel Pearls
The post Fashion to Imitate appeared first on Prime Women | An Online Magazine.