House Of Gucci's Costumes Include Pieces From Lady Gaga's Archive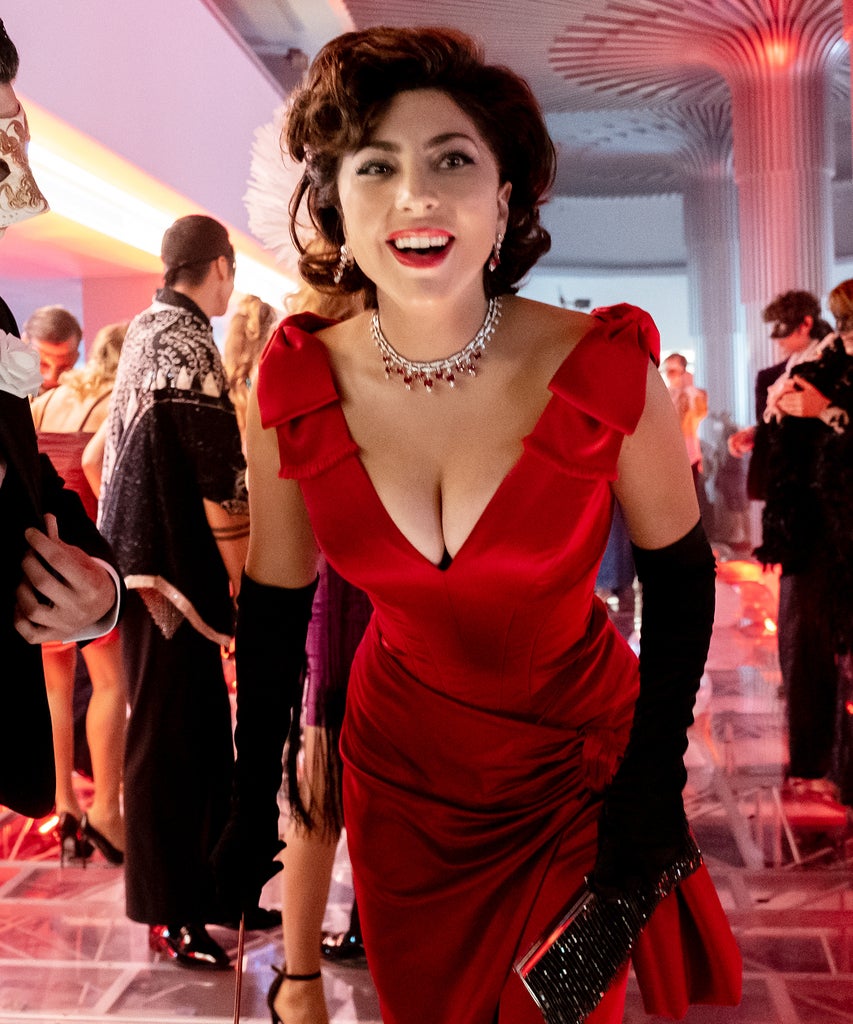 Warning: Minor spoilers ahead for House of Gucci.
For Janty Yates, it wasn't just the fashion that attracted her to the House of Gucci. Rather the costume designer was interested in helping tell the story that led to the shocking murder of the Gucci heir, Maurizio Gucci, at the hands of his ex-wife, Patrizia Reggiani, through the looks in the film. "Who wouldn't want to tell the tale of Maurizio Gucci's murder?" she says. 
The Ridley Scott film, starring Lady Gaga and Adam Driver, follows the Gucci family and the rise of the fashion house from the moment Maurizio (Driver) met Patrizia (Lady Gaga) in the '70s to his death in 1995, all while giving audiences a glimpse into the history of the brand we know today. In particular, the film centers its narrative on Patrizia — born out of wedlock to a family with no social standing — who is often blamed for causing a rift in the family. As such, she is styled to look different from the Guccis. While the members of one of Italy's wealthiest clans — that also include Aldo Gucci (Al Pacino), the once-patriarch of the Gucci family, and his son Paolo Gucci (Jared Leto), among others — are dressed in elegant suits, expensive watches, and shiny leather shoes, Reggiani wears gaudy ensembles, layers of jewelry, and a huge selection of furs.
To create Reggiani's costumes, Yates worked hand-in-hand with Lady Gaga, who she says was a true collaborator when it came to sourcing and selecting looks for each scene. The actor-singer even let Yates access her personal archive, all preserved in a temperature-controlled room. "Imagine when Bobby, her manager, gave me the key!" says Yates, laughing.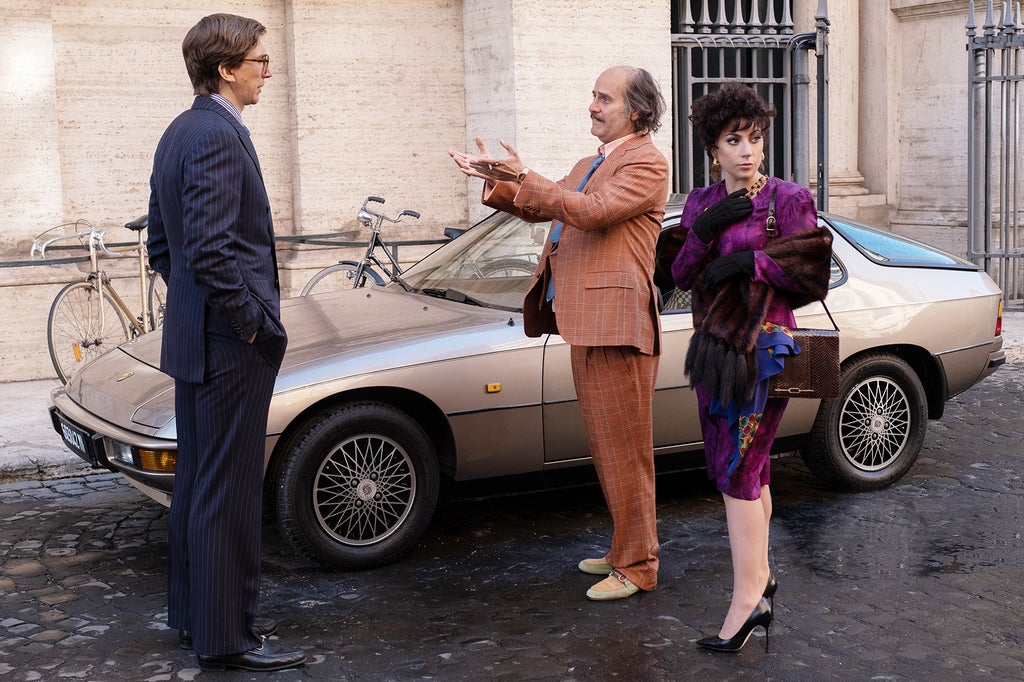 Gaga also weighed in on set. Take, for example, the pink-and-black polka dot dress, from Yves Saint Laurent, that Gaga personally chose for her character. Then, there's a scene in the film, in which Gaga dons a black turtleneck, layers of gold necklaces, and a fur hat. Although it was only the second day of filming, Yates and Gaga had already formed a bond strong enough for the Star Is Born actress to feel comfortable saying, "Let's put four [necklaces] on," after Yates put on just two.
While Yates was able to play with other designers like YSL, a Gucci family movie would not be complete without the signature double-G logos. For looks from the heritage house, she started her search at the Gucci Museum in Florence, where she was able to see footage and costumes dating back to the 1970s. Although the museum allowed Yates to borrow some vintage pieces, she had to source others from places like the Tirelli Costumi, a Rome-based costume house. Yates recreated the remaining looks from scratch. While quarantined in a hotel in Italy as a result of the pandemic, Yates and her assistant designer Stefano De Nardis turned monogrammed Gucci fabrics into some of the most memorable looks in the film, including a tunic-and-trousers combo that Lady Gaga wears in the now-viral "Our name, sweetie" scene.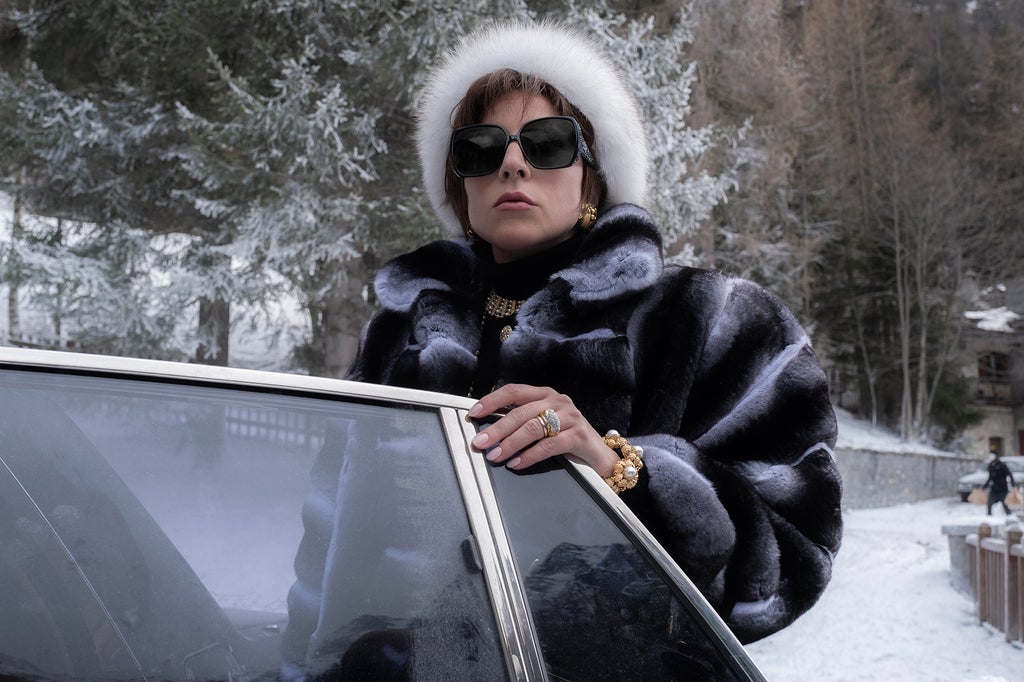 While House of Gucci explores the cause behind one of fashion's most notorious true-crime stories, it also reveals how the brand went from a luggage and leather goods company to a full-fledged fashion empire, capable of going head-to-head with clothing designers like Chanel's Karl Lagerfeld and Versace's Gianni Versace. To showcase this, the film highlights American designer Tom Ford's (played by Reeve Carney) seminal 1995 collection that catapulted Gucci to international acclaim. For the film, Yates and De Nardis tried to source pieces from the actual collection, which included '70s-style suits, velvet blazers, and silk shirts, but their efforts were unsuccessful. "I think somebody must have bought it all up," says Yates. As a result, De Nardis recreated looks from some of Tom Ford's other collections, including a 1997 Gucci G-string that's still one of the most recognizable items from Ford's Gucci era. De Nardis also created a fictional runway collection for Paolo Gucci, the family's failed designer, which Yates jokingly describes as "a bit tasteful for Paolo who was not the most tasteful designer."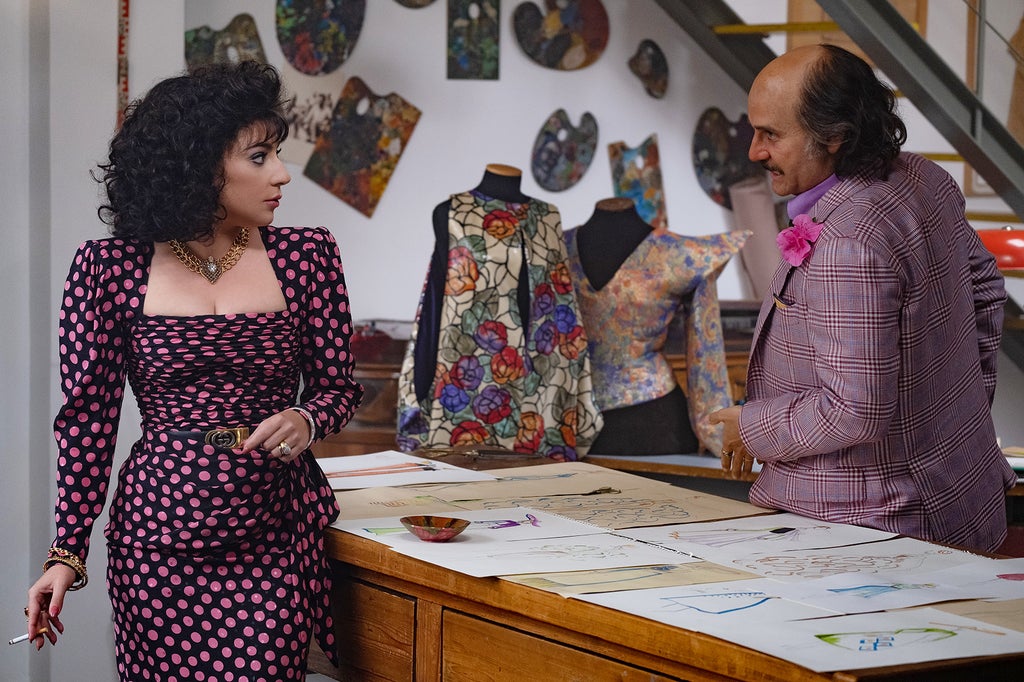 Ultimately, Yates says that her mission with House of Gucci was to use costumes to tell the story. Take, for example, a scene when Pina (Salma Hayek), Patrizia's best friend and psychic, tells the Gucci heiress to wear green and red — Gucci's signature colors — for good luck as she sets out to conquer the family's top spot alongside her husband. While Patrizia favors red, she refuses to wear green, saying: "Green doesn't go with my lipstick." Following this scene, Patrizia opts for vibrant ensembles — including a scarlet, gold-buttoned skirt suit, paired with a flamboyant fur coat, as well as a red snowsuit (both seen in the movie's trailer) — signifying that she has bigger ambitions for herself than just being the wife of a Gucci heir. After her plans backfire, and she's ousted from the house of Gucci and served with divorce papers, her wardrobe turns black, a premonition of the death that will later follow.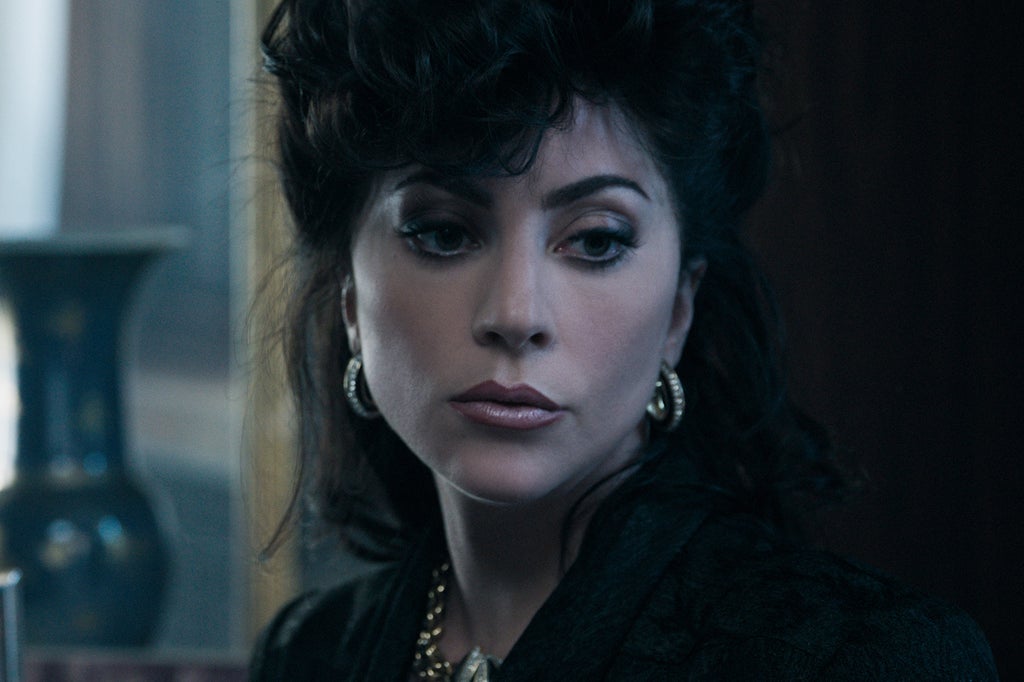 More than fashionable, the costumes in this film are set to take audiences on a journey inside the stranger-than-fiction events surrounding Maurizio's death: "And if they do like the costumes, then that's an added bonus."
House of Gucci is in theaters today.
Like what you see? How about some more R29 goodness, right here?
Fashion Was The Star Of The House Of Gucci Trailer
The House Of Gucci Trailer Does Murder In Style