How to Style a Sweater Blazer
This sweater blazer is one of my favorite and most worn blazers. It makes any casual outfit look more polished, and I love how it gives you the look of a blazer but the comfort of a cozy sweater. It's one of those pieces that's so good you want to get it in every color. I own it in camel and white. The camel-colored sweater blazer is a great transitional piece right now, and I love wearing the white one during the spring and summer on cooler nights or in air-conditioned buildings. I will say it runs very big, so I suggest sizing down. I take an XXS in this blazer for reference, and I usually never buy an XXS, haha (I typically take a size 4 or 2 in J.Crew blazers.) I wanted to share three of my favorite ways to style a sweater blazer to give you some inspiration on how to wear this versatile piece.
Cute & Casual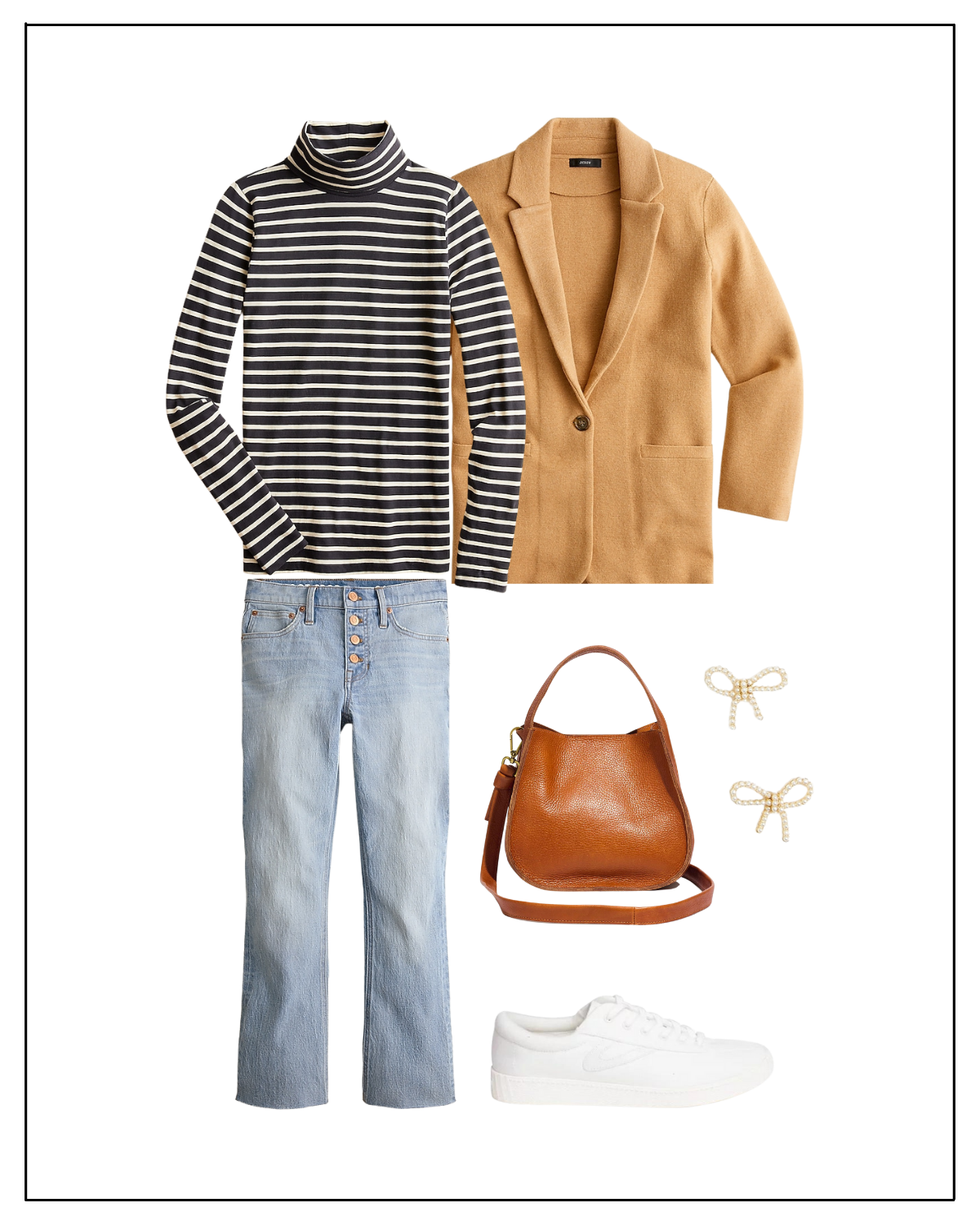 Striped Turtleneck T-shirt / Sweater Blazer / Demi-Boot Jeans / Leather Crossbody Bag / Pearl Bow Earrings / White Sneakers
This is one of my favorite ways to wear a sweater blazer. I start with a long sleeve black and white striped turtleneck T-shirt. These turtlenecks are such a great basic piece, and they come in so many colors. Tuck the turtleneck into a pair of jeans. Lately, I've been loving demi-boot jeans; if you've never tried this style of denim, you must! And the wash on this high-waisted pair is gorgeous. For shoes, slip on some white sneakers. These are definitely my favorite pair. I love how they look, and they're very comfortable. Accessorize with a leather crossbody bag and these lovely pearl bow earrings. Lastly, put on a camel sweater blazer, and instantly this casual outfit looks a little more polished.
Work to Weekend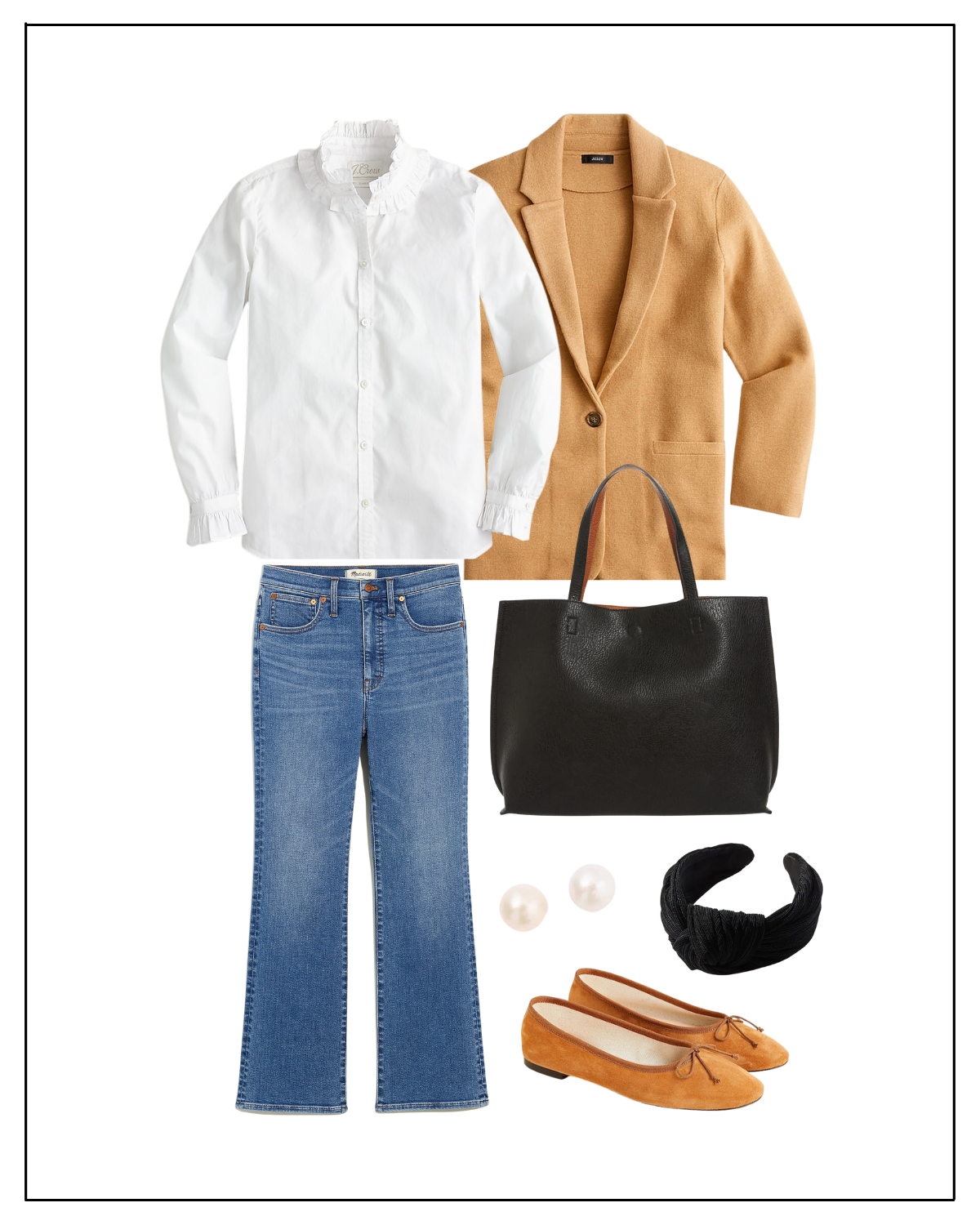 White Ruffleneck Button-Up / Sweater Blazer / Demi-Boot Jeans / Black Reversible Tote Bag / Pearl Stud Earrings / Black Headband / Suede Ballet Flats
Another way I love styling a sweater blazer is with a button-up shirt. I love the frilly details on this white ruffle neck button-up. It's such a pretty version of a classic wardrobe staple. I'd style it with your favorite pair of jeans, again loving demi-boot jeans at the moment. This outfit would look equally as good with a pair of ballet flats or heels for a little height. Accessorize with pearl earrings, a black twist headband, and a tote bag. This reversible faux-leather tote bag is under $50 and is wonderful. All that's left is to put on your sweater blazer, and you're good to go.
Transitional Outfits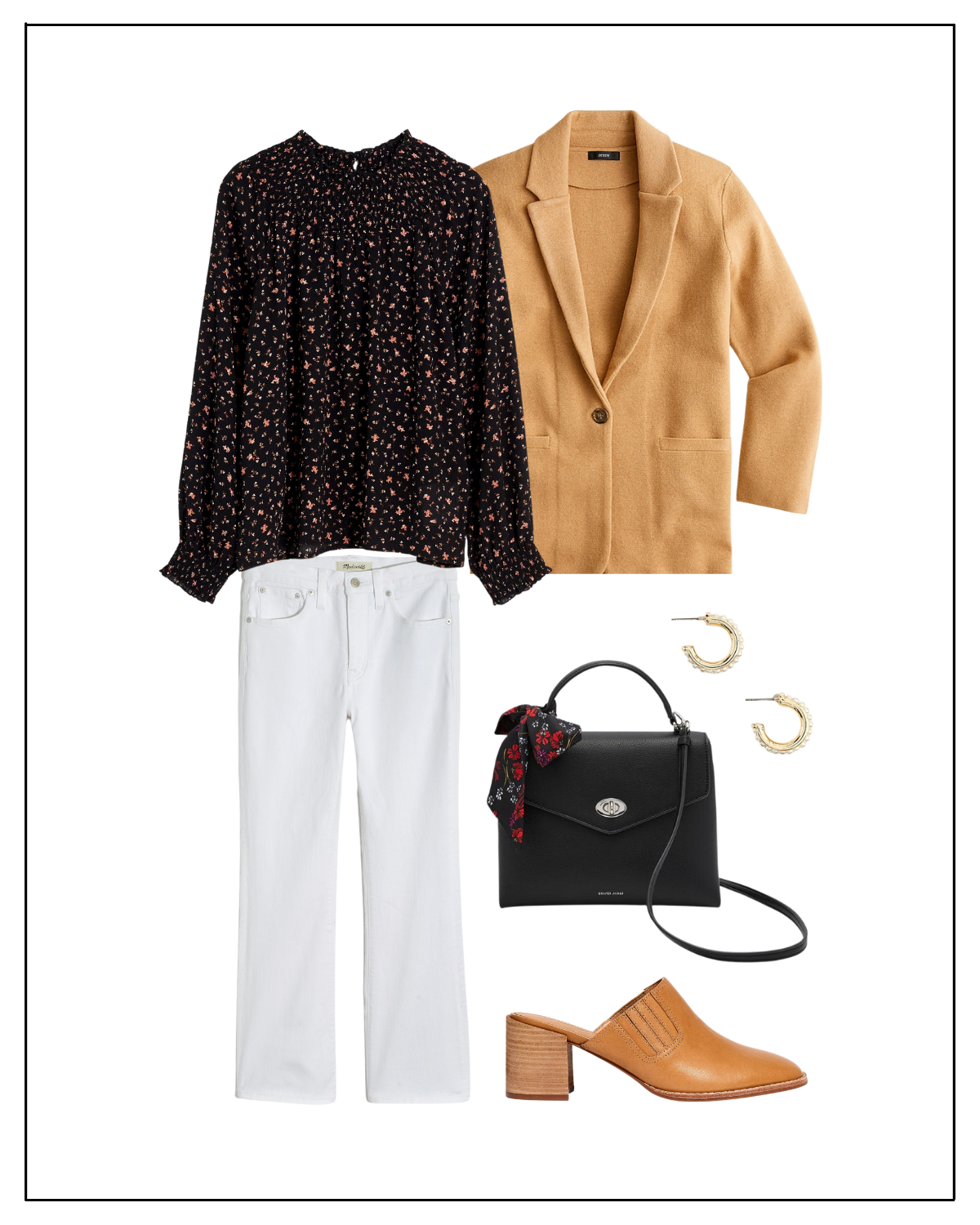 Smocked-Neck Ruffle Floral Blouse / Sweater Blazer / White Demi-Boot Jeans / Pearl Hoop Earrings / Black Bag / Leather Mules
 Here's how to style a sweater blazer for spring. Hard to imagine that warmer temps are on the horizon, but I can't wait to finally be able to wear something like this. This black ruffle floral blouse would look great with a pair of white demi-boot jeans (I swear it's a coincidence that all three of these outfits include this style of denim, haha.) Style it with pearl hoop earrings, a black bag, and heeled leather mules. Then wear this sweater blazer overtop as a light layer. It's such a great transitional piece to have in your wardrobe for spring.
The post How to Style a Sweater Blazer appeared first on Kelly in the City.