Introducing the STUDIO Collection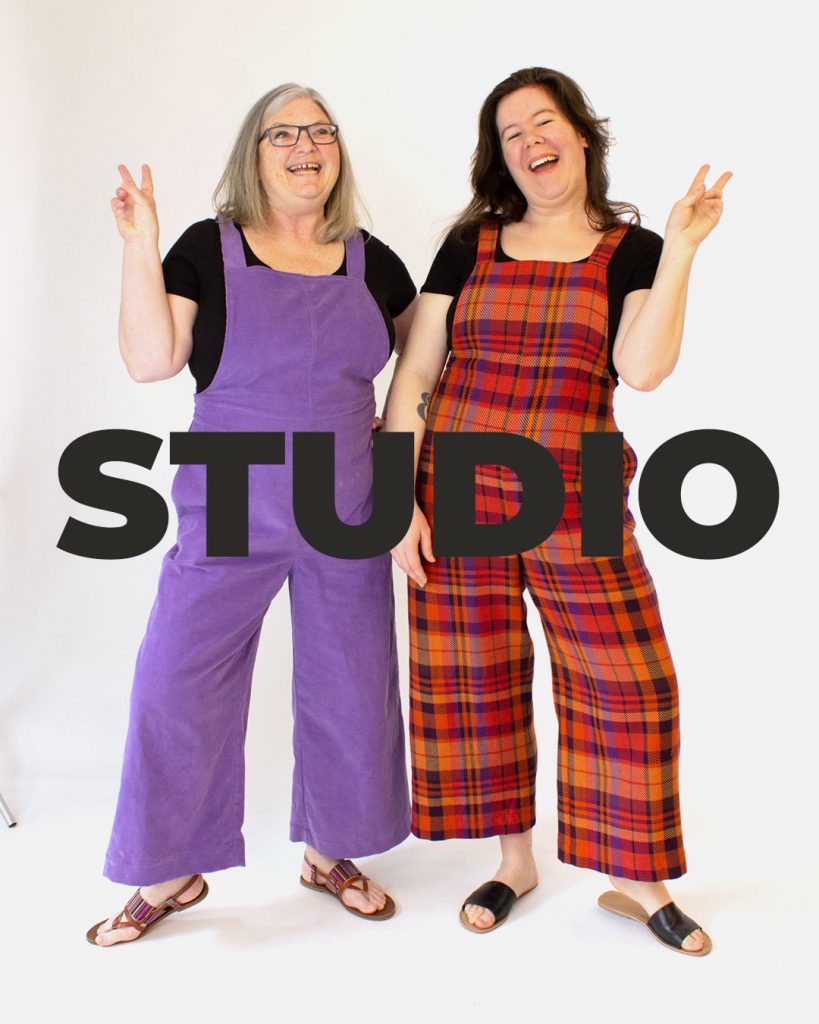 Introducing STUDIO, a Helen's Closet Patterns collection! Three designs, endless possibilities, and loads of fun. STUDIO is playful, unique, and incredibly wearable! All the STUDIO pieces mix and match well with the rest of our patterns and you can incorporate them easily into your wardrobe. Read on to find out more about this collection!
STUDIO is on sale this week! Buy two patterns from the collection and get the third FOR FREE! Use Code STUDIO at checkout. Sale ends Tuesday, June 21st, 2022. Trust us, you won't want to miss out on any of them. 
STUDIO includes three patterns. The Ruby Overalls, the Dawson Top, and the Moss Jacket. Whether you wear the three together or pair them with your existing wardrobe, STUDIO is designed to be incredibly versatile and wearable. This collection was inspired by—you guessed it—my studio! I've spent a lot of time in here, especially over the past couple of years. I love wearing comfortable, fun, and effortless clothes while I work and these three designs fit the bill. All patterns include sizes 0-34 and the Dawson Top includes our B/D cup size ranges. Let's take a closer look! 
The Ruby Overalls feature wide legs and include both cropped pants and shorts views. These sleek overalls work great in so many fabrics and have become a true favourite. Try them in rayon for a light, summery pair, or sew them up in bull denim or corduroy for a classic look. You have the option of overalls hardware or you can sew the Ruby straps right into the bib! An elastic back makes Ruby ultra-comfortable and deep pockets are sewn into the side seam and anchored at the waist. You will love sewing and wearing Ruby! 
The Dawson Top is the ultimate layering shirt. With three neck options and three sleeve lengths, you can make a total of NINE different shirts with this pattern. We love layering Dawson under Ruby, of course, but it also works great under Yanta and York, too! Not to mention how effortlessly it pairs with Winslow or Arden, or with your favourite pair of jeans. Essentially, this top is a wardrobe staple! We love that a mock neck is included so you can make cozy turtlenecks for the cooler months. It also makes an excellent layering top for outdoor adventures when sewn up in Merino wool jersey!
The Moss Jacket is a pattern we have had in the works since practically the beginning of Helen's Closet. Think of it like a woven Blackwood Cardigan! Moss includes two distinct views. View A is a short sleeved, longer layering piece. Perfect for layering over any outfit and easy to dress up or down. View A of Moss works great in lighter-weight, drapey fabrics. View B is a long sleeved, shorter jacket with a wide band collar. Also excellent for layering, this jacket can be sewn in more structured fabrics for a cozy outer layer. Both views include pockets and a back yoke detail. It will come as no surprise that this pattern is getting a TON of wear here in the Helen's Closet studio—it's just the thing to dress up any outfit! 
We have so much more to share with you about the patterns in the STUDIO collection and we can't wait to dive deeper into each of these designs here on the blog and on Instagram this week. 
Please head to the product listings for more information about each design!
STUDIO is on sale this week! Buy two patterns from the collection and get the third FOR FREE! Use Code STUDIO at checkout. Sale ends Tuesday, June 21st, 2022.
The post Introducing the STUDIO Collection appeared first on Helen's Closet Patterns.