Killing Eve Sewing Pattern Inspiration
I'm sure many of you have watched Killing Eve on the BBC and have loved it as much as us. For those of you who haven't watched it.. stop what you are doing go and watch immediately. Villanelle has spent the last three series assassinating victims and killing it in the wardrobe department. We've had so many emails asking us to hunt out outfits that she's worn over the past three series that we thought it would be fun to hunt out some on the most requested so you can make your own. Below I've included all the pattern picks alongside the images from the show so that you can see them side my side and the video has a more in-depth dive.
This amazing dress was the one that everyone was dribbling over at the end of the first series and we can see why. After some serious hunting we found the fantastic Sofia Dress from Victory Patterns. It's a fantastic dress that comes in a great size range  (UK 0-30) and really similar to one worn. Now all we need to do is find the perfect pink fabric!
All images featuring Killing Eve are copyright of the BBC
We loved this outfit, sadly I couldn't find an image where you see the whole thing, but trust me it's brilliant. I managed to find the Adriana dress from Friday Pattern Company and I think this worked really well. The only change would be to lower and square off the neckline, but the rest is spot on!
There is nothing mellow about this yellow coat, we love the boxy shape and the bow at the front. The Vogue 9340 was the closest pattern we could find, the main difference is that the Vogue pattern has a hood. If you could remove this and add a collar then we think you'd be pretty close.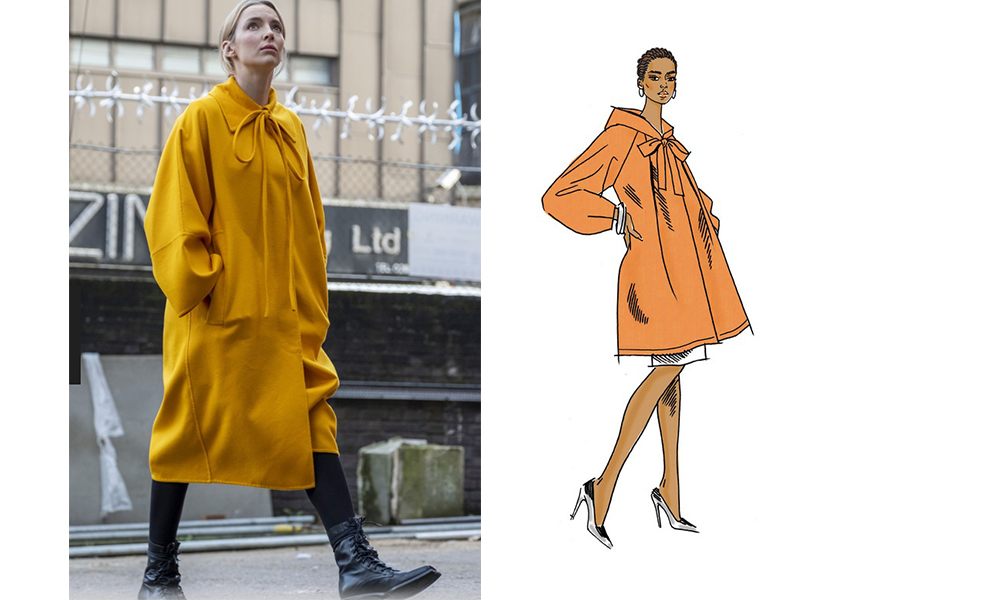 Who doesn't need a dreamy pair of luxurious pyjamas in their life? I'm sure a lot of you guessed this pairing but the Carolyn Pyjamas from Closet Core Patterns is bang on. Now all we need to do is find some beautiful silk satin to make them out of..
Next up we have this fantastic blouse worn in the third series and this was a fun one to hunt out. We went with the Sew Over It Pussy-bow Blouse and think you'll agree it's a pretty perfect match.
The key to this look this look is finding the perfect fabric, something structured like a home furnishing fabric would work really well. There are lots of great bomber jacket sewing patterns out there but thought that the Amelia Bomber Jacket from Wardrobe By Me was the closet.
This was far and away the most requested look from Killing Eve to hunt out! After a lot of looking we think that the Sari sheath dress from Pattern Sewciety is a great base shape. But what about that sleeve? You could slash into it to add volume from the Sari dress, or we also thought you could use the By Hand London Hannah Wrap dress as the base.
We loved this sixties/seventies flared shift dress and thought it would be easy to find.. more fool us! After some extensive research we think the the Francoise dress from Tilly and the Buttons would work fantastically. All you'd need to do is add the flared cuff and you are there.
Everyone needs a good wrap dress and this one with the grown on sleeve was trickier than I thought to hunt out. The Clare Dress from Workshop seemed to be closest shape wise.
I thought this dress was going to fox me completely but luckily Pauline Alice came to my rescue with her new release of the Sedavi Dress. This wasn't a total match but it includes a lot of the detailing on the dress that Villanelle wore, it has that same romantic feel to it.
The post Killing Eve Sewing Pattern Inspiration appeared first on The Foldline.