Momtrends MVP'S: The Best Maternity Clothing Essentials
For our latest Momtrends MVP'S baby gear edition, we rounded up some maternity clothing essentials like leggings, sweatpants, a t-shirt dress, jumpsuit and more!
I remember being a little resistant to going all- in on a maternity wardrobe with my first pregnancy. I bristled at the thought of investing in a bunch of clothes I wouldn't be able to wear after the baby was born.
I ended up caving and getting some maternity essentials because my son happened to be a very large baby so the non-maternity maxis I lived in stopped being realistic at some point. Bwah!
I also realized that comfort trumped all else. I still live by that creed. I may not need maternity clothing at the moment, but I will always need comfortable clothes. And anyone who is carrying a life in their tummy more than deserves the comfiest of outfits!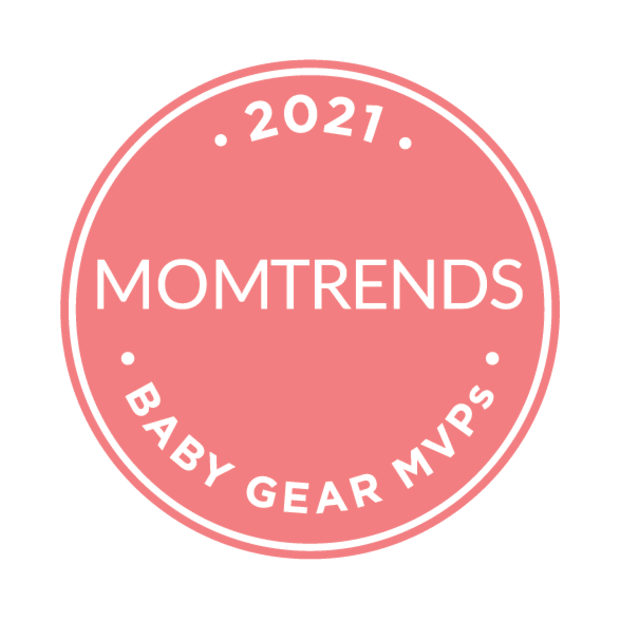 Why You Need a Maternity Capsule Wardrobe
That being said, maternity wear has come a long way baby! You can now stock your closet with maternity clothing essentials that you can wear now AND after your baby comes along. In fact, that is today's baby Momtrends MVP's focus.
I rounded up a bunch of pieces I believe to be great maternity clothing and are all great investments because they can, of course, be worn during your pregnancy and also be worn in that all-important fourth trimester!
Those first few months after your baby arrives are so many things. They're magical, exhausting, emotional, exhilarating...I could go on and on, but the best word I could use to sum it all up is priceless. You want to soak up every minute of those sweet newborn times. So, early on in your pregnancy is the time to build out that maternity clothing essentials wardrobe!
Even just one or two of our maternity essentials must-haves will go a long way in filling out your maternity wardrobe...
The Best Maternity Clothes Basics
The question is which maternity clothes do you need? You don't need everything under the sun, but a little maternity capsule wardrobe that you can mix and match with other things will make your life so much easier.
A maternity capsule wardrobe filled with maternity essentials isn't actually all that different from your go-to non-maternity basics. I'm talking about a versatile dress, loungewear, a jean jacket etc. They are the kind of pieces you can style with ease.
And I have some of my favorites in each category here for you today...
The Best Maternity Bra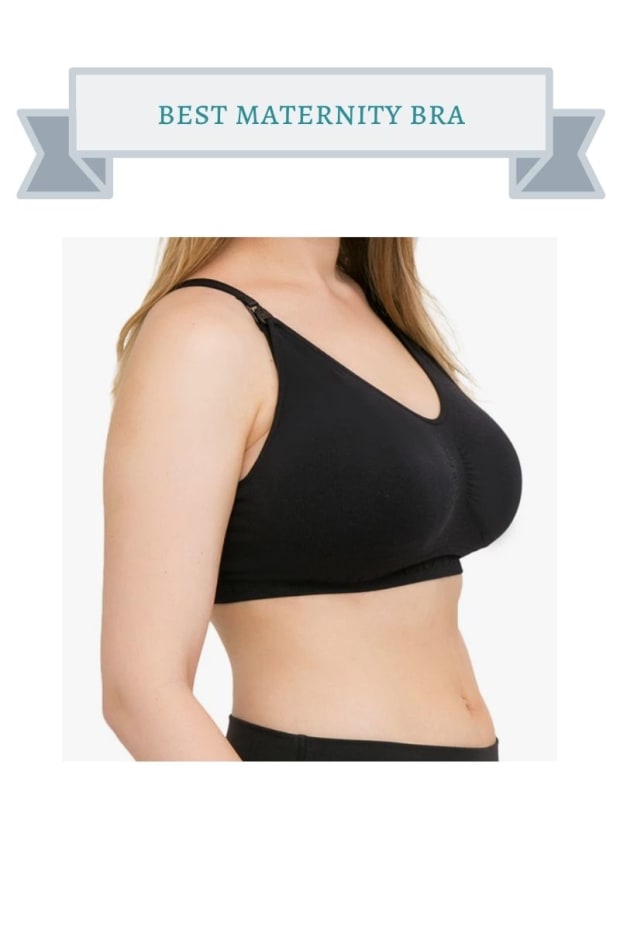 No maternity wardrobe is complete without a comfy, yet supportive bra. Now if you plan on breastfeeding, you also probably plan on getting a nursing bra. But did you know that some bras can actually double as maternity AND nursing bras?
The Kindred Bravely Simply Sublime Nursing Bra, for example, is super supportive, yet doesn't have underwire. It's also very high quality and will hold up to multiple wears and even you sleeping in it!
What I love best about the Simply Sublime Nursing Bra is the removable padding. You might not want to wear it at home, but it's great for when you need to leave the house! It gives you a smooth shape and works well with t-shirts. As all women know, a good t-shirt bra is worth its weight in gold!
Kindred Bravely Simply Sublime Nursing Bra
The Best Maternity Loungewear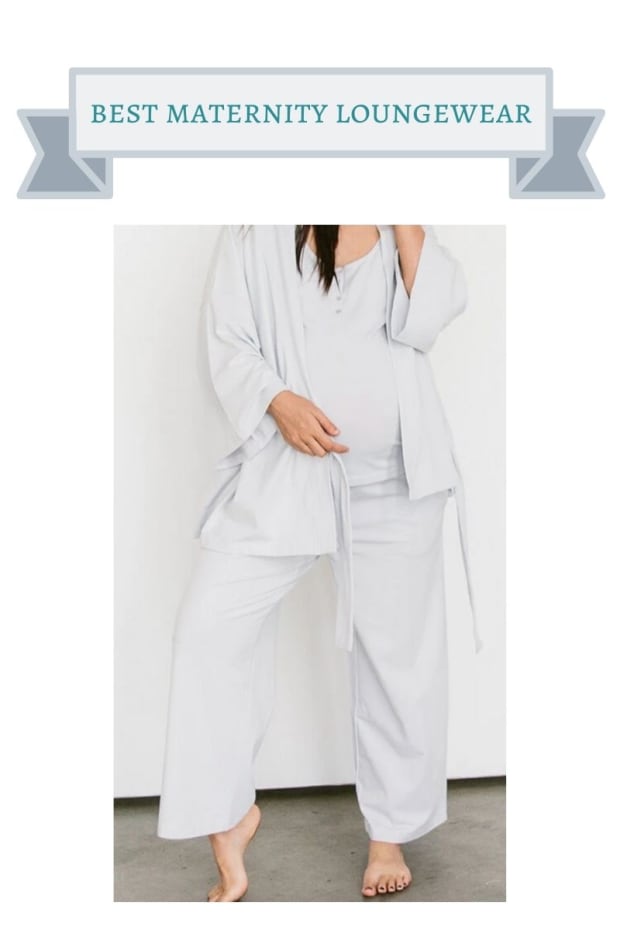 I pretty much live in loungewear, even when I'm not pregnant. Haha! My favorite fashion development has definitely been the acceptance of loungewear as a "look." The maternity space has known that comfort was acceptable for a long time. Am I right?
And just because clothing identifies as loungewear doesn't mean it's not chic. Storq's 3-piece lounge set is incredibly stylish. And the best part is, you can wear all the pieces, a tank, jacket and pants, together or separately. They come in the holy grail of basic colors gray, navy and camel.
But I love how much the Story 3-Piece Lounge Set can be dressed up or down. Even though you can lie around comfortably in these pieces, you can also wear them as a going out look with the right shoes and accessories. You may have heard of pajama dressing, well my friends, that look will always be in style for pregnant people as far as I am concerned!
The Best Maternity Leggings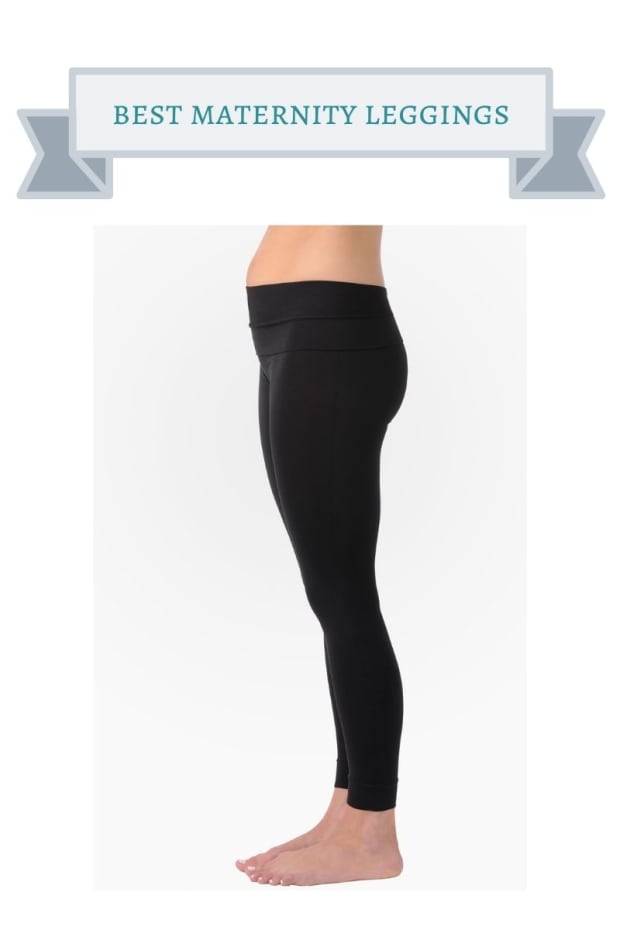 Another maternity wardrobe staple that I can't imagine life without, in general, is leggings. I actually wore a pair of my maternity leggings long past my baby's first birthday because they were so darn comfy. I just folded them down.
There are now leggings that are made specifically for during and after pregnancy. And while that waist I rolled down definitely wasn't made to do so, bwah, B.D.A. Maternity Leggings are.
My favorite parts about B.D.A. Maternity Leggings are that these leggings are seam and tag-free. I wish non-maternity leggings came that way too. I wouldn't mind if they were all convertible as well. Sometimes I want to wear them under my belly and sometimes I want to wear them over my belly, even now. Who's with me?!
The Best Maternity T-Shirt Dress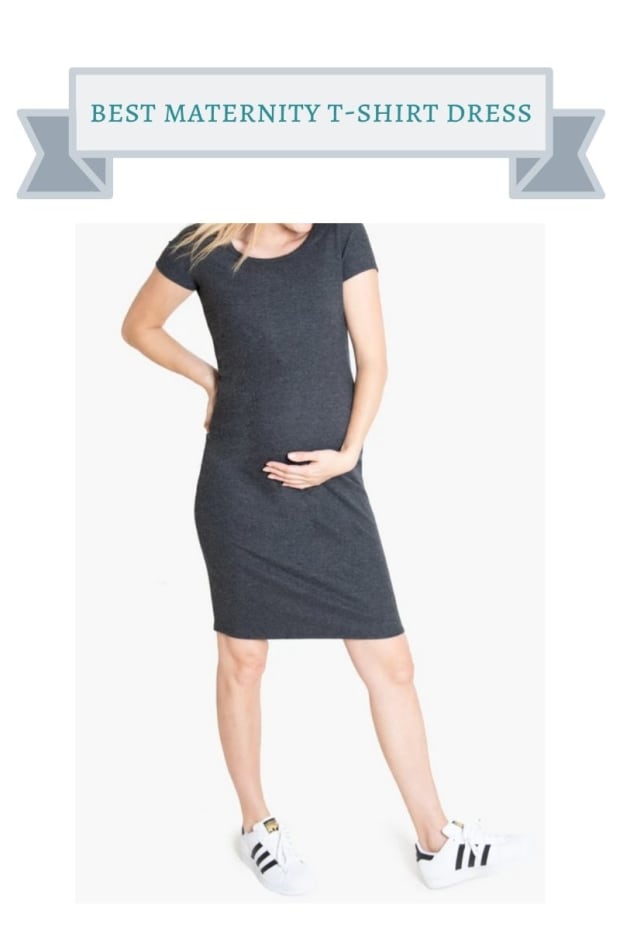 There is nothing like feeling fabulous when you put your bump on display. T-shirt dresses tend to do that. This type of dress is ridiculously flattering and so very versatile. It can be used to create a million and one outfits. And it's yet another piece that absolutely works post-pregnancy.
It goes with sneakers, sandals, flats...everything basically. You can top it with a jean jacket, a cardi, a blazer, the options are endless really.
The Ingrid + Isabel EveryWear Maternity T-Shirt Dress is one of my absolute favorites. It's accommodating to a growing belly, but not so ruched that it's an obvious maternity dress, making its shelf life so much longer!
Ingrid + Isabel EveryWear Maternity T-Shirt Dress
The Best Maternity Sweatpants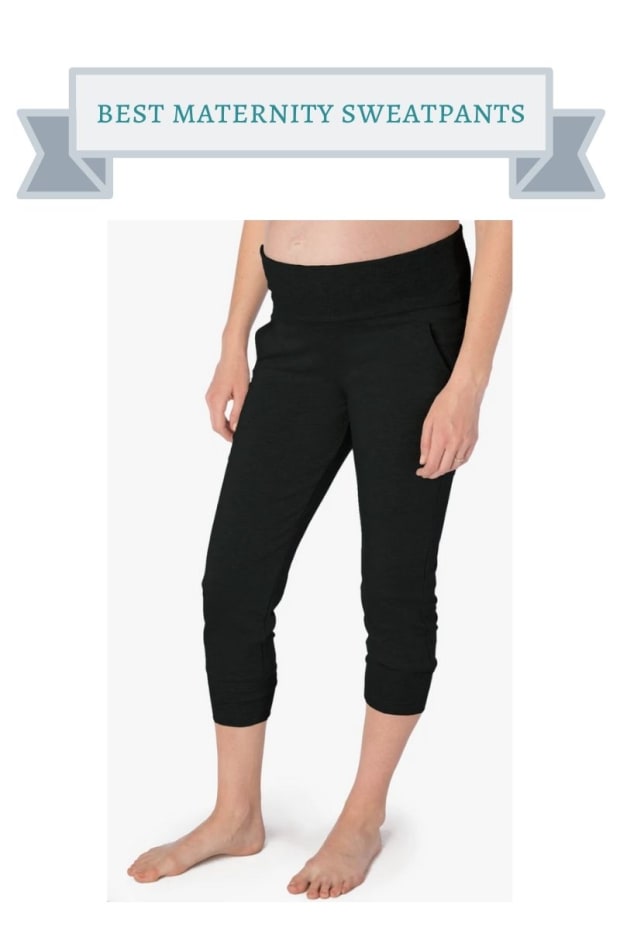 Unless you live in the tropics you are probably going to need sweatpants at some point during your pregnancy. Might I suggest a fold over style? There is nothing like being able to adjust your waistband to your comfort level.
Frankly, I love a fold over style even when I'm not pregnant. Bwah! And that is why this is another "you can definitely wear this in your fourth trimester" kind of pick. It fully works no matter what size your waistline is.
What I like the most about the Beyond Yoga Cozy Fleece Maternity Sweatpants is how flattering they are. They aren't clingy, yet drape beautifully. Plus, they're another oh so versatile piece! You can wear them extended to your ankle or hike them up a bit for a different look.
Beyond Yoga Cozy Fleece Maternity Sweatpants
The Best Maternity Jumpsuit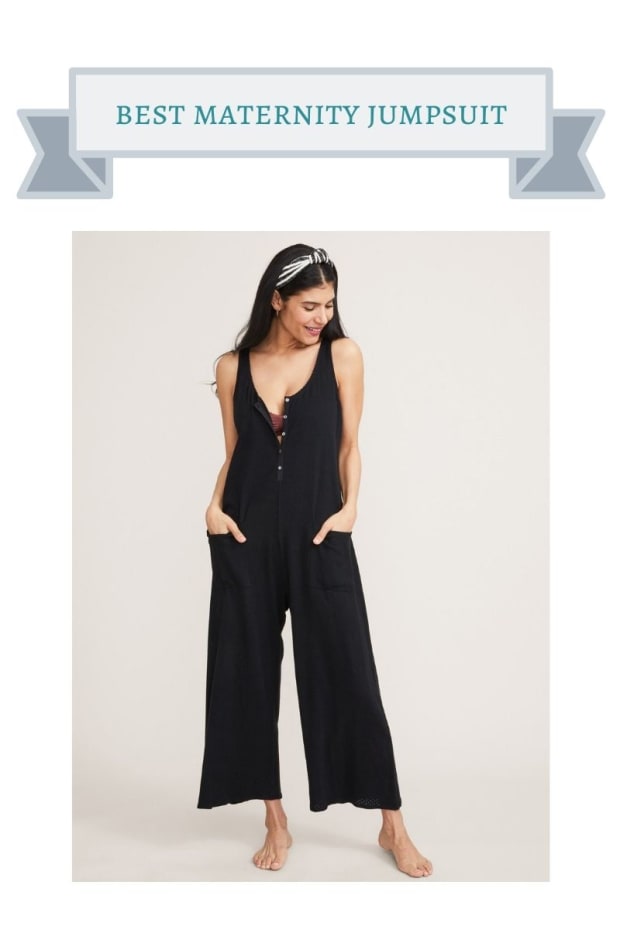 I live for a good jumpsuit. Much like maxi dresses, you will find me in jumpsuits no matter what season it is. And the flowier, the better. That goes for pregnancy and beyond since I am in the beyond category right now. Haha!
Hatch makes a jumpsuit that is perfect to both show off your burgeoning bump and to nurse your baby in later. Not only do the wide legs look beyond comfy, but the super soft cotton means the fabric will breathe when you have a hot flash.
But I saved the best part for last...My favorite feature of the Hatch The 24/7 Feeding Jumpsuit is that it has POCKETS! That's right. I'm talking about generously sized pockets that are perfect for stowing away any little must-haves you need accessible.
Hatch The 24/7 Feeding Jumpsuit
The Best Maternity Compression Socks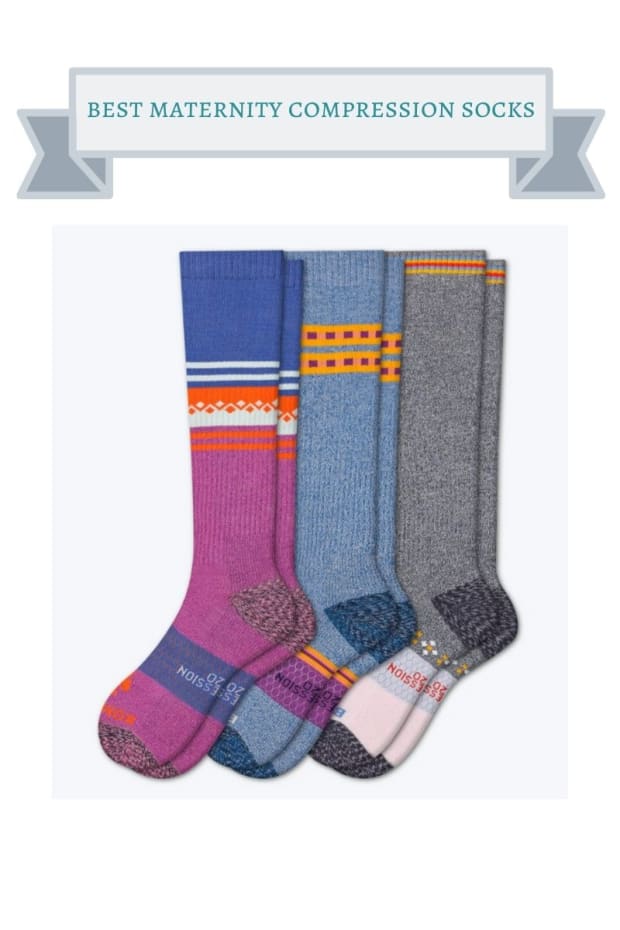 Compression socks are another maternity staple that I carried on into postpartum land and beyond. There is no time I don't want to protect myself from swelling, so they're always on my travel packing list! Just say yes to better circulation.
Now if you have plain black socks in mind, release that thought. Compression socks come in super stylish colors and prints these days. Bombas is tops at providing comfy AND cute compression socks.
I particularly love the Bombas Fair Isle Mix. The prints are perfect for winter and seriously fun! Plus, you don't have to sacrifice all of the amazing benefits of compression socks in favor of style. You get both!
Bombas Women's Everyday Compression Socks
The Best Maternity Jean Jacket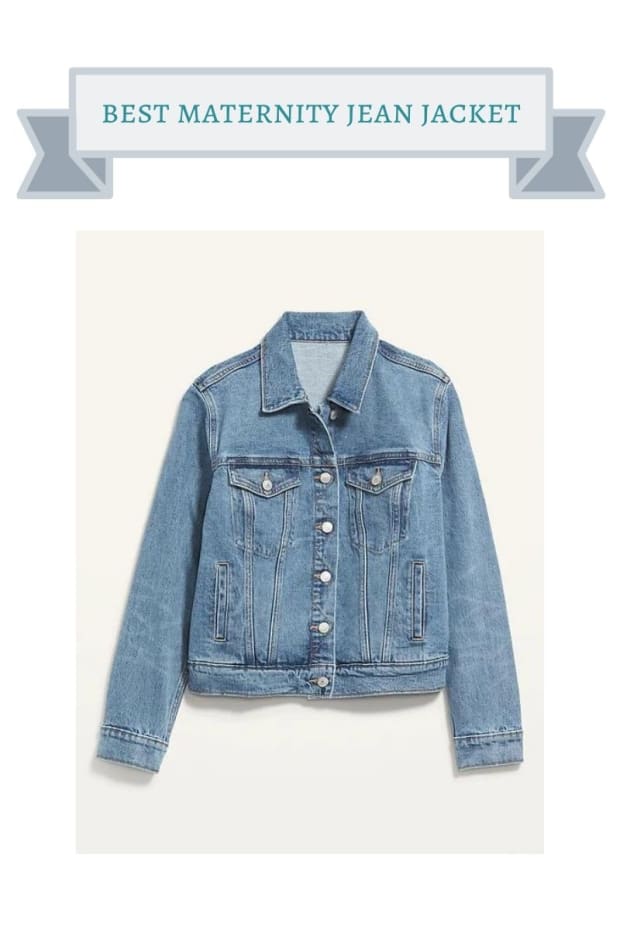 Now, this last maternity wardrobe staple isn't officially a maternity piece, but it will fit in well with a pregnant tummy! Say hello to the jean jacket. Everyone needs one in their closet in my opinion!
You may not want to invest in a maternity-specific jean jacket and you don't have to thanks to Old Navy's Classic Jean Jacket. Classic is right. It's the kind of jacket that goes with everything from that t-shirt dress to that jumpsuit from above.
And even if you size up 2 sizes and don't plan on wearing the Old Navy Jean Classic Jean Jacket years down the road, at that price you won't care. I usually size up a size to get more of an oversized fit anyway and that trick also works for expecting people.

Well, my friends, I think that should give you a good start on your maternity capsule wardrobe. I just know that your closet will soon be full of the best maternity clothing essentials!
And make sure you stay tuned for our next Baby Momtrends MVPs list…
For More of Our Favorite Momtrends MVP's Winners, Follow the Links Below:
Pin It!
Save your favorite baby gear and ideas on Pinterest and follow along with our Gear for baby and kid board!
Momtrends MVP's is a non-sponsored series. Brands must meet our strict standards to be included. When naming winners we take several factors into account, including expense, convenience, and style.
We make our picks annually based on editors' research. In some instances, we may request and receive samples so that we can more thoroughly assess products. Our opinions are our own, and our goal is to help our community of moms make more informed decisions on everything from baby gear to beauty products to vacation destinations and more. We scour the abundant options and painstakingly hand-pick our favorites, so you don't have to. Our hope is that our most valuable players become your most valued purchases.