Saturday Night Live Lets Kim Kardashian West Try To Be Funny With Help From Family & Celebrity Cameos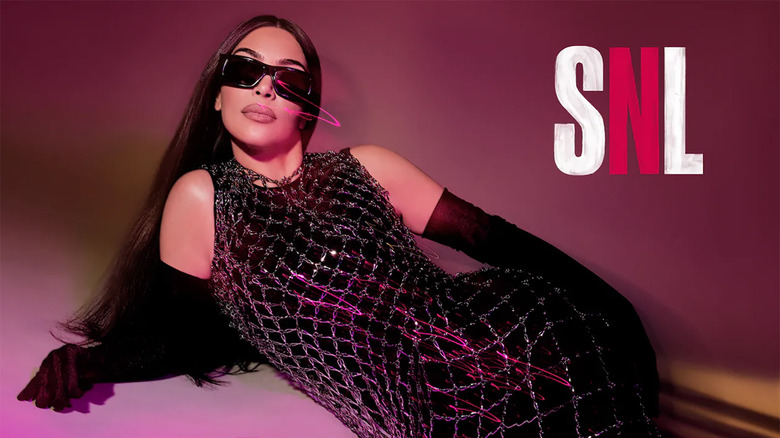 This weekend, Kim Kardashian West made her hosting debut on "Saturday Night Live." This felt like an episode to be dreaded, and all signs pointed to something akin to the disastrous series of sketches when Paris Hilton hosted "SNL" in 2005, at the height of her reality show fame. 
Thankfully, the woman who garnered fame with an illicit sex tape and turned that draw into a massive empire of fashion, make-up, fashion, and pure celebrity didn't torpedo the entire episode. Unfortunately, she wasn't all that great either, giving us a subpar episode of "SNL" filled with cameos from the Kardashian family and a surprising cavalcade of cameos from other famous faces in pop culture. 
Let's dig into each and every sketch from the Kim Kardashian West-hosted episode of "Saturday Night Live."
The Best
Lotto Drawing - I always love a good absurd piece of comedy, and this news broadcast did the trick. At first I was frustrated by the fact that the news anchors themselves are a little off-kilter, but they're aware enough to find the rest of the broadcast questionable. Then I realized that there's actually some brilliance to be found in characters who are ludicrous in their own right, yet still register the silliness around them. This sketch made the best use of Kim Kardashian West since it required her to be completely vacant as a woman drawing increasingly bizarre lottery numbers. But even so, when you see Cecily Strong acting and actually creating that vacancy instead of merely having it as a personality, you see just how little performance there is in Kardashian's appearance, and it's something that made her not much more than a recognizable fashionable mannequin throughout most of the show.
Please Don't Destroy - Hard Seltzer - We already called attention to the arrival of the sketch comedy group Please Don't Destroy. In this sketch, they mock the inexplicable popularity of hard seltzer and how everyone seems to be making their own sparkling alcoholic beverage -- even JC Penney and Jiffy Lube. Martin Herlihy, John Higgins, and Ben Marshall are the three friends starring in this sketch after being hired as "Saturday Night Live" writers before the new season began, and much like Andy Samberg, Akiva Shaffer, and Jorma Taccone before them, it's clear they'll be appearing in pre-recorded sketches like this throughout the season. If this sketch is any indicator, then there will be hopefully much more hilarity to come from them.
Ladies Night Song - There's nothing like a ladies night when a trio of moms finally have the time to get away from their jobs and families to enjoy the club life yet again. Except things change as you get older, and the night club isn't nearly as enjoyable as it used to be. Even though Kardashian sounds like she's having a hard time speaking rhythmically, the sketch smartly makes her the mother who is constantly falling asleep at the club. The good news is that Ego Nwodim, Punkie Johnson, and Cecily Strong pick up the slack and make this a bright spot in an otherwise middling collection of comedy. 
The Average
The Dream Guy - In this parody of "The Bachelorette," Kim Kardashian West is narrowing down the many men vying for her hand, and she has a menagerie of famous faces to choose from. "The Boys" star Chase Crawford, former "SNL" cast member Chris Rock, actor Jesse Williams, former wrestling superstar turned blockbuster leading man John Cena, NBA player Blake Griffin, and real-life "Bachelorette" contestant Tyler Cameron are all on the roster. And then there's Kyle Mooney as the pony-tailed, speech impeded Zeke. Plus, Amy Schumer makes a surprise appearance as a producer who catches the eye of Kardashian West. 
Though running through each and every person in this line-up is amusing, it never quite fell into laugh-out-loud territory (with the exception of the "I don't love that you have a wife" line about John Cena), which made the sketch feel like it went on for far too long. Plus, I can't help but be frustrated that a show with 21 cast members opted to have so many celebrity cameos for this sketch instead of utilizing the talent they already had.
Facebook Hearings (Cold Open) - Well, this isn't entirely the political satire that typically opens "Saturday Night Live," but that's fine since that hasn't been working out for them very well. Though the sketch does feature congressmen involved with the recent Facebook hearings (with a handful of decent impersonations), the entire sketch is more of an excuse to make jokes about how old people don't understand the trends of the internet. It's kind of a tired premise at this point, though there are some mildly chuckle-worthy moments when they start talking about memes. Honestly, I don't know why "SNL" doesn't just abandon the topical cold open tradition if they don't have anything strong enough for good satire. But whatever!
The People's Kourt - Just when you thought Kim Kardashian West was basically going to play slight variations on herself with little to no characterization, here she is playing her sister Kourtney Kardashian with her own fictional court show where she deals with all her family drama. That's not to say that Kardashian West actually does anything transformative, but it did allow some decent riffing on her Met Gala wardrobe, the rest of the Kardashian family, Kanye West, and OJ Simpson. It all feels like it's strategically designed to seem like the family is being good sports about this kind of mockery, but it's all rather tame and safe, even with the OJ Simpson reference. More often than not, these kind of sketches lose their teeth when the subjects are part of the joke. 
The Worst
The Switch - Apparently someone thought Kim Kardashian West would be able to do some kind of impression of Aidy Bryant, but, oh boy, were they wrong. Her version of impersonating Aidy Bryant is putting on a slightly deeper voice but carrying herself exactly the same way with zero real facial expressions and all the make-up in the world. Meanwhile, Aidy Bryant gives everything she's got to turning herself into Kim Kardashian West. It's like in high school when you got paired up for a group project, and it's clear that only one person did all the work while the other one completely procrastinated and barely got a posterboard together for the presentation. It gets even worse when a couple members of the Kardashian family get in on the proceedings and are somehow even worse than Kim in their performances. Ugh.
Skims Commercial - Since there was so much involvement from the Kardashian family in this episode of "SNL," it only makes sense that Kim Kardashian West gets in a little shameless plug for her shapewear line Skims. Granted, it's in the form of a faux line made for plus size dogs, and the dogs make it impossible to hate this sketch. But it certainly doesn't help make it any less lazy. Most of the legit laughs come from the dogs themselves, though I will say seeing featured player Aristotle Athari wearing a top with the little dog arms poking out the front was a solid visual gag.
Jasmine and Aladdin - This was a bad sketch. It feels like something a college sketch comedy group would have done. The entire premise is based around the fact that Aladdin thinks he has a disappointing penis that won't satisfy this Kim Kardashian West version of Jasmine. It's a one-note joke, and it's not even a good one. Even Pete Davidson appears to be phoning it in as he reads from the cue cards just as much as the inexperienced host. Poor Bowen Yang had to be blue for a 10-second appearance, and it's the most he got to do all night. This cast is too big!
Weekend Update
Michael Che got back to making a phenomenal joke at the expense of Colin Jost, and the latter co-anchor even poked fun at himself yet again by recalling his years at Harvard at the same time Mark Zuckerberg was creating Facebook at the Ivy League school. But overall, it's Che with the upper-hand and some of the most biting one-liners of the night. I absolutely lost it with his story on the George Floyd statue being vandalized: "Police are searching for the suspect, and are planning to serve him with a job application." That's the kind of stuff that makes Weekend Update great.
You can see the second part of Weekend Update right here. 
Terry Fink's Fall 2021 Movie Review - Terry Fink is back with a stream of LSD-influenced reviews of movies from the fall 2021 season. Alex Moffat seamlessly weaves in and out of what sounds like hammy film criticism into drug-fueled fever dreams. This is the kind of character who could get old fast if he recurred too often, but Moffat is so good that I'm betting he'd figure out how to make it funny every single time. Plus, he's got just the right amount of crazy eyes to fit both the cheesy film critic persona and is wild-eyed, LSD- tainted mind.
Life Coach Kelly Party on Positive Thinking - Heidi Gardner always manages to find new Weekend Update characters. They don't always land firmly, but her dedication to each and every persona makes them hard to hate, even if they're not laugh out loud funny. This is one of those characters. The energy is infectious, and her interaction with Michael Che is good for some snickers, but I can't say that I necessarily like this new character. But it doesn't make me appreciate Gardner any less. 
The Host
Well, Kim Kardashian West did a little better in her hosting debut than I anticipated, but she didn't do anywhere near as well as she needed in order to change my mind about her ability to do anything other than be famous. Honestly, if she were given a test to prove that she's human by exhibiting any real emotion, she would have failed miserably. Did she emote anything other than a neutral facial expression and a red carpet smile the entire night? Look, I get that she's not an experienced actress, but maybe do the work and actually try to do more than just play yourself. 
On the surface, the jokes during her monologue seem fun because Kardashian West openly mocked many aspects of her life, from the sex tape that made her famous to her marriage to Kanye West. She even touched upon her family's history with OJ Simpson in a surprisingly edgy way. But much like "The People's Kourt" sketch, it all feels perfectly calculated to make it seem like the family is having fun, but it's all carefully controlled to sell a certain image, which is what she does for a living in the public eye. This might have been a boost for "SNL" in the ratings, especially since she has more social media followers than the show has viewers per episode, but hopefully it's the last time this happens.
The MVP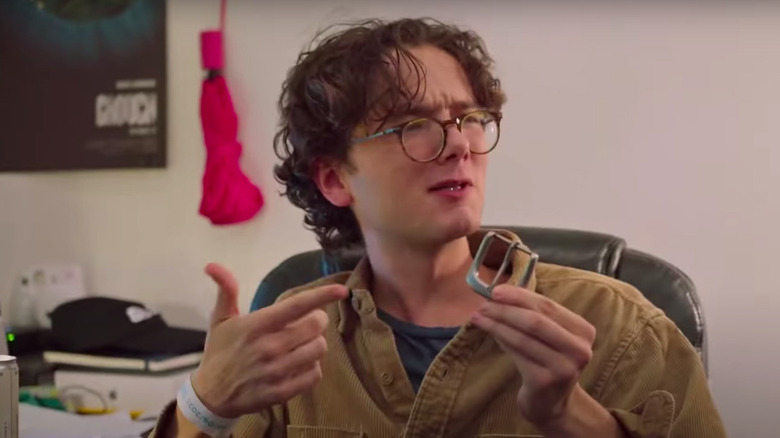 Please Don't Destroy - These guys get the MVP of the evening for making such a satisfying debut. It's hard enough being writers for "SNL," but then appearing in your own sketches with your comedy troupe's name front and center doesn't just take guts; it takes talent too. They might still be young up and comers, but the confident debut in this pre-recorded sketch gave me flashbacks of the early days of The Lonely Island, where they brought absurd new premises to the table at a time when "SNL" wasn't known for that kind of comedy. It shows that "SNL" still has their finger on the pulse of what's trending in comedy, and they're keeping up with the times, even if they have some traditions that are as old as television itself. 
Bonus shout-out to Cecily Strong, who had a solid run throughout this episode, but she's been the MVP several times before, and Please Don't Destroy deserved this kind of recognition for their breakthrough sketch.
The Final Word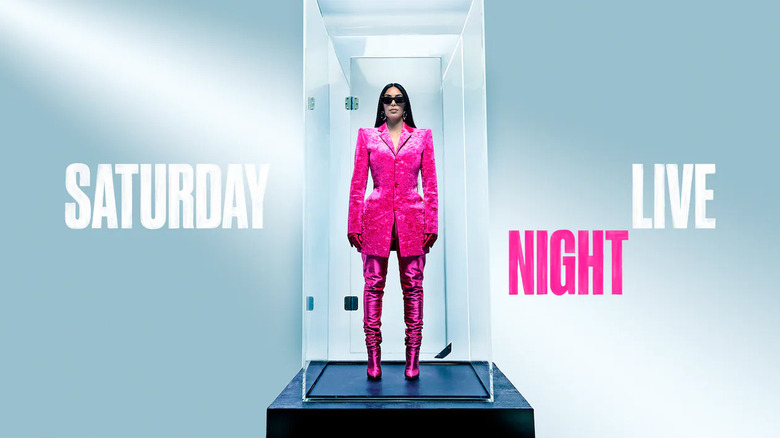 Considering the fact that I was expecting a total disaster of an episode, the fact that it was at least moderately funny here and there was a pleasant surprise. Would I have preferred that "SNL" took the time to bring in a host who is a true entertainer? Absolutely, but the show sometimes needs to tap into these corners of pop culture for the sake of relevance and experimentation. They've always had hosts who are comedically challenged (typically athletes) appear in each season, and we just have to roll with it. 
Next week could be another challenging episode with Rami Malek ("Bohemian Rhapsody") making his hosting debut. The actor doesn't seem like he has a strong comedic background, but hopefully he'll be willing to have some fun with the cast and crew of "SNL." At the very least, maybe we can hope for a cameo from Daniel Craig or at least some kind of James Bond sketch. Come back next weekend to find out.
"Saturday Night Live" airs Saturdays at 11:30pm ET/8:30pm PT on NBC.
Read this next: The 15 Best '80s Comedies Ranked
The post Saturday Night Live Lets Kim Kardashian West Try to Be Funny With Help From Family & Celebrity Cameos appeared first on /Film.