Sew Reporter – 3rd October
Happy Sunday everyone! Hopefully, you are getting in a sewing session, or are planning your next project. We can see that many of you are getting stuck into cosy sewing projects, with the Marlo Cardigan by True Bias and the Toaster Sweater by Sew House Seven being some of our most popular patterns this week.
We've done another big restock on paper patterns this week across some of your favourite indie designers to make sure we have plenty available for your autumn/winter projects. If you've been after printed patterns from the following, we have stock available!
Plus, we've done a big top up on Simplicity and McCall's sewing patterns so if you've been waiting for something to come back in stock, now is the time to snap it up! Have a wonderful Sunday gang!
---
The Toaster Sweater by Sew House Seven has been very popular this week… sweater weather must be on your minds! The Toaster Sweater is an absolute staple pattern that you can (and will!) make, again and again, so you will get lots of use out of it. The reviewers give it FIVE stars and that's exactly what we give their makes! Here are some fab reviews, you can check them all out here.
Ana Planda used this lovely sweatshirt fabric to make this snuggly Toaster Sweater.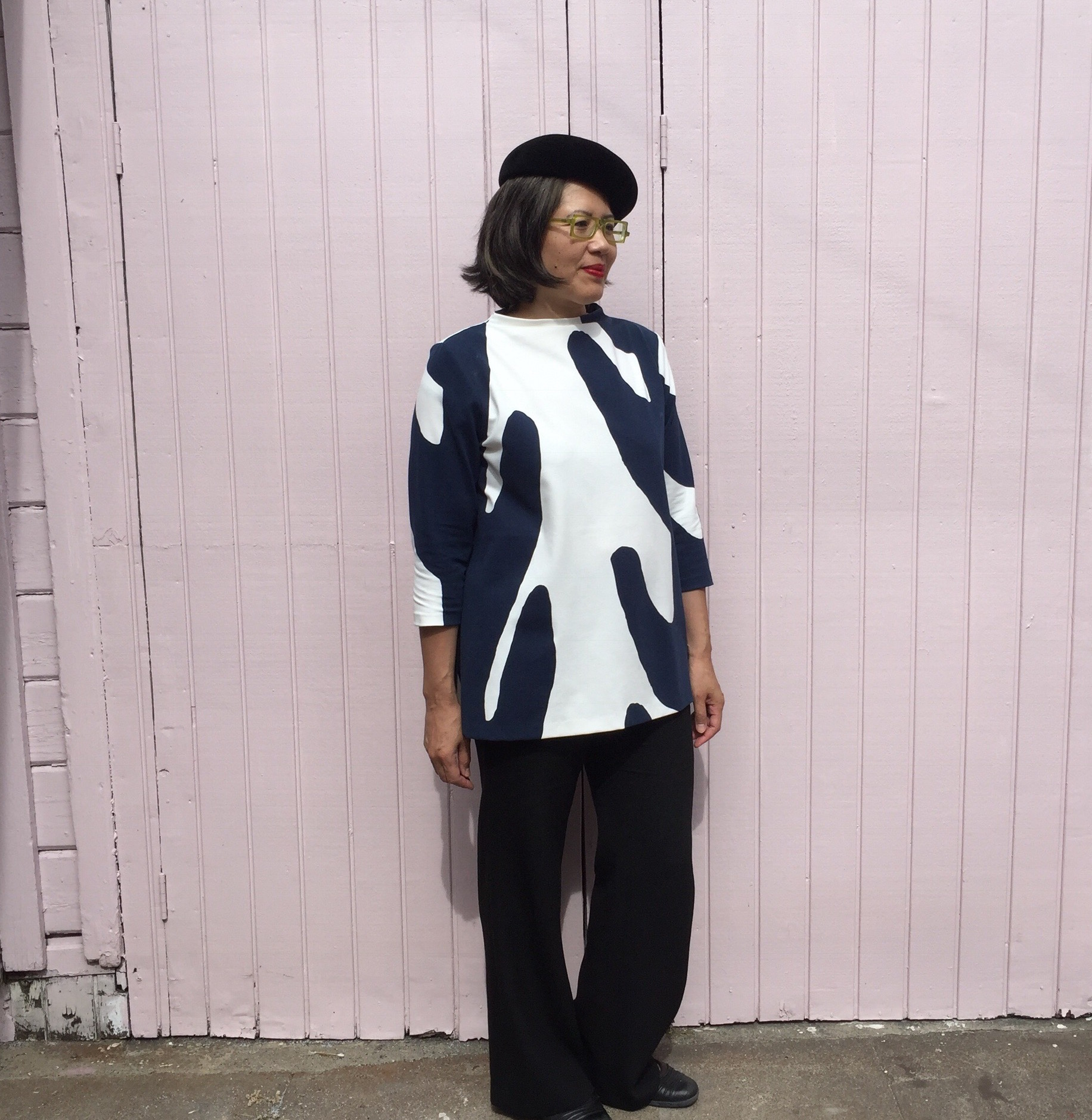 CS Sews made this ultra-cool monochrome Toaster Sweater from a ponte roma fabric and lengthened it to create a tunic style sweater!
Norfolk Daphne made this Toaster Sweater from a gorgeous striped loopback jersey.
Sewing à la Carte used a neppy light blue French terry fabric to make this lovely Toaster Sweater.
Ruddy to Craft made this cosy striped french terry knit Toaster Sweater, ready for Christmas festivities!
Seams That Way turned the Toaster Sweater into a dress and used a ponte with 70s vibes.
Jolette made this toasty Toaster Sweater in a lovely autumnal wine colour.
---

We've had the latest I AM Patterns collection hit the shop this week, the patterns are so versatile and full of options so you can make them again and again!
Do you already have a specific design in mind? Or do you need some help finding the perfect pattern for your fabric? You can search all the patterns in our database using our newly updated sewing-specific search tool.
---
Fancy some weekend browsing? You're in luck as our latest blog post sharing our September sewing pattern releases is on the site! If you're feeling ready to take on a project or two, we've had some fabulous indie pattern releases through September that might be just what you're looking for, check it out!
---
Each month we will be making a donation from our profits to a different charity. This month we have chosen to donate to Tommy's, a charity committed to saving babies' lives. They fund pioneering research and support families through every part of the pregnancy journey.
---
It was nice to see sewing your own clothes on the Guardian website this week! The article focuses on the impact of lockdown, where thousands of people began making their own clothes for the first time – a movement born of creativity and conscious consumption. We, of course, have known how great sewing is for ages, but it's always nice to see it in the mainstream press and to see some lovely people in the sewing community getting a mention!
---
The Behind The Seams Tour is back! Hosted by @in_a_haystack and @untitledthoughts, the month-long focus is on what it's like to run a sewing business. Every weekday in October, a different business owner will take you behind the seams of their brand so you can get to know them a bit more.
This year, in the run-up to COP26, there'll be a particular focus on slow fashion and sustainability. Follow the hashtag, #BehindTheSeamsTour, on Instagram so you don't miss a thing!
---

We all know how much goes into sewing a shirt… lots of pattern pieces, perfecting the collar, stitching neat buttonholes, so we loved watching this film by Margaret Howell documenting the process. We thought you might like watching it too!
---
---

I AM Patterns are one of the early indie pattern company's that you may not have discovered yet if you are new to sewing! The French pattern company I AM offers a selection of trendy yet timeless sewing patterns for men and women. With few pattern pieces and detailed instructions, they are designed so you can sew them easily. The patterns are released in collections, so you can often wear the pieces together to build your handmade wardrobe with a little bit of French chic style!
---
Come and join our sewing Facebook group where we are chatting about sewing plans, new patterns and helping each other out with projects.
The post Sew Reporter – 3rd October appeared first on The Foldline.