Shopping for a Nursing Bra
Every nursing mom kit needs the best nursing bras and nursing tanks.
Breastfeeding was not easy for me. I overproduced and was often left with painful clogged ducts and a couple of bouts of mastitis when I nursed my first child.
Things were a bit better with my second kiddo, but she refused bottles so I couldn't have my hubs, or anyone else, feed her with my pumped milk. And she cluster fed a LOT which meant I got very little rest.
That being said, I don't regret breastfeeding either of my babies. As hard as it was, it was also incredibly bonding and really gave me strong mama vibes.
Plus, just like pregnancies, every breastfeeding experience is different, so if I were to have another child I would definitely try it again!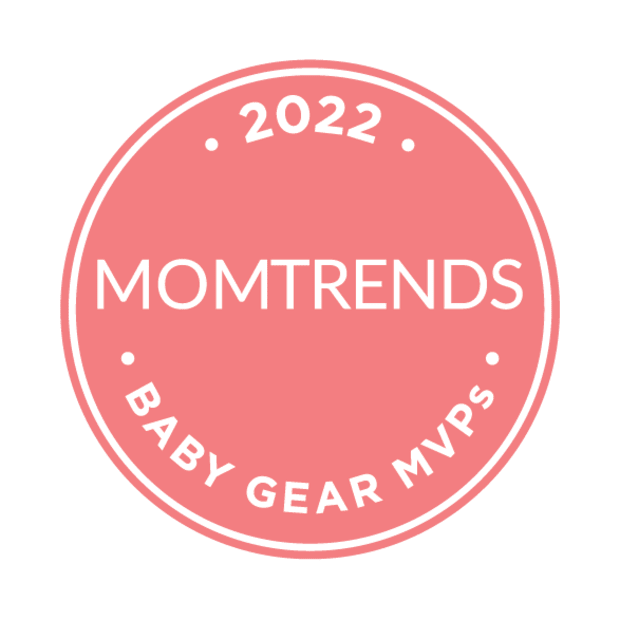 The key to breastfeeding is being as prepared and educated as you can be, lactation consultants are great for this, and then also being willing to roll with it.
That pretty much sums up my parenting experience this far. I try to learn as much as I can and I also operate on intuition, but I digress…
So, whether breastfeeding is a bit of a challenge or it goes easier for you like it did some of my friends, I want you to know about some of our favorite breastfeeding must-haves like the best nursing bras and nursing tanks!
Do You Really Need a Nursing Bra When Breastfeeding?
The short answer is yes, I think you do really need a nursing bra when breastfeeding. This type of bra is specifically designed for breastfeeding breast so it offers the support and access a nursing parent needs.
Can you operate without a nursing bra? Of course, you can. A nursing bra is something that makes your life SO much easier, so, to me, a couple nursing bras and nursing tanks are more than worth the investment!
Plus, some nursing bras serve other useful purposes like hands-free pumping assistance etc. There is really no downside here as you can find them in a variety of price points.
And we can't forget about nursing tanks. I actually wore those during the day and slept in a comfy nursing bra at night. You can wear them alone or as a layering piece with a flowy blouse or cardigan!
The Best Maternity to Nursing Bra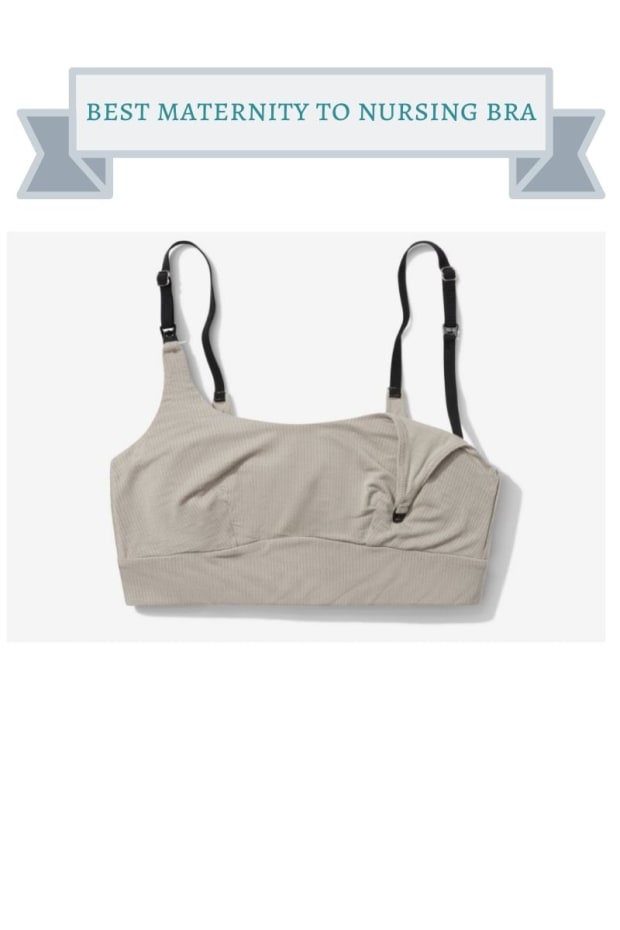 I was full-chested before I got pregnant, so you can imagine what happened after, bwah! I opted to buy maternity bras while I was expecting because it got to the point where I couldn't comfortably sleep without one as I needed at least a little support at night.
For anyone in the same boat, a maternity to nursing bra is a great option! The Everything Bra by Bodily is super soft, provides light support, and can be worn during pregnancy, breastfeeding, and after.
I love how much Bodily focused on comfort for so many different phases and how they consulted with a lactation consultant to make sure their The Everything Bra minimized complications like clogged ducts and mastitis! Where was this when I was pregnant? Haha!
The Best Supportive Nursing Bra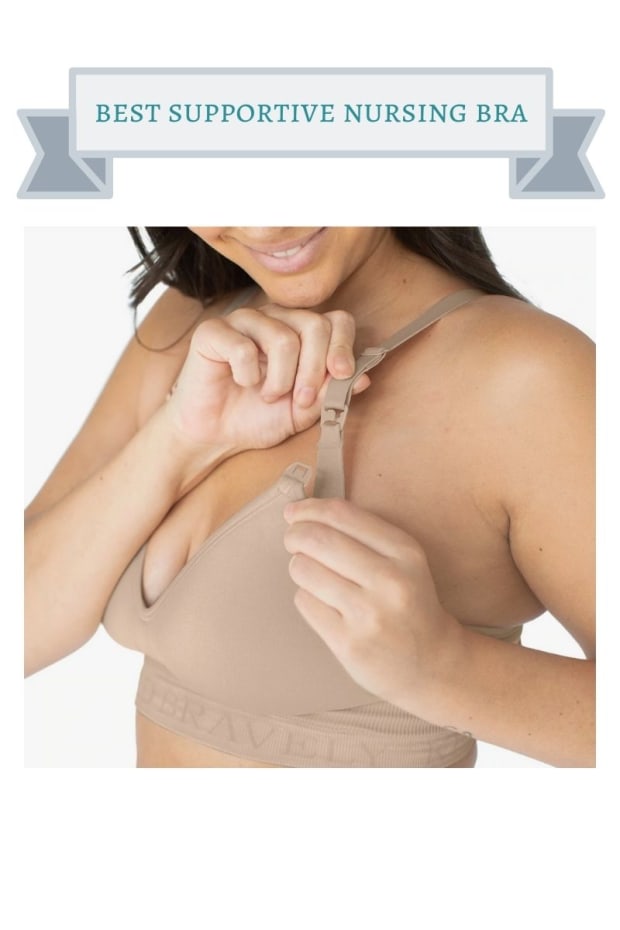 Padding gives bras the coverage and support we're after, but it's also responsible for plenty of frustration. Raise your hand if it drives you nuts when your bra's padding moves around, or worse yet, comes out in the dryer.
Kindred Bravely fixed that problem with their fixed padding nursing bra! The molded cups stay put while giving you shape and a smooth silhouette.
I can't get over what a game-changer the fixed padding is in the Sublime Contour Nursing & Maternity Bra. I hate loosy goosy padding now, but when I was breastfeeding, it was even more annoying! That is just a frustration that no nursing mom needs!
Kindred Bravely Signature Sublime Contour Nursing & Maternity Bra
The Best Pumping Bra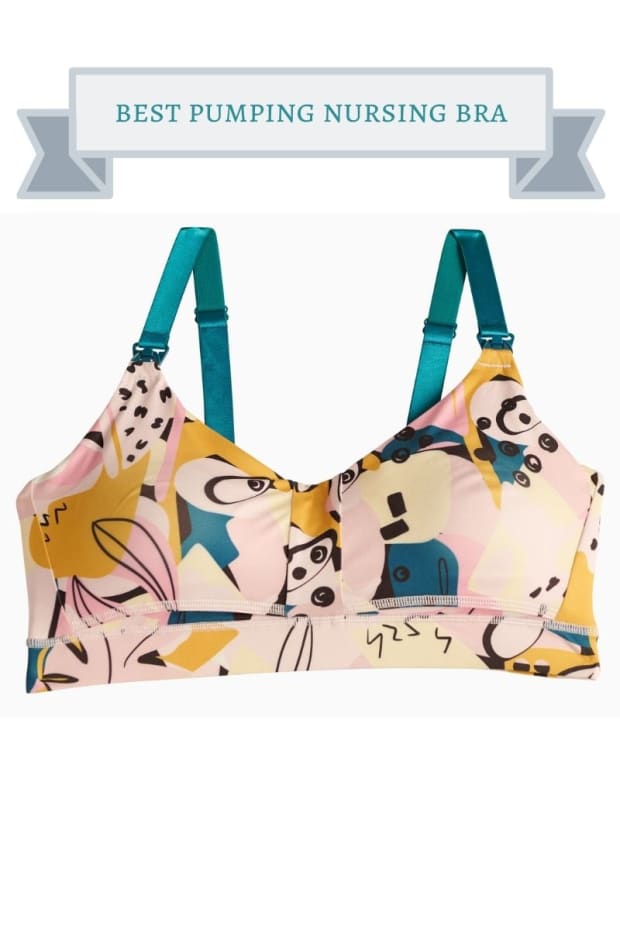 Whether you breastfeed and supplement some feeds with pumped bottles or exclusively pump, a pumping bra is a must-have. It allows for hands-free pumping which frees you up to go about your business at home.
With a pumping bra on you can do dishes, get some work done on your laptop or simply keep that hand free for your remote so you can keep your streaming sesh going.
The Ollie Gray The Anywhere Bra covers all your pumping bases as it's super lightweight and comfortable as well as supportive! And I just love the fun prints it comes in. Nursing bras don't always give you aesthetics. Haha!
The Best Nursing Sports Bra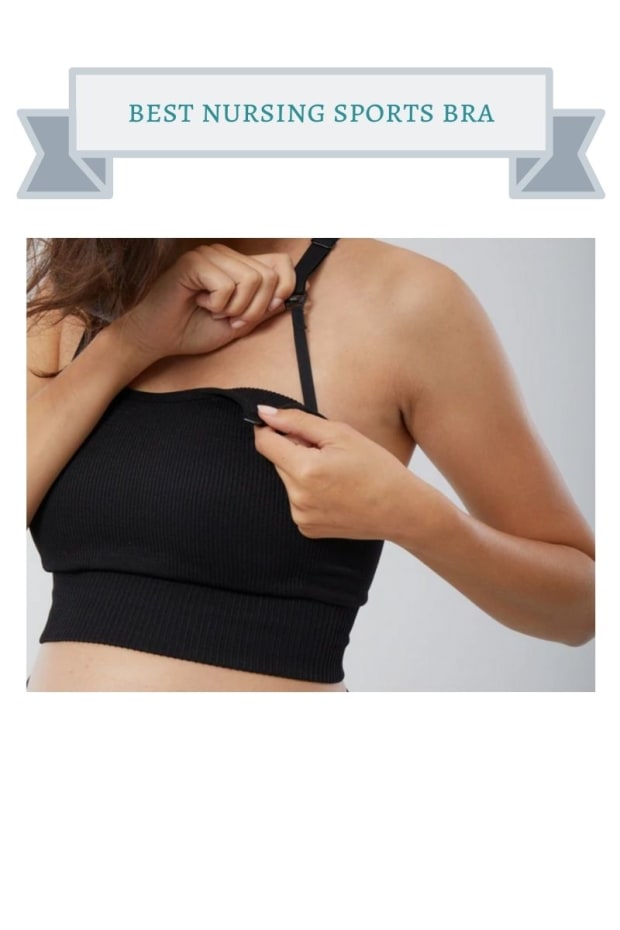 Athleisure is life in my book and sports bras are a huge part of my athleisure wardrobe. I wear them when I work out, but also when I work from home, run errands…you name it.
My dedication to the sports bra is probably leftover from when I was pregnant. I wore maternity sports bras all the time because they're so darn comfortable.
I love that the Ingrid + Isabel Seamless Nursing Sports Bra has an adjustable racerback and can be worn during a workout OR simply to wear around the house or out of the house for that matter!
Ingrid + Isabel Seamless Nursing Sports Bra
Do You Need Nursing Tanks?
Now that you have a few fabulous nursing bras to choose from, let's talk about nursing tanks. Much like nursing bras you don't absolutely have to have a nursing tank, but they will make your life easier.
Nursing tanks can be worn alone in the summer or as a layering piece in cooler months. Both of my kids are summer babies so I wore mine with flowy maxi skirts and short overalls…a LOT!
When wearing nursing tanks you don't have to worry about an additional bra, still get support and the easy nursing access you need! On that note, I rounded up a few that I think are worth trying!
The Best Layering Nursing Tank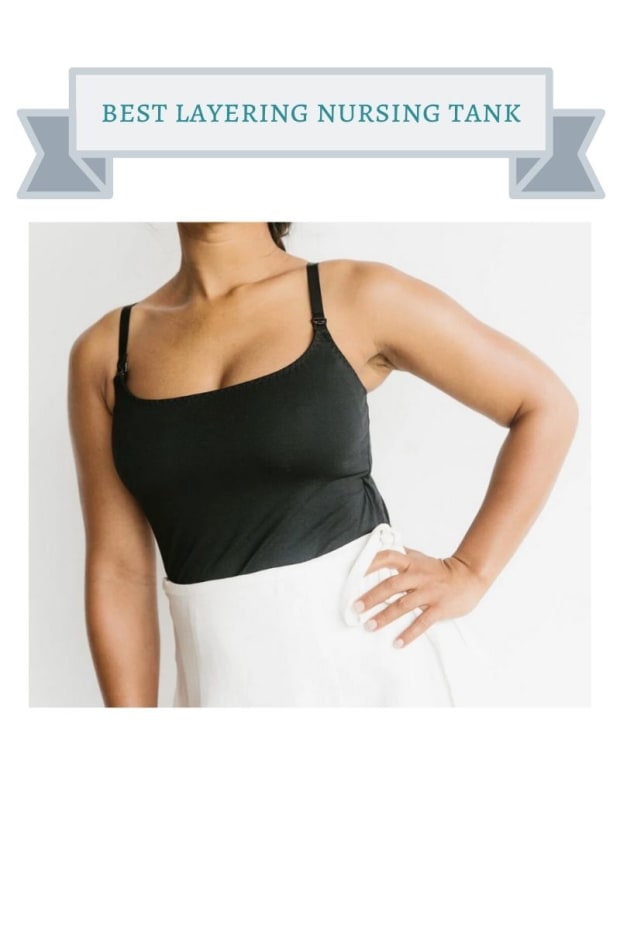 Throw a super soft flowy button-up or cardi over a super soft nursing tank and you have a very comfortable situation.
When layering and breastfeeding, you want to be able to easily undo your top layer and clip down your nursing tank with one hand.
The Storq Soft Touch Nursing Tank allows you to that while also delivering a scoop neck that looks great underneath top layers and adjustable straps for ultimate support. But what I love most is how chic it looks!
The Best Lounging Nursing Tank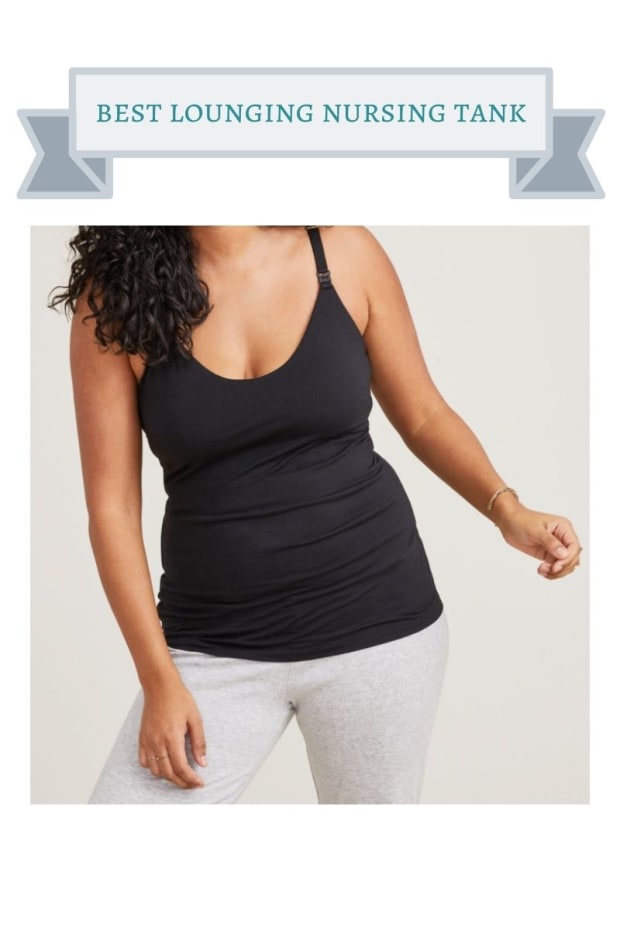 Thanks to the last couple of years, I have accumulated quite a loungewear collection. Somehow I had forgotten how comfortable loungewear was which is crazy because that is all I wore in my fourth trimester. Haha!
Nursing tanks are the ultimate loungewear and Hatch has created one of the comfiest tanks around, the 24/7 Nursing Tank! It's made from super soft body-con material that feels like pajamas.
I love the 24/7 Nursing Tank for everything I mentioned above, but the best bit is the front strap adjustor. No more trying to twist around to the back to tighten your straps! And there is even plush backing behind the strap so you can say goodbye to irritation!
The Best Pull-Down Nursing Tank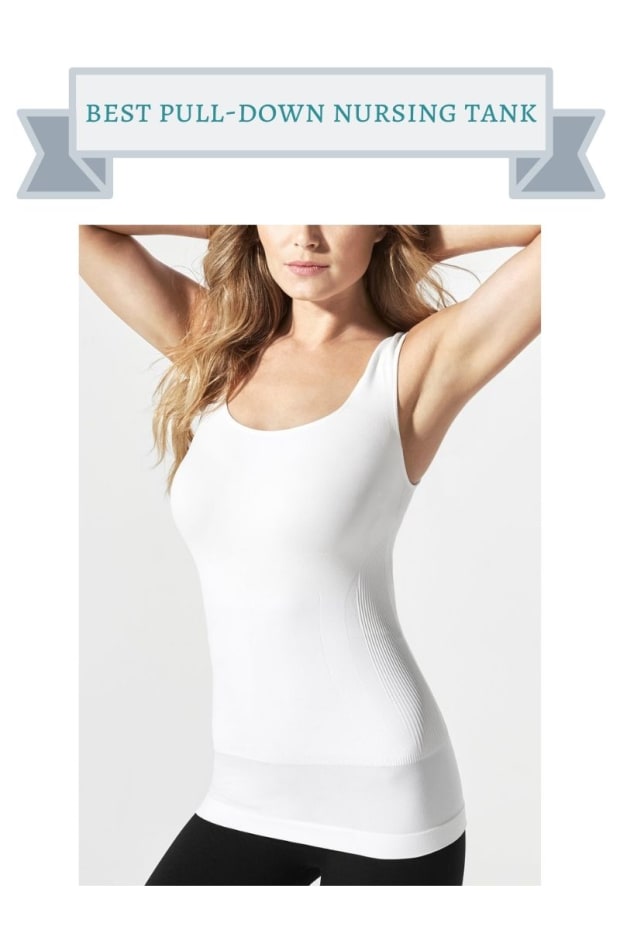 Not all nursing tanks have adjustable straps. Some like the Blanqui Everyday Pull-Down tank is made to just be pulled down when it's time to nurse.
And that's not all it does. It is made from a compression fabric that helps support your weakened core along and smoothes your silhouette all over.
I mean all of those fabulous features are enough, but the Blanqui Everyday Pull-Down tank fabric is also moisture-wicking, which is amazing. I got so HOT when I was breastfeeding!
Blanqui Everyday Pull-Down Postpartum + Nursing Support Tank Top
The Best Compression Nursing Tank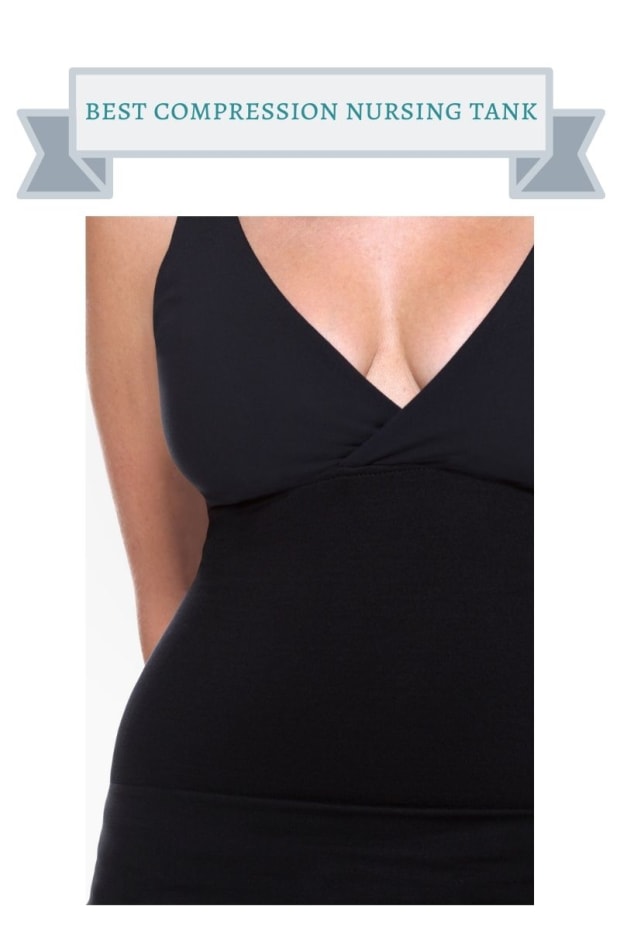 The Compression Tank from Mother Tucker is less pull-down and more pull-over, but still super easy for your baby to access and the best in compression.
It's made from tummy-smoothing fabric and a reinforced bust so you don't have to wear a bra if you don't want to.
The wide bottom band in the Mother Tucker Compression that keeps it tank in place so you don't have to tug it down is by far my favorite feature! I wish I could find a non-nursing tank with it. Bwah!
Mother Tucker Compression Nursing Tank
And those, my friends, are what I consider the best nursing bras and nursing tanks. Make sure you check out some of our other Momtrends MVP's. We have the best of beauty and baby gear for moms!
Stay tuned for our next Beauty and Baby Gear Momtrends MVP's lists…
For Even More Momtrends MVP's Winners, Follow the Links Below:
Pin It!
Don't forget to save our go-to beauty tips and follow along for more with our Pinterest beauty board!
Momtrends MVP's is a non-sponsored series. Brands must meet our strict standards to be included. When naming winners we take several factors into account, including expense, convenience, and style.
We make our picks annually based on editors' research. In some instances, we may request and receive samples so that we can more thoroughly assess products. Our opinions are our own, and our goal is to help our community of moms make more informed decisions on everything from baby gear to beauty products to vacation destinations and more. We scour the abundant options and painstakingly hand-pick our favorites, so you don't have to. Our hope is that our most valuable players become your most valued purchases.