Spring 2022 fashion trends: 24 trends for women over 40 to try this season
Spring is a time of new beginnings, so it's the perfect time to refresh your wardrobe. Just adding even one or two new trends into your existing closet can update your looks to give your outfits an up-to-date, modern feel. You can see the key spring 2022 fashion trends below and how you can wear them.
Spring 2022 fashion trends
What were the major themes on the catwalks for spring 2022, that you will find have now made their way to the high street stores?
Well, there wasn't much loungewear for the new season. Designers have clearly decided it's time to dress up and have fun with fashion again. Take a look below and see if you agree!
modern lace
Michael Kors Collection – Erdem – Giambattista Valli
Lace is timeless but it is sometimes seen as old-fashioned. For spring, designers gave lace a classic yet modern feel. I like the idea of pairing the lace coat seen at Michael Kors (above, left) with everything from a little black dress to a pair of jeans. The lace top paired with wide pants (above, right) also has a very contemporary feel that would be perfect for vacations.

Columns of color
Proenza Schouler – Saint Laurent – Richard Quinn
It doesn't have to be a struggle to think about what color to put with what color. Instead, you could simply wear the same color top-to-toe as seen on the designer runways above.

Dressing up for the beach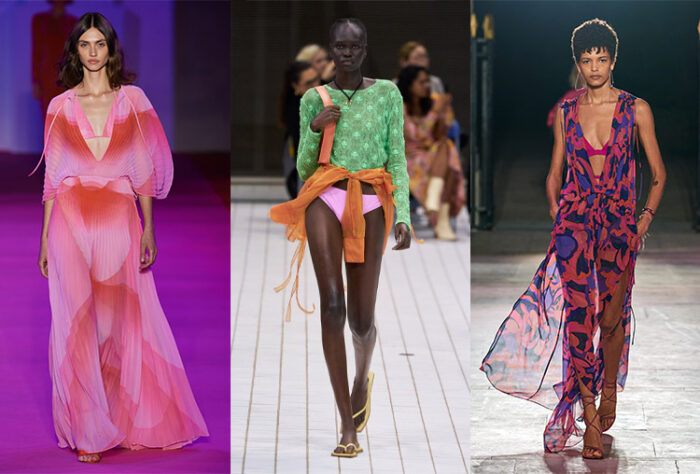 Brandon Maxwell – Rejina Pyo – Isabel Marant
Are you planning a beach break this year? The likes of Brandon Maxwell, Rejina Pyo and Isabel Marant definitely had vacations on the mind when putting together their collections. Choose a beautiful cover-up that you can wear over your swimsuit when you go from beach to lunch.
Also, take a look at my popular article on the best swimsuits for women over 40 and which beach cover-ups to choose.

modern day hippie
Jil Sander – Valentino – Altuzarra
Do you have a Bohemian style personality? Or do you like to introduce certain elements of a boho style to your outfits? Designers opted for boho chic styles that looked relaxed yet put together. You could opt for a flowing maxi dress or wear your boho top with your favorite pair of jeans.

flattering stripes
Tory Burch – Tommy Hilfiger – Emporio Armani
Stripes are an absolutely timeless pattern as well as being very flattering, making them a great addition to your closet. Look out for striped pants, shirt dresses you can wear as a dress or open as a duster, and maxi dresses you can wear with your sandals for summer.

or checks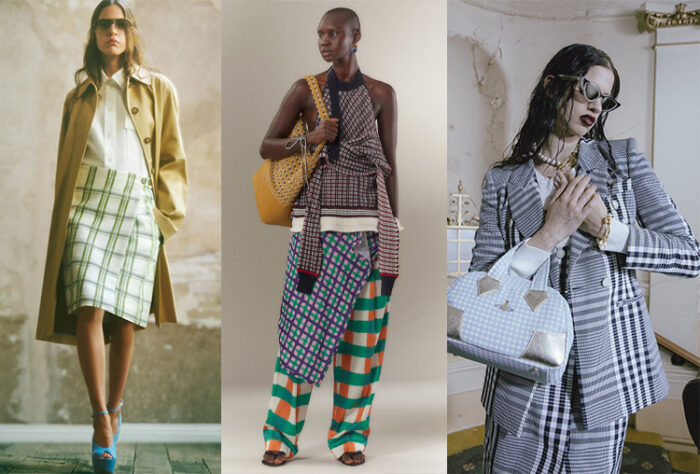 Victoria Beckham – 3.1Philip Lim – Vivienne Westwood
Another pattern that really stood out on the catwalks was checks. Again, totally timeless, check styles are often worn for Fall. But you can definitely choose checks for spring and summer too. I particularly like the idea of putting together a striped midi dress with a classic white shirt as shown by Victoria Beckham (above, left).

all in ones
Saint Laurent – Peter Do – Saint Laurent
Jumpsuits will always be on-trend and are a great alternative when you want to dress up but you don't necessarily want to wear a dress. Most of the jumpsuits seen on the spring catwalks featured a blazer style collar. You could always wear a camisole underneath if you don't want to go too low-cut at the neckline.

spring 2022 fashion trends: coordinates
Valentino – Michael Kors Collection – Giambattista Valli
Matchy matchy is very much on trend for the spring 2022 season. You could choose a matching pair of pants and top to wear together. Then, when you want to create different looks, you can wear your neutral tops or your jeans rather than your matching items.

Feathers and fringe
Alexander McQueen – Valentino – Proenza Schouler
There was certainly plenty of texture on the designer catwalks for spring. Obviously, you don't have to go all-out with top-to-toe feathers and fringe if this feels like too much for you. You could add a little fringing or get with your accessories.


Monochromatic – black and white
Saint Laurent – Hermès – Rochas
Black and white is always on-trend and makes the perfect background to add a pop of color such as red. I particularly like the graphic print shirtdress and chunky sandals shown at Hermes (above, center).

Big blazers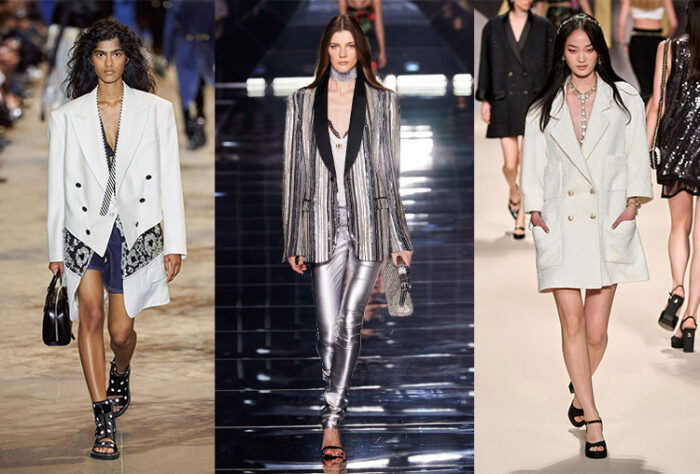 Louis Vuitton – Dolce&Gabbana – Chanel
Oversized jackets have been on-trend for a couple of seasons now and are definitely still on-trend for spring. So, if you already have one, don't push it to the back of your closet just yet. If you choose an oversized blazer, it's usually most flattering to keep the rest of your outfit in proportion, so opt for slimmer fitting pants.

or short jackets
Saint Laurent – Giambattista Valli – Richard Quinn
Having talked about oversized jackets, they certainly aren't the only option for spring. Cropped jackets are also very much on-trend. Choosing a crop jacket is a great way to make your legs look super long if you want to look taller and slimmer. Obviously, the model at Saint Laurent (above, left) already has long legs. But you can see how they look even longer because the cropped jacket makes her torso look shorter in comparison.

long shorts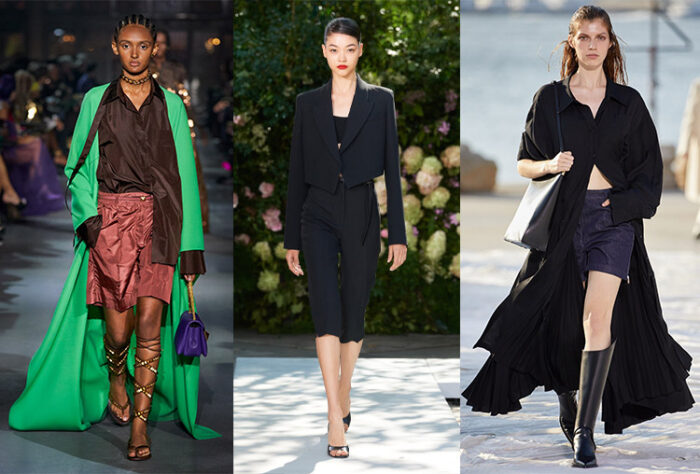 Valentino – Michael Kors Collection – Peter Do
Often I see lots of short shorts making their way down the catwalks on the legs of supermodels. But, this time around, the lengths are definitely more friendly for women over 40. Choose a mid-thigh length or bermuda style to be on trend.
Also, take a look at the best shorts to fit and flatter women of any age.

wide pants
Oscar de la Renta – Tommy Hilfiger – Zimmermann
Wide pants are still very much on-trend for spring. Choose from any wide pants that suit your style personality, whether you like a pair of wide jeans, tailored pants, or a pair of print pants that would look fabulous with a tank top, t-shirt or shirt for you summer vacations.
For inspiration also check our article on how to wear flared jeans.

easy luxury
Jil Sander – Peter Do – Peter Do
Classy, expensive looking and relaxed – what a great combination. It's hard to pin down what this look entails. But key elements are definitely luxe materials (think satin, silk and leather) along with slouchy pants and an open coat or trench coat. Note that none of these looks are tight-fitting, so choose relaxed tailoring.

maxi length
Saint Laurent – Peter Do – Chanel
Maxi dress styles aren't a length I dabled with very much previously, but I've definitely fallen in love with this style more over the past year and I love the elegant simplicity of the looks above.
You can also find more inspiration in this article on how to wear a maxi dress.

draping
Tory Burch – Richard Malone – Issey Miyake
Draping can be incredibly flattering as you can skim over the parts of your body you aren't so confident about while being very much on trend. Look out for draped tops and skirts. While rules are meant to be broken, for a flattering look I would be careful about wearing wide drapes on both your top and bottom half as shown above right.

Trendy trenches
Burberry – Michael Kors Collection – Proenza Schouler
The trench coat is a style that will always be on-trend. After all, this is a coat style that has been around since the 1850s so you can be sure that if you invest in one you can wear your trench coat season after season. For spring 2022, look out for trench coats featuring interesting details or colors.

White suits
Valentino – Altuzarra – Tommy Hilfiger
For a clean, simple, minimal, yet very classy look, you could try one of the trends that popped up on several runways – the white suit. You can wear your white suit for spring and summer events you are invited to, or you could always wear a suit more casually with a t-shirt and sneakers or sandals.

dress over pants
Jil Sander – Proenza Schouler – Rodarte
If you've been following me for a while, you'll know I'm a big fan of layering a dress over pants. In fact, you can see more ideas in this article on how to wear tunics and short dresses over pants. You could choose matching pants and tunics, neutrals or choose contrasting colors.

bold florals
It's no surprise that florals are on trend for spring. But if you want to make sure that you get the spring 2022 look, you should look out for big, bold floral prints.

Voluminous skirts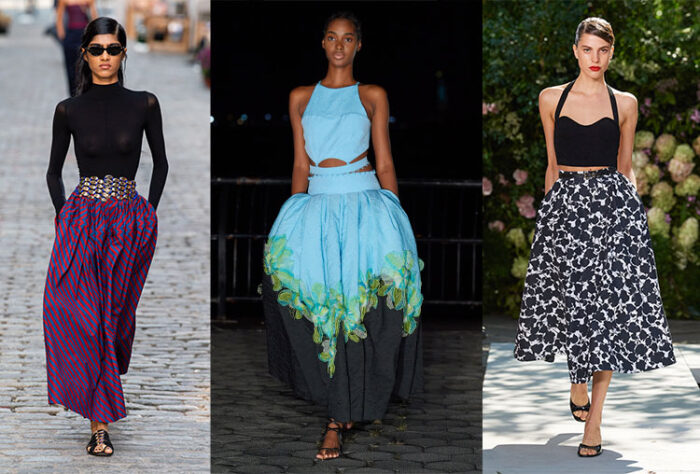 Tory Burch – Prabal Gurung – Michael Kors Collection
Skirts for spring 2022 have lots of volume. Choose either a midi or a maxi length and keep your top slimline. Voluminous skirts would be a stylish option for any events you are attending in the spring and summer months, or for your vacations.

spring 2022 fashion trends: halter necks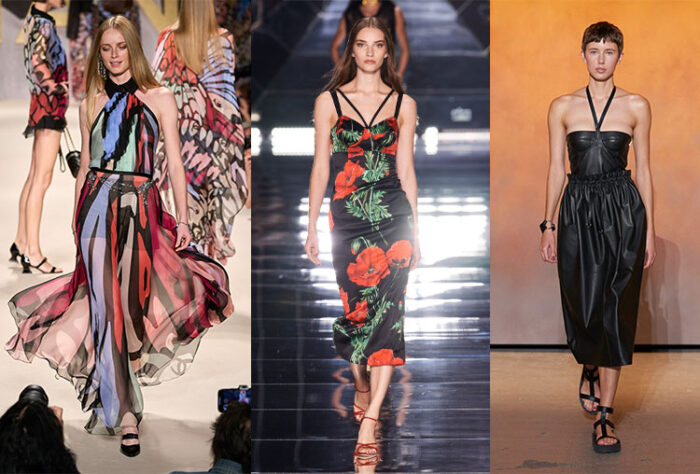 Chanel – Dolce&Gabbana – Hèrmes
Halternecks are the ideal choice if your shoulders are part of your body you love. A halterneck can be ideal if you have an inverted triangle body shape as they can visually make your wider shoulders look narrower, balancing out your silhouette.

Architectural
Issey Miyake – Loewe – Tory Burch
If you love to create drama with your outfit, then playing around with the structure and shape of your clothes can be the perfect way to do so. Also take a look at how to dress the architectural style personality for more ideas.

Which spring 2022 fashion trends do you like?
Do you already have any of these spring 2022 trends in your closet already? Or are you planning to add any? Which are your favorite looks? You can let me know in the comments below.
Like this post on spring 2022 fashion trends ? Share it on Pinterest!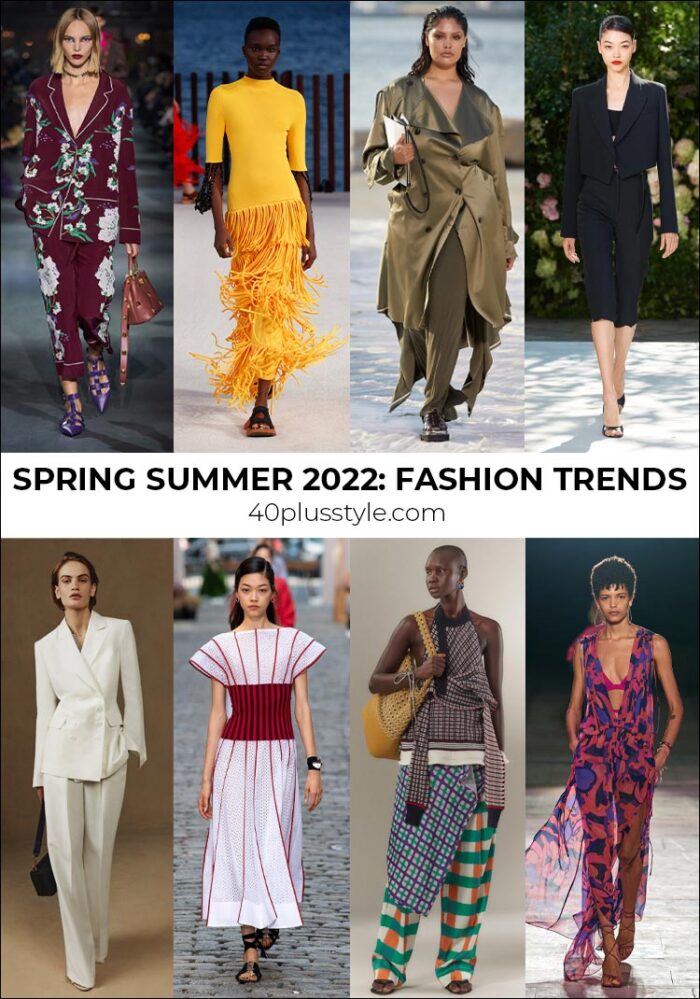 Images from VOGUE Runway
The post Spring 2022 fashion trends: 24 trends for women over 40 to try this season appeared first on 40+ Style.