Spring Dresses for Prime Women
Colorful is the word for spring dresses, and nothing brightens our day more than a lovely dress in a flattering shade, perhaps with a swing in the skirt that sways as we walk. 
Spring dresses are the ultimate option for easy dressing in the upcoming warmer weather. Throw in some sandals and sunglasses, and you are ready to get started with your day. There are so many options of colors, silhouettes, and prints available. 
While there are many dress choices in solid colors, look for fantasy florals, fruit stripes in bold colors of the rainbow, watercolors, and paisley. This spring is not a time to go subtle in your attire. In fact, if you are looking to add only one new garment to your spring/summer wardrobe, make it a memorable dress! Here are our top dresses for women over 50.
SHOP THE LOOK: DRESSES FOR SPRING
Disclosure: This post contains affiliate links.
Top Picks
Sometimes you just need to pick a few favorites to start a list, and these are two that immediately stood out. Whether you're heading to a spring wedding and need a dress with long sleeves for a cooler day or a lovely dress for Easter, we've got you covered. 
Shirt Dresses
Shirt dresses are a perfect option to bring comfort and fashion to your wardrobe because they come in a wide variety of lengths, patterns, and styles to suit any event. They're typically loose-fitting, but a belt or sash can add a flattering fit to your waistline, and a pair of sandals or a denim jacket can accentuate the dress perfectly. 
Solid Color Dresses
Prints and patterns are fun, but there's just something about a solid-colored dress that makes a bold statement. The great thing about the single color is it's like a blank canvas, ready to be enhanced by some fashionable jewelry, shoes, or other accessories. Solid-colored dresses are also perfect for all occasions, from a day at the office to a spring wedding.  
Bold Print Dresses
Some occasions call for a little pizzazz, and that's where bold print dresses come into play. Dots, dashes, stripes, paisley… the print options are numerous and make every event a bit more fun while allowing your personality to shine through. 
Floral Dresses
One of my favorite styles to wear is Bohemian, whether it's a flowing top or a pair of embellished bottoms. But a soft flowing floral dress is one of my favorite clothing items because it just softens up my whole day. There's something about sashaying my way through an event while feeling the soft fabric flow around me – and adding a floral design seems to bring all of the elements to life. 
If you're like me, you get tired of wearing the same shorts or capris every day, so incorporating a few dresses into the rotation helps keep my look fresh and fun. With warmer weather just around the corner, we're going to have the opportunity to sit on a patio with friends or enjoy some outdoor events. Now is the perfect time to add some colorful options to our closet, and this guide will hopefully help you find the best dresses for women over 50!
WATCH PRIME WOMEN'S GUIDE TO FASHION

>SUBSCRIBE TO PRIME WOMEN MEDIA ON YOUTUBE
Read Next:
Prime Pick: A Designer Wardrobe for Only $30
10 Essentials for Your Chic Holiday Wardrobe
Our Favorite Tanning Options for Women Over 50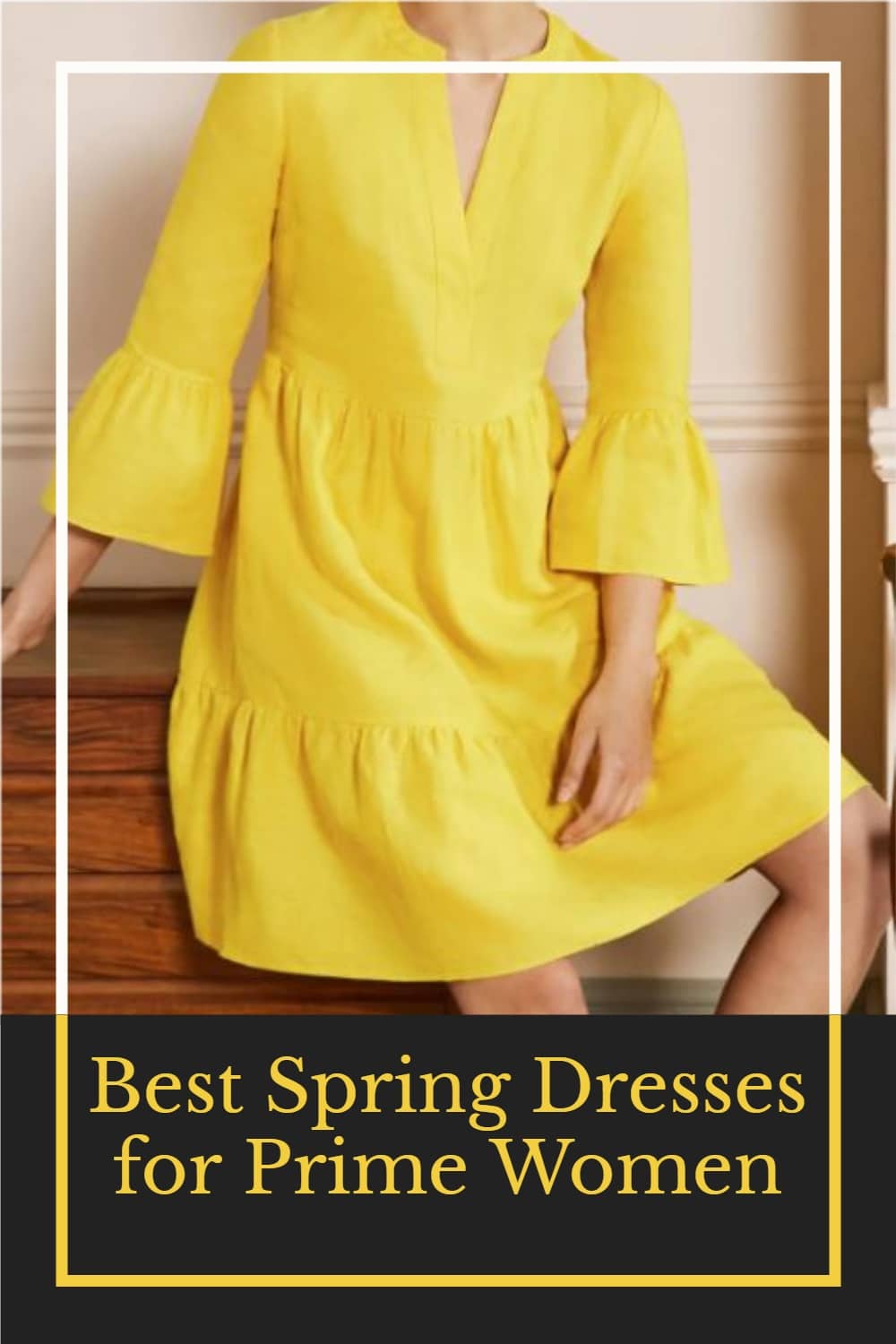 The post Spring Dresses for Prime Women appeared first on Prime Women | An Online Magazine.