The Power of the Classic White Shirt
In a closet full of season-specific trends, the classic white dress shirt is the great equalizer, the bottom line, the very definition of a wardrobe staple. At times the personality of a white shirt seems virtually infinite. Paired easily with anything from boyfriend jeans to printed trousers or a ball skirt, it instantly adds a touch of cool masculinity. A classic cotton shirt can look crisp and tailored. Change the fabric to silk or sheer organza, and the look is instantly dressier, sexier – a menswear-inspired fashion at its most feminine.
It is a timeless, ageless piece that gives a woman that chic masculine/feminine vibe that has proven to be irresistible. The classic white shirt became a trend in the Forties thanks to the stars of Hollywood: in 1938, Kathryn Hepburn wore it in Holiday; Ava Gardner wore a short-sleeved model with wide shorts and lipstick, followed by Lauren Bacall in Key Largo in 1948. In the Fifties, it took Audrey Hepburn to make the shirt with rolled sleeves and lifted collar iconic: she was a princess hanging around with Gregory Peck; those were her Roman Holidays.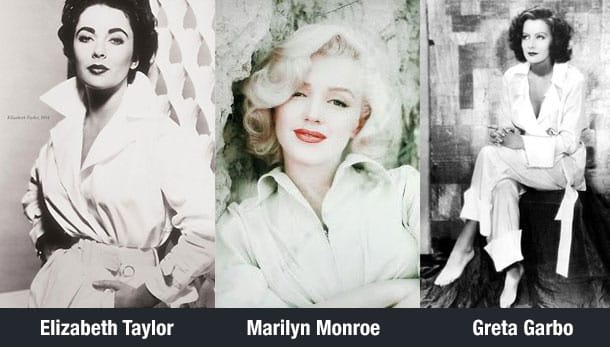 Styling your white shirt is easy – loose shirts can be worn over an undershirt or a camisole instead of a jacket. Untucked, they can hide a bulky waistline or give modesty and shelter from the sun to a skimpy bathing suit. Tucked in or worn under a jacket, they take a back seat to the perfect suit.
When is a shirt not a shirt? When it's too pretty or feminine to betray much of its historical roots as men's clothing – in other words, when it's a blouse.
Shop the Look
Read Next:
The Best White Jeans for Women
34 Best White T-Shirts for Mature Women
The post The Power of the Classic White Shirt appeared first on Prime Women | An Online Magazine.