Top 20 Luxury T-Shirt Brands For Men
What started out life some 150 years ago as a simple workwear undergarment has evolved to become many things to many people – the humble T-shirt is now a luxury accomplice to tailoring; a canvas to voice one's opinions; a walking advertisement for brand cachet; and yes, still a simple undergarment.
T-shirts might not be the most complex of menswear garments to produce, nevertheless they still remain an integral part of the modern man's wardrobe. Whether you're into logo-heavy styles, loud graphic prints, or value quality over embellishments, these are the luxury brands producing some of our favourite styles right now.
Sunspel
Ever since 1860 when the brand was founded by Thomas Hill in Nottingham, England, Sunspel has achieved widespread recognition for its quality tees. In fact, it was probably one of a handful of manufacturers who are credited with first manufacturing T-shirts, sold as undergarments back then.
Sunspel has never rested on its heritage however, always producing designs using the highest quality fabrics and production methods. You can be guaranteed a flattering silhouette cut from the finest cotton, and built to last.
James Perse
Born and bred in Los Angeles, James Perse's brand of luxury minimalism has been a revelation since he made his first line of T-shirts back in 1994. Since then, the American brand has gone from strength to strength, building a reputation for uncompromising quality – exemplified by Perse's eclectic range of tees constructed from diverse fabrics, such as his 'Elevated Lotus Jersey' sourced from Japan.
With a relaxed cut typical of a West Coast label, Perse's tees are perfect high-end staples.
Zanone
Zanone is part of the Italian collective Slowear, a group of brands with the shared ethos of quality craftsmanship and textile innovation. Boasting excellent attention to detail and meticulous approach to manufacture, Zanone has quietly flown under the radar, popping up in the wardrobes of discerning menswear aficionados.
Its 'ice cotton' tees are some of the most comfortable you'll ever try on.
A.P.C
Founded by Jean Touitou in 1987, A.P.C has carved out a niche for itself, embodying that unique and desirable Parisian chic attitude throughout its collections.
Positioned in the middle ground between cult brand and luxury label, A.P.C go about their business with aplomb, subverting classic menswear tropes and deftly blending modern streetwear with sophisticated French aesthetics. Its subtle logo tees deserve a place in everyone's wardrobe.
CDLP
Swedish label CDLP burst onto the menswear scene in 2016, touting a new standard in men's underwear. As you can imagine of the Swedes, CDLP's aesthetic leans on minimalist styling and unrivalled comfort thanks to the creation of innovative fabric blends.
The brand uses extremely high-quality fabrics such as pima cotton and lyocell, "a natural fibre crafted from wood pulp derived from certified renewable sources, providing silk-like softness and superior breathability". The bar has been raised.
Gucci
What you might not get in innovative fabrication, you most certainly get in cachet with Gucci.
Creative Director Alessandro Michele has injected the Italian giant with his own brand of vibrant maximalism that has enabled the luxury label to roar in recent years. When it comes to tees, there's no space for wallflowers – logo largesse is the name of the day. Wear it loud and proud.
Saint Laurent
Belgian-born designer Anthony Vaccarello took over the helm of Saint Laurent from Hedi Slimane in 2016. Big boots to fill, but fill them he has, doubling down on Saint Laurent's Parisian heritage to create collections that ooze silky silhouettes and moody masculinity.
When it comes to tees, expect slim-fit styles with understated logo treatments and an irreverent rock 'n' roll vibe.
Balenciaga
While it might be unrecognisable from the label founded by its Spanish namesake in 1917, Demna Gvasalia has evolved Balenciaga into one of the most relevant and hype brands of the day, cleverly subverting the label's heritage at every turn.
Hence why Balenciaga has become one of the most sought-after brands on earth. Expect ironic logo treatments and modern streetwear cuts.
Off-White
No modern designer has had the impact on menswear that the late Virgil Abloh brought to the industry, first through his own brand Off-White and later as creative director of Louis Vuitton.
Despite his tragic passing, Off-White continues to be the most influential and innovative luxury streetwear brand in the world. Its iconic logo will live long in the wardrobes of the fashion savvy.
Expect bold prints, strong graphic elements and Abloh's iconic slogans on its much sought-after T-shirts.
Burberry
Under the direction of Riccardo Tisci, Burberry has been fully propelled to the top of the fashion tree. The British heritage brand is more relevant than it has ever been, artfully mashing up modern streetwear and elegant tailoring with the brand's heritage silhouettes and patterns.
The tees are an extension of Tisci's broader vision, rife with cool graphic prints and updated logos.
Amiri
Combining elements of grunge and skate culture, cult Los Angeles brand Amiri is renowned for its distressed fabrics and slim-cut denim.
Its tees are hot property on the west coast and feature an array of brand logos proudly splayed. With a laid-back, off-duty style, they're a must-have addition for streetwear-heads and label hounds who want a slice of label cachet.
AMI
The Parisian brand founded by Alexandre Mattuissi in 2011 blends chic and casual for an everyday style that looks effortless.
With a focus on slick tailoring, cropped silhouettes and streetwear influences, Mattuissi has created the perfect wave of youthful sophistication. AMI's tees, then, are typically cut in a relaxed silhouette using mid-weight cotton and printed with the brand's now recognisable logo motifs.
Brunello Cucinelli
If you're in search of a T-shirt that is truly luxury then you can begin and end at Brunello Cucinelli. The Italian maestro has relentlessly sought out the finest fabrics in the world, which he has applied to modern silhouettes that emphasise texture and tactility.
His vision is that of a truly modern man whose wardrobe is not split into smart and casual, but rather wears both together in a fluid marriage, where fabric is the bond.
Loro Piana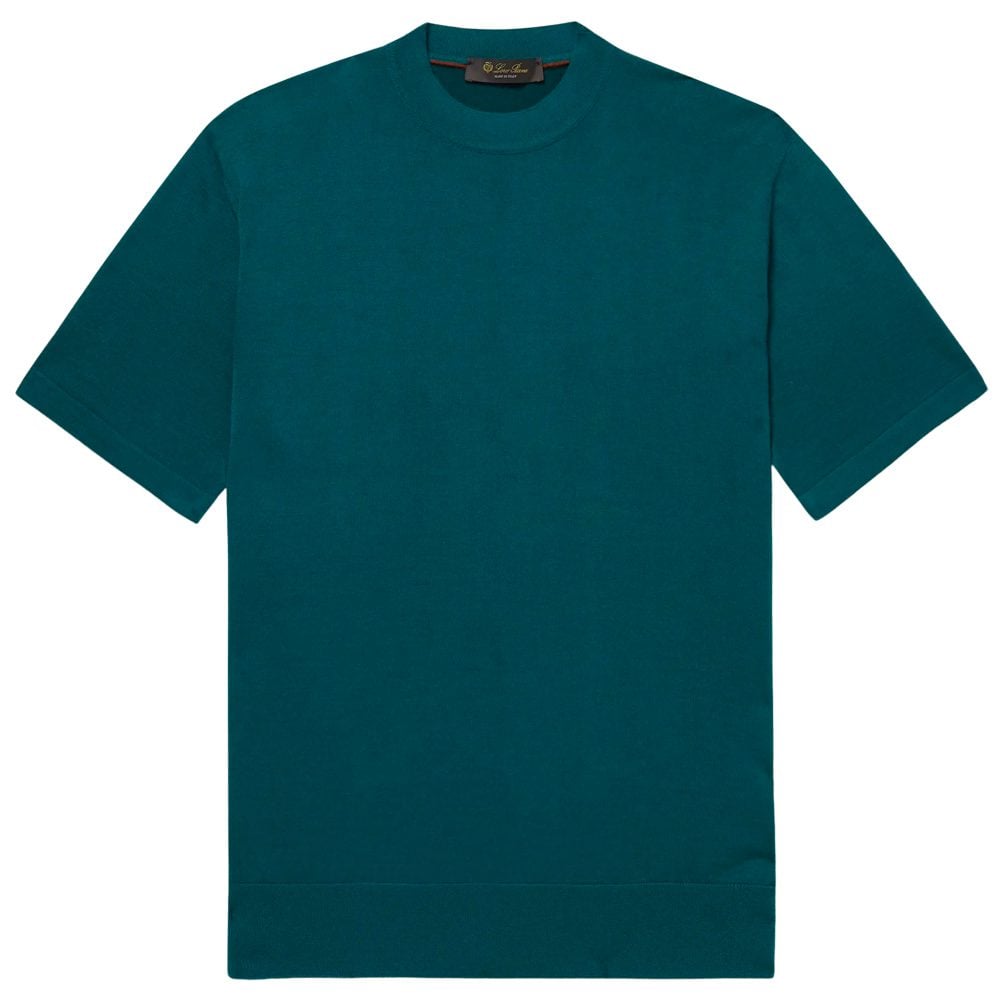 Long regarded as having the finest fabrications in the fashion industry, Loro Piana continues to lead innovation in that regard, so when it comes to tees, you can expect something exceptional.
Think relaxed silhouettes in fabrics such as heavyweight cotton, cashmere, exceptionally fine merino and cotton and silk blends. Eye-watering prices but you guessed that already.
Jil Sander
Now under the direction of husband-and-wife designers Luke and Lucie Meier, Jil Sander is instantly recognisable for its minimalistic aesthetic. Less is most certainly more when it comes to Sander's silhouettes and restricted colour palette (if you're a monochrome fan then this is your brand).
From classic black-and-white tees to hand embroidery and graphic treatments, Sander's T-shirts are elegantly understated and will slide right into a slick modern wardrobe.
Stenströms
As you can expect from a Swedish shirtmaker that has been at the top of its game for over a century, Stenströms' T-shirts are of exceptional quality.
The brand brings the same attention to detail of its shirtmaking to its jersey manufacturing, creating tees with a slim silhouette in a variety of luxury fabrics, including linen, extrafine merino wool and, of course, the very highest quality cotton.
Perfect staples if you love to dress down tailoring without compromising on quality.
RforPeople
RforPeople have created a business model that is entirely focused on sustainability, handmaking its products in Italy with a view to repairing and upcycling them on their life journey.
The brand produces a well fitting men's white T-shirt, handmade in Puglia using 60% recycled cotton and 40% GOTS-certified cotton. It has a beautifully natural drape and pairs well with jeans for that James Dean look.
It's an ethical, sustainable wardrobe staple that looks and feels amazing – you can't ask for more than that.
Maison Kitsuné
Founded by creative polymaths Gildas Loaëc and Masaya Kuroki, Maison Kitsuné is a brand that is inspired by art de vivre, taking influences from music and art scenes.
With a uniquely playful streetwear aesthetic, Kitsuné's logo and graphic tees regularly feature the brand's ubiquitous fox graphic in various guises, presenting a light-hearted, tongue-in-cheek style perfect for everyday wear.
The Anthology
You know you're in good hands at The Anthology. Founded by Hong Kong-based duo Andy Chong and Buzz Tang, this modern tailoring label has at its core an appreciation of and dedication to "precision, modernity and audacious ingenuity, as well as relentless endeavours to nurture and inspire our customers".
As you can imagine from a brand that focuses on bespoke tailoring, its RTW offering is exceptional, not least its knitted T-shirts which are inspired by 1950s sportswear and constructed using certified organic cotton. A stunning way to dress down tailoring.
Rag & Bone
New York-based Rag & Bone have been producing its own modern take on a melange of American workwear and British tailoring ever since 2002, with a focus on high-quality fabrics and artisanal production methods.
With a range of different fits, from slim to relaxed, Rag & Bone's T-shirts are bonafide wardrobe staples that you can rely on. Using loopback jersey cotton together with organic cloths, these tees feel as good as they look.
The post Top 20 Luxury T-Shirt Brands For Men appeared first on Ape to Gentleman.