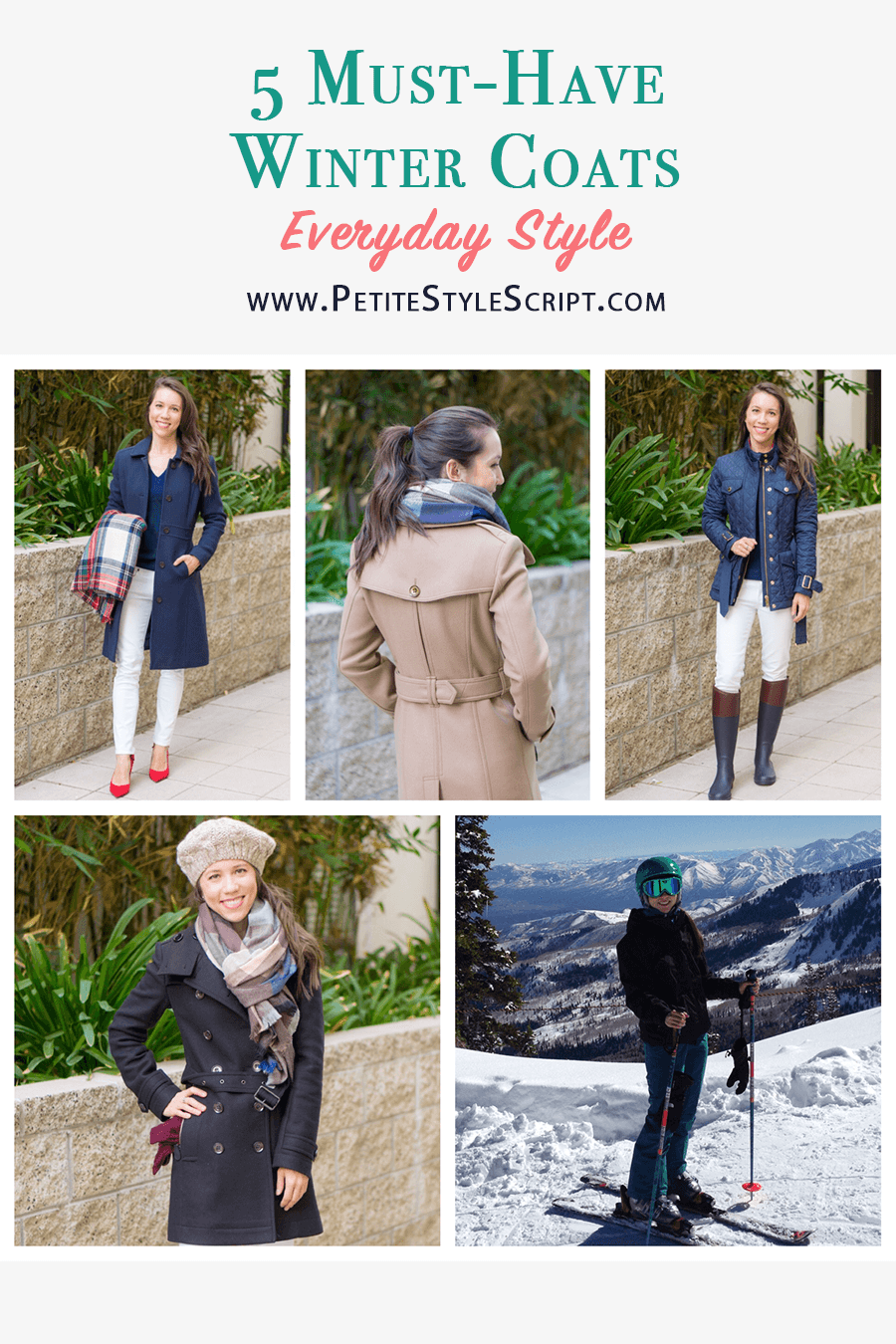 5 Winter Coats // Winter Wardrobe Essentials
Winter has officially started and I know many readers are counting down the days until it's officially over! I'm fortunate to live in Los Angeles where we don't experience true winter weather. But I have previously lived in Utah and Wisconsin and know and understand the difficult winter weather and temperatures that many of you endure.
Note: This post may contain affiliate links; full disclosures HERE. This means, purchasing an item through one of my links may earn me a small commission without affecting your own purchase. Thank you for supporting Petite Style Script & helping it continue as an educational resource. 
Shop the Post (click image):

Best of all, despite not living in a cold climate, I have picked up winter coats that are wardrobe staples. I made the investment in a few of these while I lived in winter climates + they've been excellent pieces to travel with back to Utah, the Midwest and the East Coast! I know I'll continue to get so much wear out of these pieces despite not using them daily and therefore, I think it is appropriate to highlight my Top 5 Winter Coats today!
Black Wool Coat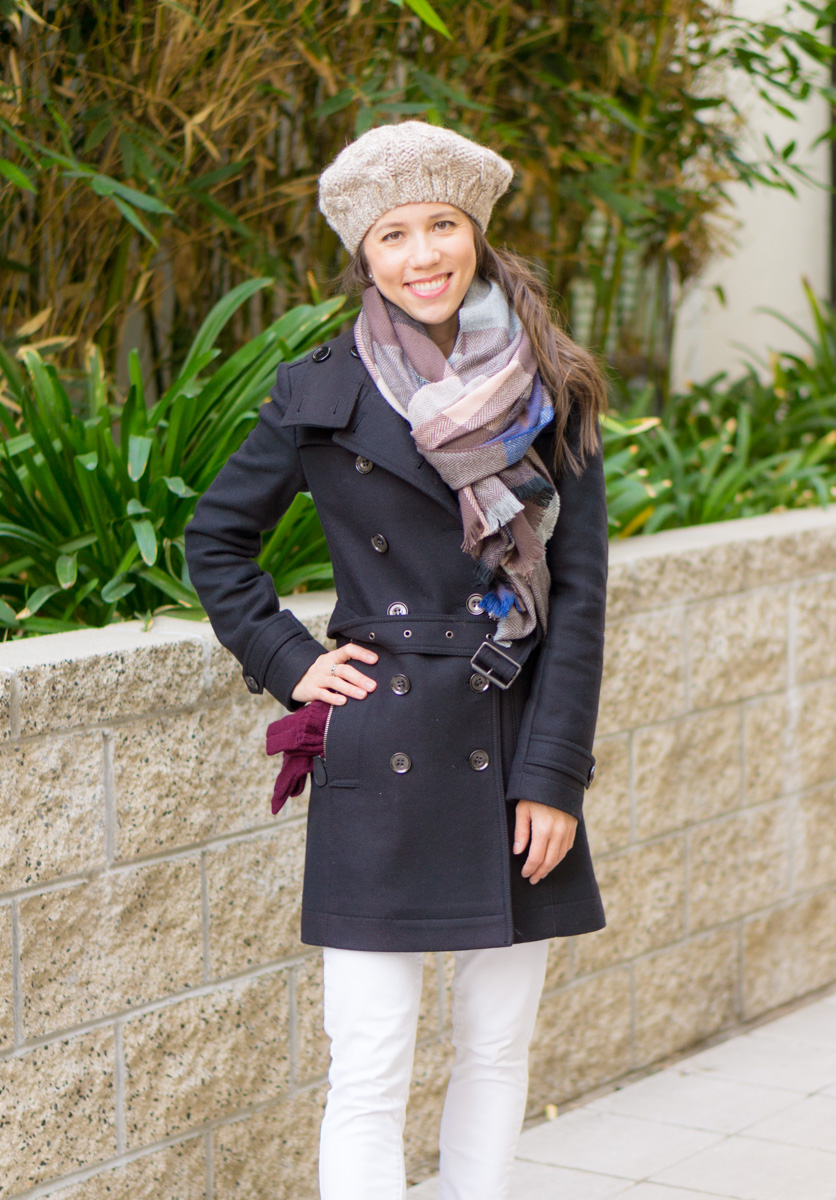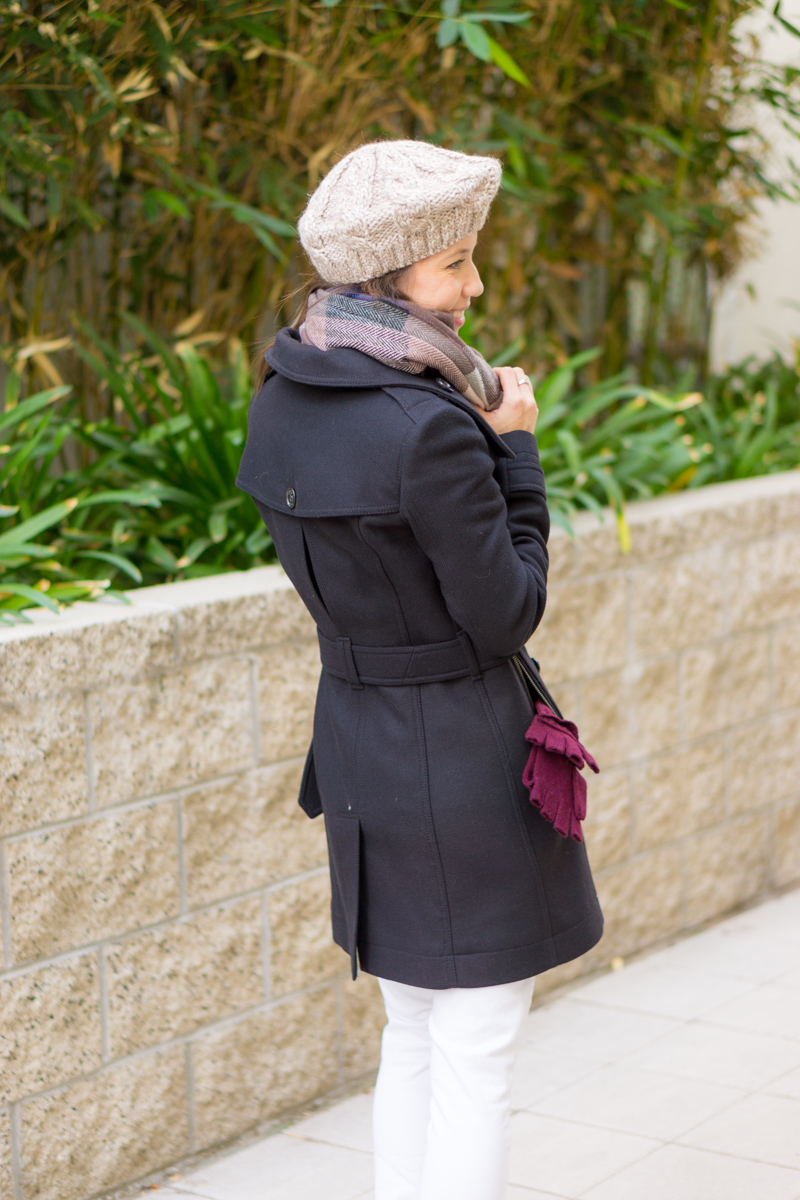 More info on this outfit in this blog post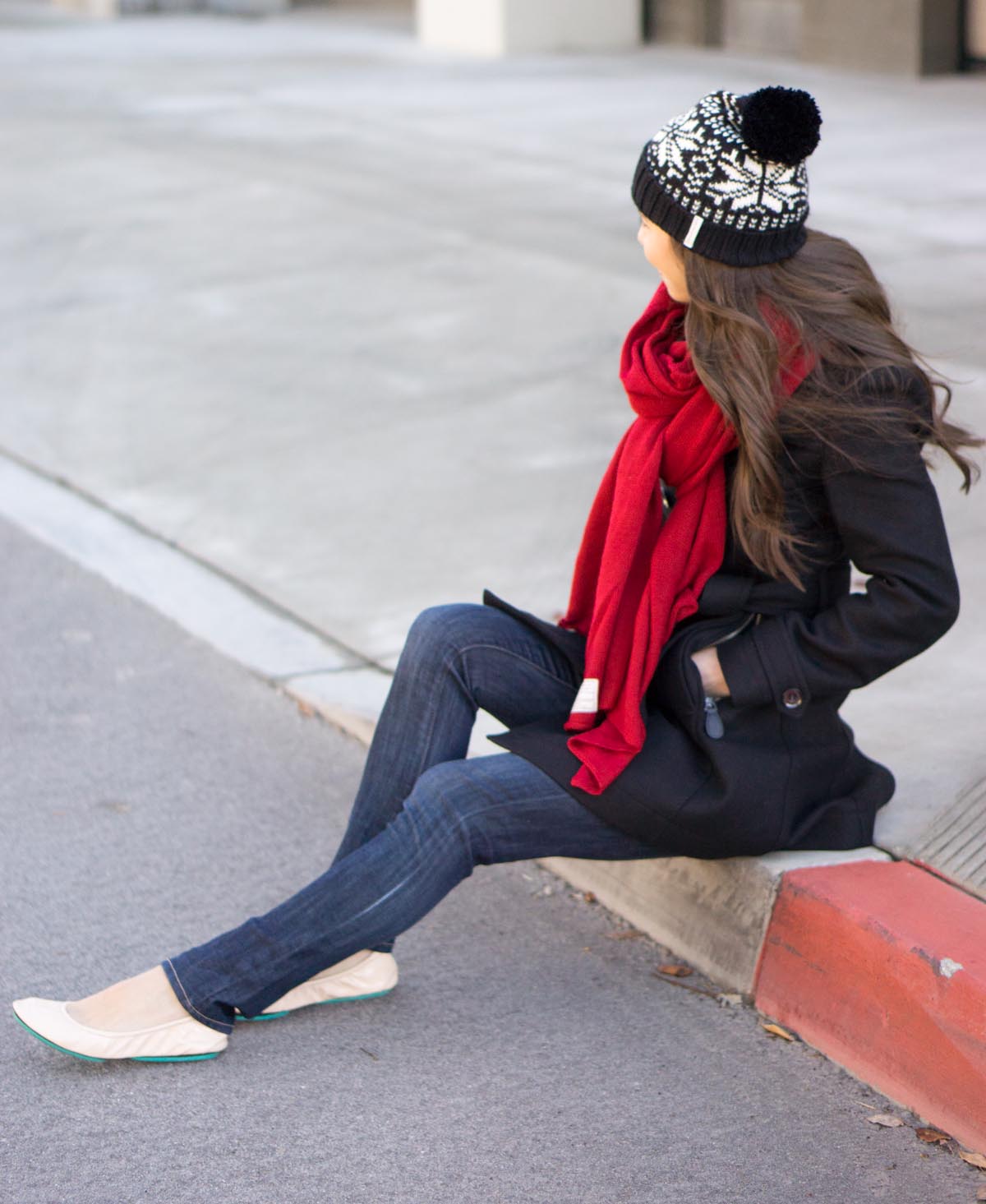 Hat and Scarf from this blog post
A wool coat is a staple in anyone's wardrobe and today I'm highlighting 3 of my favorites. Let's first start with a classic black wool coat. Black is a must-have color because of its versatility. Plus, I love the dark color because it hides any stains or accidental spills (ever drink your morning coffee and pray you won't spill it?!). Finally, this color will never go out of style. My favorite wool coat is made by Burberry…yes, it's an investment piece. I prefer the double-button design for a classic black wool coat (see comparison below for navy coat). I wrote about this exact style last year (blog post) and am linking up other black wool coats I recommend from all price ranges. I've personally tried on these styles or similar styles to recommend each and every one.
Recommendation: Option 1 | Option 2 | Option 3
Quilted Jacket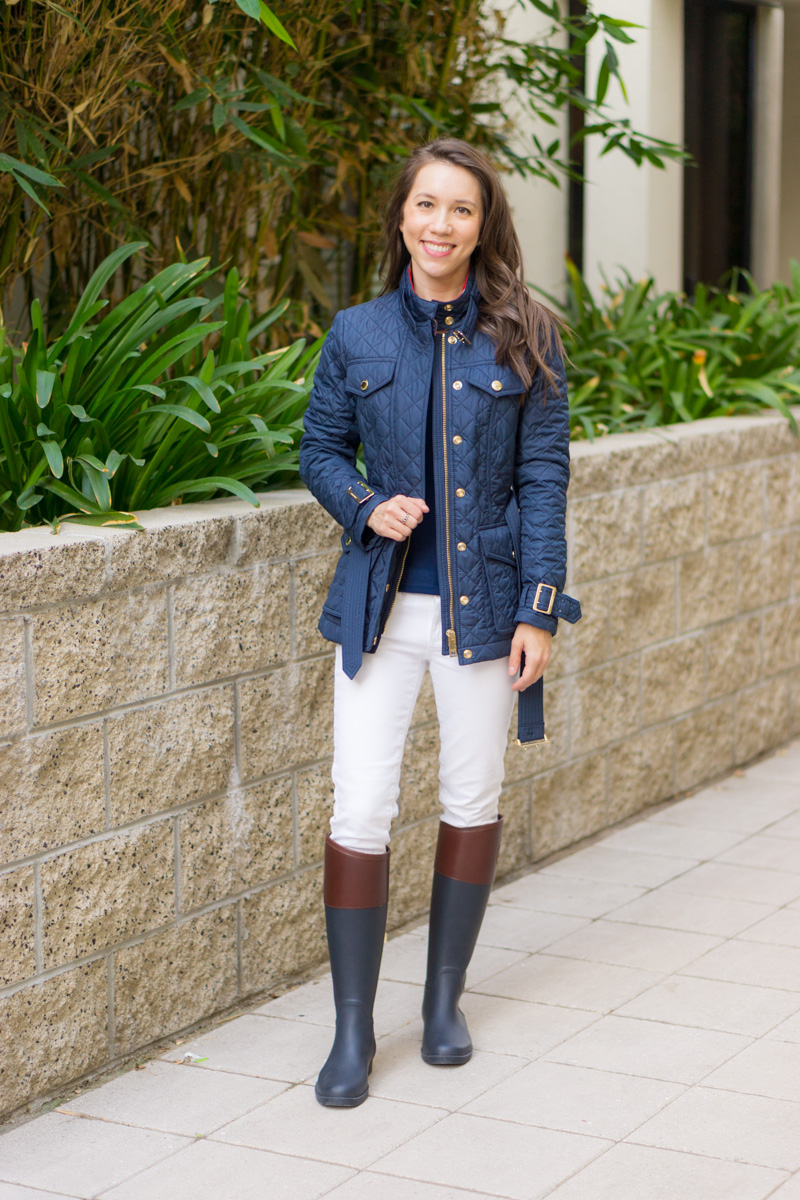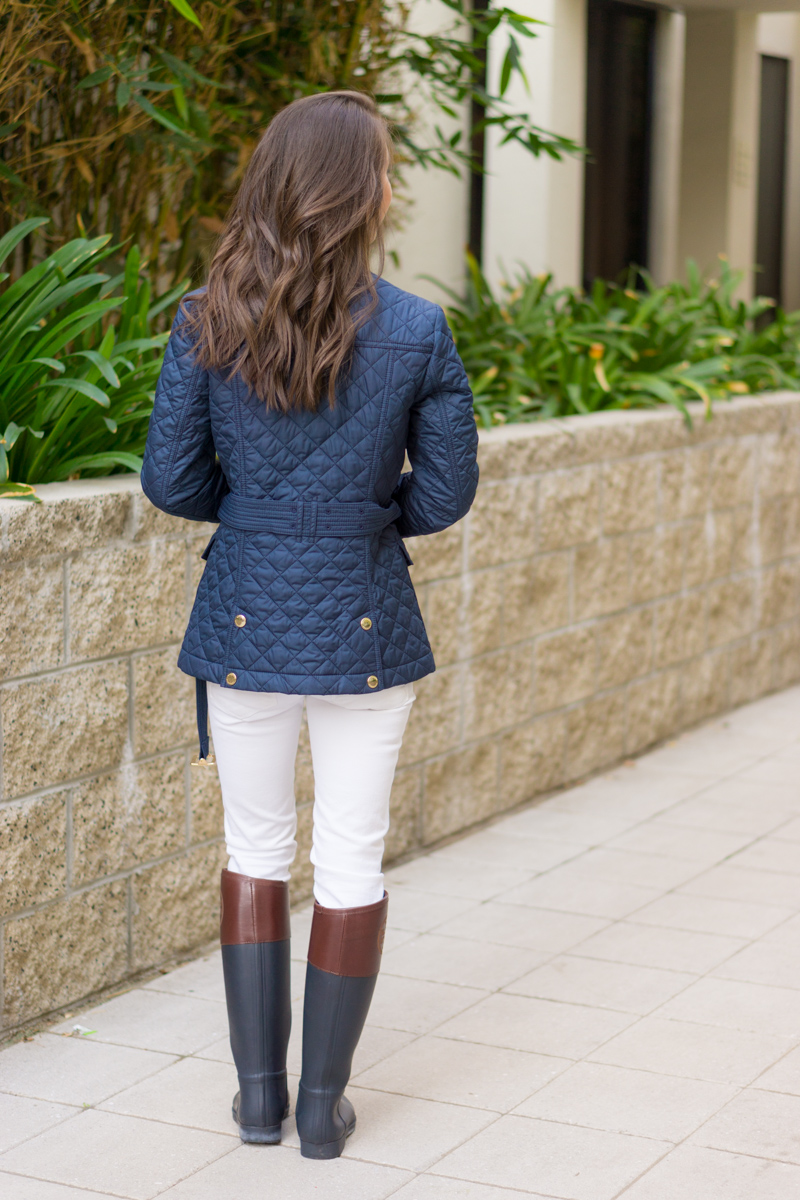 I love a well-insulated quilted jacket for winter. I think quilted jackets are a more polished adult version of a big puffer jacket. Plus, the quilted style is more petite-friendly and does not add a significant amount of bulk to an outfit. I like staying in the neutral color wheel for wardrobe essentials and chose navy for this quilted winter jacket. If you already own a neutral and require a second one, this is when I would recommend having fun with a new color – it could be a bright one like pink/yellow or a muted one like burgundy/olive green. Again, this quilted jacket is from Burberry but my mom owns one in a much more affordable brand, Land's End. I've linked up jackets from all price ranges that I recommend.
Recommendation: Option 1 | Option 2 | Option 3
Navy Wool Coat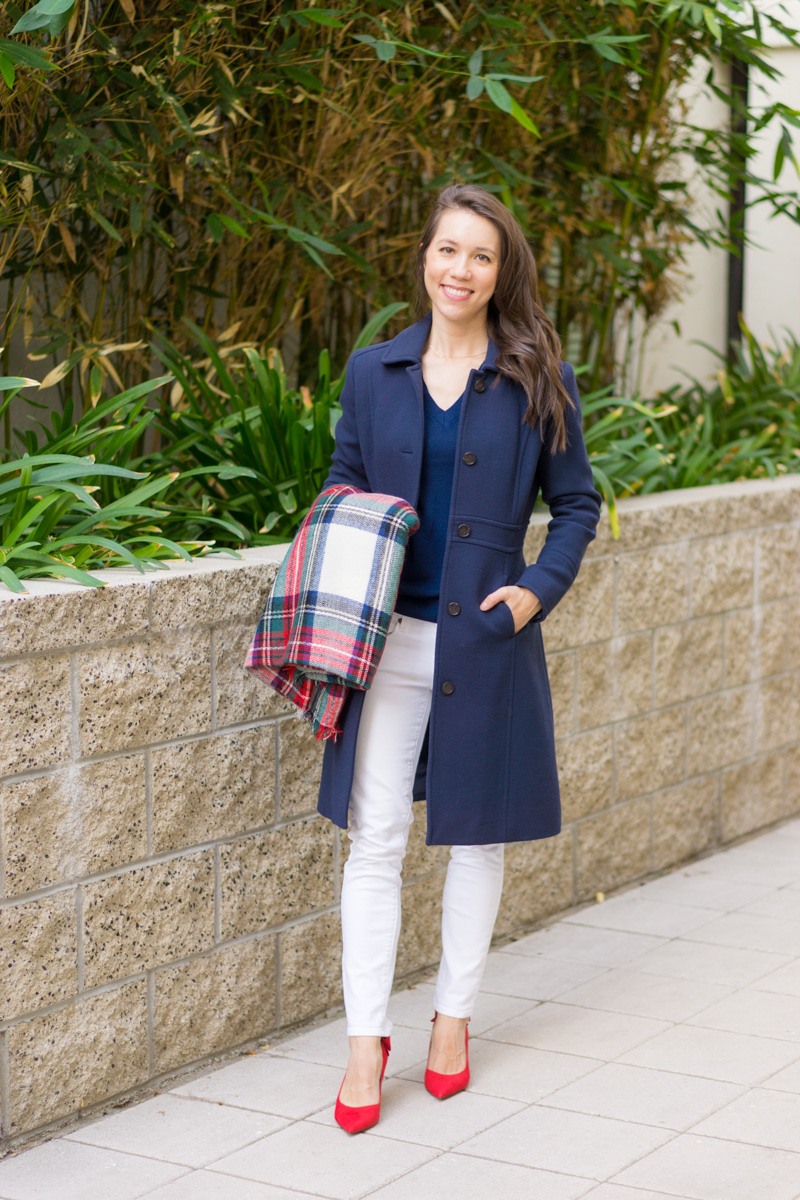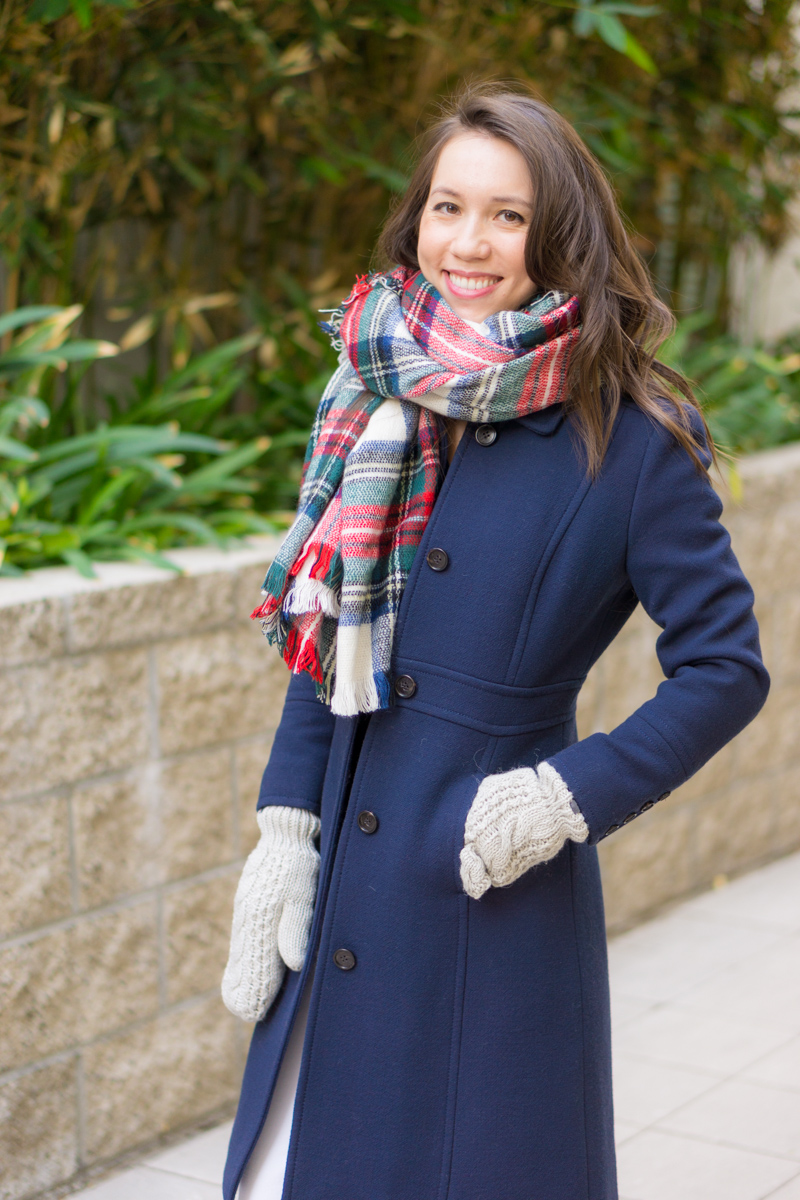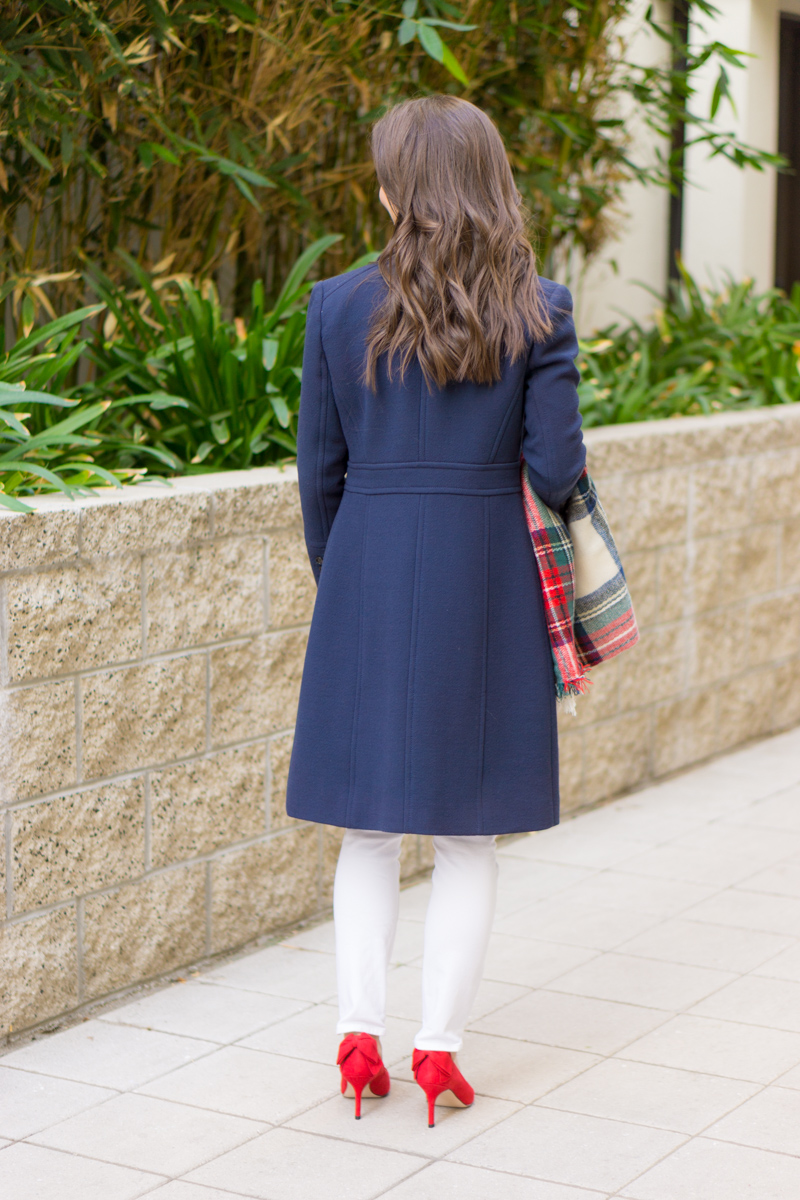 Another neutral wool coat! But this time, I've opted for a single-button design and different wool texture from J. Crew. I think navy pairs very well with plaid designs, especially holiday-inspired hues. It also goes very well with one of my other favorite neutrals, gray! I am often seen wearing gray and navy together and this navy wool coat is perfect for combining these colors for a polished look. Previous blog post on this style!
Recommendation: Option 1 | Option 2 | Option 3
Ski Jacket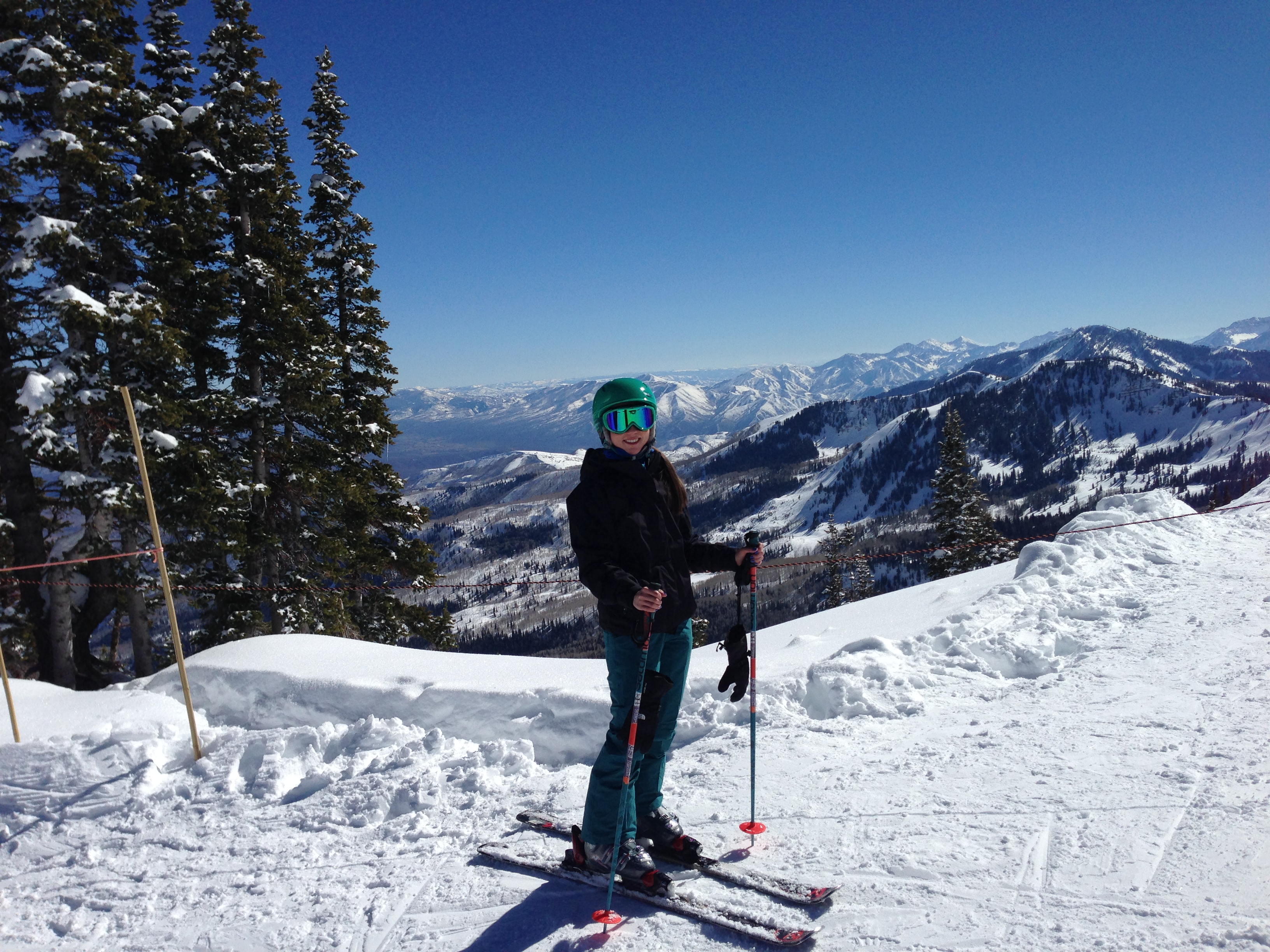 Of course I had to incorporate my ski jacket into my winter essentials! I learned how to ski during my residency in Salt Lake City and loved my time on the mountain. I paired it with a teal green outfit (helmet, googles, snow pants) and then wore it during particularly wet/snowy days in winter off the mountain.  Therefore, I think a ski jacket is also very versatile in many winter climates. My favorite one is from The North Face because of their longstanding commitment to quality products that withstand outdoor adventures! Bonus, ski jackets are filled with so many pockets so you always have a place for gloves, small wallet, cell phone, tissue for runny noses in the cold weather, and disposable heat packs/hand warmers for the warm-blooded like me! I also love Backcountry.com for all my ski gear and cold weather items!
Recommendation: Option 1 | Option 2 | Option 3
Camel Wool Coat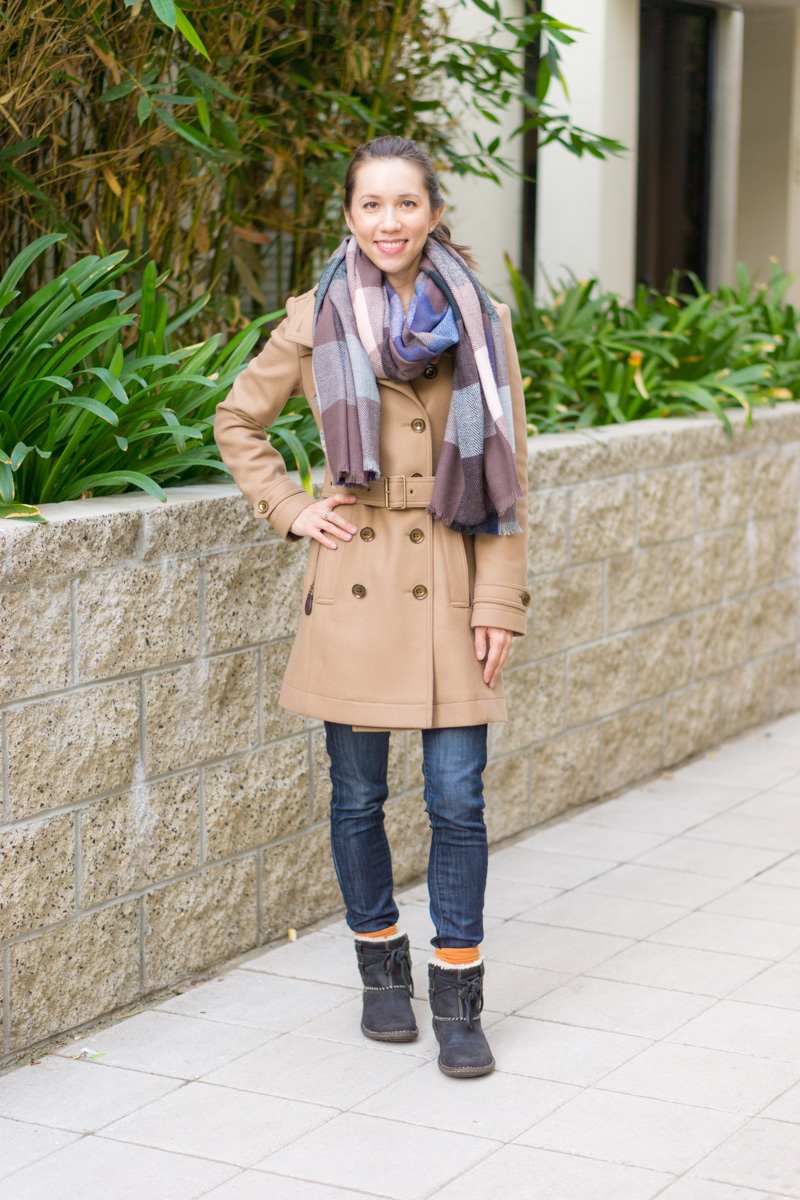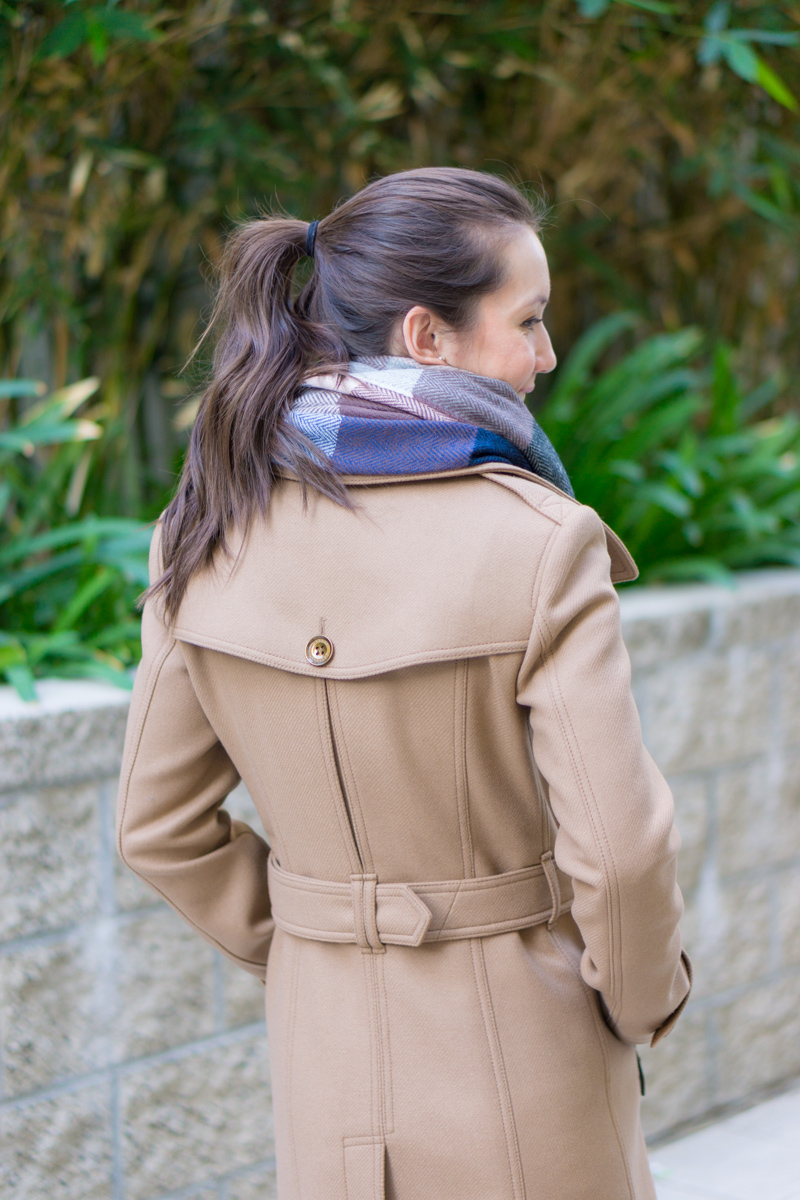 Another wool coat?! What is this? Well you can never go wrong with this classic winter coat design. And I love the camel color but didn't own any coats in this color previously. Therefore, I picked it to add to my classic wardrobe essentials. I also opted for the double-button design on the front compared to the single-button design.
Recommendation: Option 1 | Option 2 | Option 3
As always, thank you for reading! Please share your favorite winter coat in the comments below.
---
The post Winter Coat Comparison appeared first on Petite Style Script.