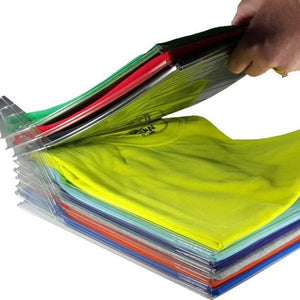 BUSHWICK RETAILERS
BUSHWICK RETAILER'S SUPER SALE IS BACK!
Organizing your clothes just got simpler – and infinitely tidier! This clothing organization system lets you stack your clothes into neat, easily visible and rapidly accessible piles. Want that classic t-shirt from the bottom of the stack? Go ahead and grab it. You won't even ruffle the rest of the pile.
Travel would be so much easier if you could take your dresser with you. The clothing organizer turns your suitcase into the next best thing. Each rigid plastic organizer lies flat and steady – protecting your clothes from getting squished and wrinkled, even during bouncy rides.
And just like your shelves at home, the clothing organizer lets you pull an item from the middle or bottom of the pile, leaving the rest of your clothes undisturbed. It's so efficient, you won't even have to unpack. If there's a better wardrobe organizer out there, we haven't heard of it!

THIS PRODUCT IS A LIMITED PRODUCTION OF BUSHWICK RETAILERS AND IT'S NOT AVAILABLE IN STORES. IT WILL SELL OUT FAST!
Click ADD TO CART to Order Yours Now!
WE DONATE A PORTION OF OUR PROFITS TO ENVIRONMENTAL CHARITIES
Every order you make with us benefits the environment. Thank you for protecting our seas, forests & wildlife with us!
In Stock: Leaves warehouse in 1 to 2 days
Free Worldwide Shipping Available