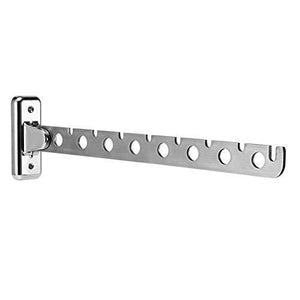 QUALITY MATERIAL- Manufactured from premium-grade stainless steel, resist daily scratches and corrosion, ensuring quality and longevity.
SPACE SAVER- Unique 180 degrees to the up and down design, You can swing it close to the wall to save space when you don`t use it.
DOUBLE UP SPACE- Hang whatever you want and double your hanging space. You can use it to store shirts and pants, or hang wet clothing to air dry while keeping them wrinkle-free. The unique "circle" design allows multiple hangers in each loop at all times.
MULTIPLE APPLICATIONS- The laundry room is the perfect spot to store clothes hangers, so you hang shirts and slacks fresh from the dryer. Gives you an "instant clothes closet" anywhere; perfect for small spaces, out-of-the-way corners, bathrooms, bedrooms, on a porch and much more.
EASY INSTALLATION- Package comes with matched install fittings and easy to install. Takes up very little space. It holding up to 6 hangers. Find clothes and conserve space with ease.