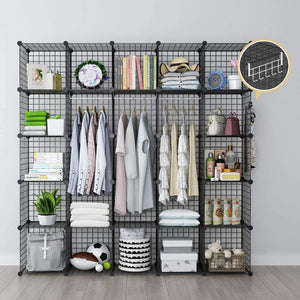 Brand: GEORGE&DANIS
Color: Black Wire - 14"(depth)
Features:
SPACIOUS STORAGE - 3 Hangers & 16 Cubes offer you extra space for heavy outfits, folded clothes and belongings.
STRONG & STURDY DESIGN - Each cube can support more than 20 lbs. The high quality coated steel makes construction more than reliable.
MODERN & ELEGANT APPEARANCE - This multipurpose bookcase cabinet has a modern industrial wire grid style that will perfectly fit most areas at home or at an office space; its open wire construction maximizes airflow as well as visibility.
EASY & CUSTOMIZABLE ASSEMBLY - The modular storage shelf is portable and can be personalized according to your needs; assemble the cubes all together to form a big cabinet, or create different blocks to fit different spaces.
MULTI-FUNCTION USAGE - The wire panels can also be used for wall decoration, off-road vehicle decoration, pet playpen or cage, and many other things. Be as creative as you can!
Publisher: GEORGE&DANIS
Details: GEORGE&DANIS Storage Cubes:
- Black, 3 Hangers & 16 Cubes
- 14.2 inch(Depth): Hanging Teens' and children's clothes
- 5x5 Tiers: For large rooms, large apartments, houses

What makes GEORGE&DANIS better than any other storage cubes?
- Modular sturcture enables custom shapes.
- Extra parts provided for custom designs.
- Exclusive Gift: Hanging rods provided.
- Exclusive Gift: 150 pcs cable ties for securing structure.
- Exclusive Gift: 5-column hooks provid extra hanging positions.
- Guarantee of free replacement parts in one year.

Grid Dimensions:
- 13.8"(W) x 13.8"(D) x 13.8"(H) / 35cm(W) x 35cm(D) x 35cm(H)
Unit Dimensions:
- 70.9"(W) x 14.2"(D) x 70.9"(H) / 180cm(W) x 36cm(D) x 180cm(H)
Package Dimensions:
- 16.5" x 15" x 12.6" / 42cm x 38cm x 32cm
Item Weight:
- 42.3lbs / 19.2kgs
Material:
- Wire Panels
- ABS Connectors

Main Parts(Packing List available in Pictures):
- 85 pcs x Wire Panels (13.8" x 13.8" / 35cm x 35cm)
- 3 pcs x Hanging Rods
- 76 pcs x ABS Connectors
- 150 pcs x Cable Ties
- 1 pc x 5-column Hooks
- 1 pc x Wooden Mallet

Announcements:
- Please push each cube all the way inward to make it firm when installing.
- We can only ship to physical addresses, we can not ship to P.O. Boxes.
- Your ordered items will be shipped normally on the next business days.
- Modular and simple installation needed.
- Returns requested within 30 days of receiving will be accepted after confirming the reason and condition.
- PLEASE READ CAREFULLY BEFORE ORDER.

UPC: 714453423452
EAN: 714453423452