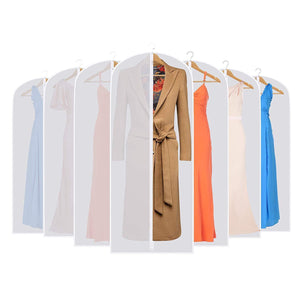 Brand: SKYUGLE
Color: 7 Pack/ 24x54"
Features:
VALUE PACK - Protect your expensive garment with inexpensive garment bag. Each order comes with 7 pack of garment bag.
FIT MOST CLOTHING - With a 24 x 54 sizes, our garment bag is a perfect fit for most of your clothing whether it is your suit, large coat, dresses and etc
PERFECT PROTECTION - These garment cover for travel and storage are lightweight, breathable, and strong enough to resist dust and water droplets! An ideal dress cover to keep your dress and clothes fresh and clean.
SEE THROUGH WHAT IS INSIDE - With our translucent PEVA material, you do not need to unzip the bags each time to see the content inside & risking your clothes from contacting dust if you open them too frequently.
30 DAY MONEY BACK GUARANTEE - We want you to be completely satisfied! IF you have any problems with our garment bag or whatsoever, jsut let us know and we will make it right.
Publisher: SKYUGLE
Details:
Are you having a headache right now where there are
Dust on your precious garment?
Hair on theyour garment?
Your garmentare wrinkled?
Clothes smell bad?
Clothes are getting damp and moldy?
It's Time to Protect Your Expensive Garment with Our Inexpensive SKYUGLE Garment Bag
SKYUGLE garment bag can easily get rid of all these headache for you, our garment bag is made of a transculent PEVA material. A high-grade plastic that which is odorless, breathable washable and soft. It has no harm to your clothes
60 inch or 54 inch. How to choose?
Normally 54 inch is more than enough for every other clothing you have in your wardrobe. However, if you want to protect your long dresses or gown. We would suggest you get the our 60 inch garment bag in case 54 inch is too short for them.
Why SKYUGLE Garment Bag?
Huge Time Saver - Imagine you have to open the zipper each to identify your dress. Don't you feel troublesome? With our transculent PEVA material, you can see through what is inside without you opening the bag each time.
Washable & Economical - Your dress protector bag is dirty? Soak it inside a clear water and watch it emerge as a new look protector bag.
Small Opening Hole - The small opening hole above is designed so that the dust do not enter easily from that opening hole for hanger.
Affordable - Our garment bag are pretty affordable as your wardrobe organizer. You can actually store 2 or 3 clothes inside one garment bag and each set you order you get 7 pack of them.
What You Will Get?
7 pack Clear Garment Bag (54in)
Click The Add to Cart button right now.
UPC: 72632070768
EAN: 72632070768
Package Dimensions: 13.2 x 10.2 x 3.5 inches